Gone are the days of jeans or t-shirts as a staple in a women's wardrobe. Skirts have made their way in and have evolved. Long skirts were the retro fashion trend in the 70s and 80s and are making a strong comeback now.
Today, a fashionista's wardrobe is defined by a variety of long skirts, be it:
Pleated
Asymmetrical
Tulles or flared
When paired with stylish tops, strappy sandals, and heeled boots, you are good to go for any party or a casual evening out with friends. Here is a list of top brands where you can find the new staple of a woman's wardrobe – long skirts with tops.
How Can You Choose the Best Brand in Skirts and Tops:
Firstly, you need to determine the occasion or scenario for which you are purchasing the skirt, that is to say, whether it is an outfit for a:
The formal setting, like an office
A casual setting like meeting up with friends
Stepping out for a Sunday brunch or for a party setting like going to a nightclub.
For every occasion, the choice of skirt and top would be different based on the following:
For example:
A black pencil skirt with a white satin top would do good for an office setting
A flared sky blue long skirt with a cream-coloured tank top would do wonders for an evening of cocktails
Once you have decided on the kind of outfit you want, then comes the other factors, such as the following:
Quality of fabric
Fit
Pricing to determine which brand to buy from
A good quality fabric is:
Lightweight
Durable and
A good fall
Also, pay attention to details like stitching and colour fast.
The fabric should be a good fit because it accentuates your body shape and does not leave scope for loose straps or a baggy waist.
Lastly, it should be value for money. You would not want to spend a fortune on something that does not last long or can be replaced easily.
Top Brands for Long Skirts and Tops for Women
Here are the top brands in women's fashion to look out for:
Product Overview
1. Vero Moda
Vero Moda is trendy and fabulous in skirts and stylish tops.
It is a go-to choice for a fashion-conscious woman who wants to look stylish on a budget. One of Europe's largest clothing brands, Vero Moda, was established in 1987 to provide good quality and on-trend clothing.
The brand has seasonal collections that are great for party and casual wear. The skirts and tops are available in various styles, colours and sizes.
What's great: The fabric quality of Vero Moda products is outstanding. The clothes are colour fast and durable, making them look as good as new even after several washes. The clothes at this brand are value for money.
Top pick: High-waisted A-line skirt with a cropped off-shoulder black top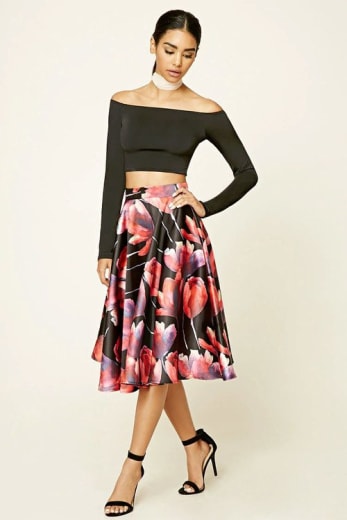 Shop from Myntra
Shop from Ajio
Shop from Flipkart
Shop from Amazon
2. Zara
Specialising in fast fashion clothing and accessories, Zara is always up and latest in women's fashion trends.
The brand was established in 1975 in Spain and has since made its way globally with a strong presence of over 2000 stores. Zara's long skirts and tops are perfect for looks that emphasise femininity and confidence.
What's great: The designs and patterns at Zara are exclusive to the brand and chic simultaneously. This is it if you are looking for something unique to your persona. The products are good quality and available in all sizes.
Top pick: Geometric print pleated skirt and white full sleeves blouse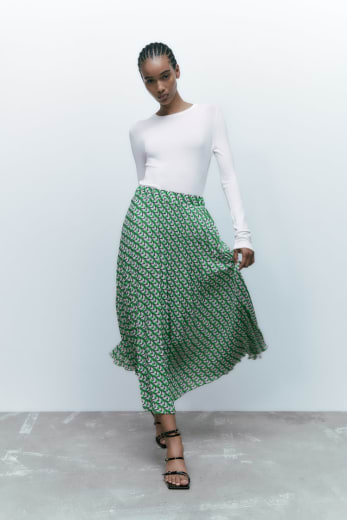 Shop from Zara
3. Forever 21
Forever 21 clothing is known for its classic style and modern cuts. Established in 1984 in California for American women's everyday fashion, the brand is excellent for casual wear.
They have a comprehensive collection of styles, colours, and sizes that fit all body shapes. The quality of clothing is excellent and comfortable, with the fabric breathable and durable for all seasons.
What's great: The brand offers a good fit, and the clothes are sure to complement your style and body shape. The accessories such as buttons and zips in the skirts and tops are also of good quality, ensuring that the skirts aren't baggy.
Top pick: The black pencil skirt with a satin cream top is perfect for a casual day at work or a night out with friends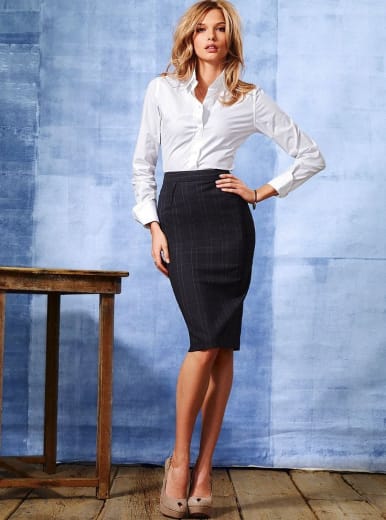 Shop from Myntra
Shop from Ajio
Shop from Flipkart
Shop from Amazon
4. H&M
H&M is a brand for women's everyday basics. One is bound to find all styles of skirts and tops under one roof to style their wardrobe for all occasions necessary. On-trend, you can find the latest and freshest in women's fashion, and that too at affordable pricing.
An old fashion industry brand established in 1947 in Sweden, H&M's purpose is to provide an array of fashion options at the quality and best pricing.
What's great: H&M has a vast collection of fashion clothing in all colours, sizes and shapes. You can find all styles of skirts at the brand, be it pencil, pleated, a- shaped, flared and more, and all styles of tops to go with them. It offers a wide range of monotones and is excellent for those who prefer solids over patterns. The quality of the fabric is good, breathable and durable.
Top pick: Full-length maxi skirt in a crinkled weave and spaghetti top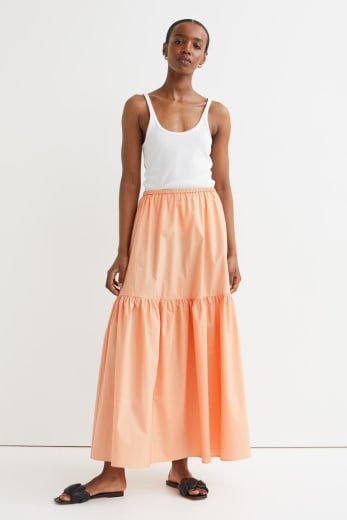 Shop from Myntra
5. AND
AND the House of Anita Dongre offers a wide range of party, formal and casual wear skirts and tops in designs that are exclusive to the brand.
The company is known for its elegant designs, high-quality fabrics and intricate detailing. The material used in the fabrics is pure cotton or wool, and further, the brand has started to make clothing organically.
The patterns used on the skirts and tops are stylish and make the clothing look more expensive than they are.
What's great: AND has started offering organic clothing for all its styles, making the clothes lightweight, breathable and wearable for all seasons. The clothes are embellished with high-quality accessories and embroideries that are unique to the fashion house. The wide variety of patterns and designs gives the customers a vast choice to choose from.
Top pick: White flared ankle-length skirt and powder blue sleeveless top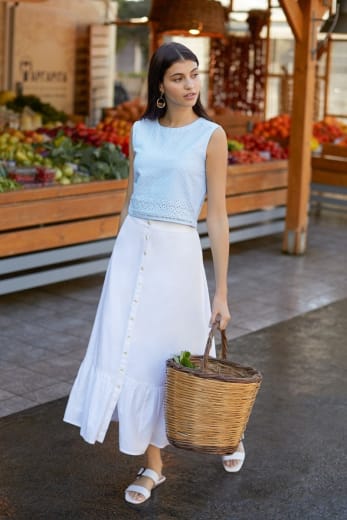 Shop from Myntra
Shop from Ajio
6. ONLY
ONLY is a famous brand among young people who want trendy and elegant clothing simultaneously. ONLY is known for its out-of-the-box styling in fashion clothing.
The clothes are unconventional and perfect for a casual day or night out with friends. The brand offers quality and good fit in various colours and sizes.
ONLY started operations in 1995 in Denmark and forayed into the Indian market with its first store in Mumbai in 2010.
What's great: The clothing is durable and looks more expensive than they are. The stitch of the skirts and tops is seamless and elegant, making them a go-to choice. The clothes are wrinkle-free and easy to maintain.
Top Pick: Pink floral co-ord skirt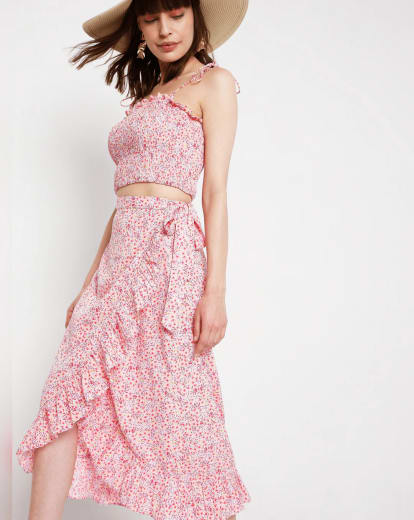 Shop from Myntra
Shop from Flipkart
Shop from Amazon
7. Armani
Armani is a brand that offers exclusive style and taste in women's fashion. Be it pencil, flared or pleated in skirts, Armani offers all styles for an always impeccable look.
Armani believes in overwhelming its customers with choices and not compromising on fashion.
The quality of its products is good, and the designs and patterns are elegant and exclusive to the brand, such as street-style clothing. The brand came into existence in 1991 in the United States, looking at the reality of the street and then moving to affordable metropolitan clothing.
What's great: Armani offers street fashion exclusive to the brand. The products are high-quality and value for money. The clothes are available in all styles and sizes so that every customer finds something or the other that they like and is a good fit for them.
Top pick: High-waisted denim skirt and a button-down shirt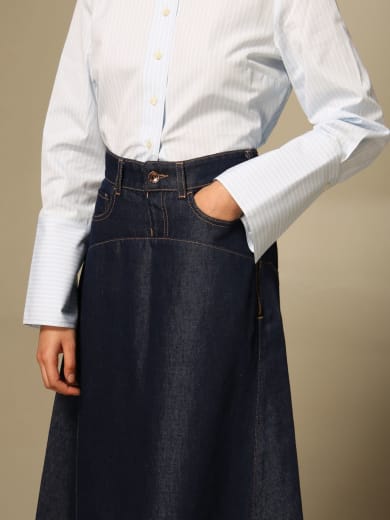 Shop from Armani
8. Fabindia
Fabindia offers an array of classy and trendy formal, casual and ethnic wear, perfect for any occasion. Fabindia's clothing collection is refreshing and stylised according to women's wardrobe needs.
You can find outfits for any occasion, be it a:
Formal office setting
A casual day out with friends
A traditional puja at home
Founded in 1960 in India, the brand is known for its ethnic collection of trendy skirts and tops.
What's great: The brand offers ethnic and formal wear. Their long skirts and slim-fit tops are apt for professional occasions. The fabric is high-quality and won't wear out easily or fade quickly. They offer clothing in materials of silk and organza too.
Top pick: Cotton Silk Embroidered Silk and Silk pleated blouse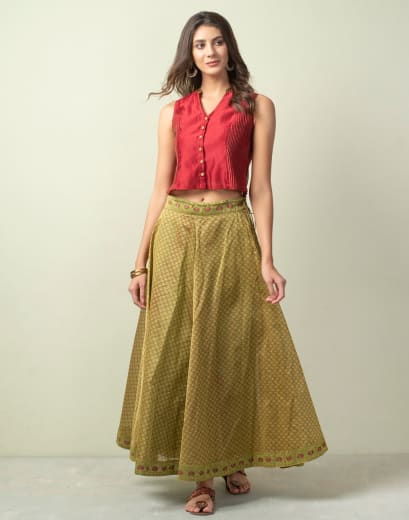 Shop from Myntra
Shop from Ajio
Shop from Flipkart
Shop from Amazon
Key Takeaways
A good pick in a long skirt with a top is made of high-quality material, durable and colourfast, and a good fit that compliments your body. It is essential to consider the occasion for which you require the outfit before making a purchase.
This curated list of brands that offer women's long skirts with tops has some of the top names found in India. We hope this will give you the style, elegance and comfort you need and elevate your wardrobe up a notch.