The winter is coming and we are going to spice this season up with style! From a simple knitted sweater to layering an elegant jacket, when the temp takes a dip it's time to update your wardrobe. Now, let's take a look at some of the most fashionable winter wear for women.
We have curated a list of winter essentials for women that are not only in vogue today but also affordable. Plus, we have ensured to pick winter wears that are of high quality only.
Product Overview
1. DressBerry Navy Blue Longline Sweater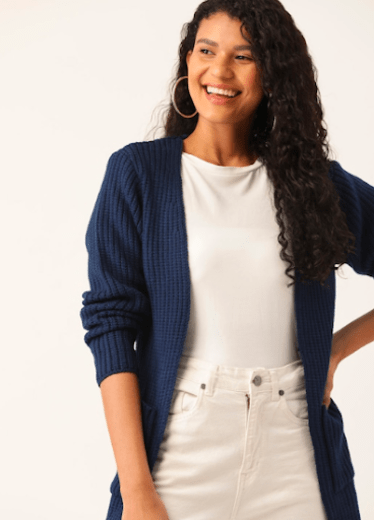 If you are looking for something versatile this winter season, this DressBerry Longline Sweater is the perfect pick. This casual and chic sweater shrug goes over almost everything – from cute crop top jeans to a long traditional kurta.
It comes in a rich navy blue colour that does not clash with dark or light colours. The knitted sweater is complete with a spacious pocket.
What's Great?
High-quality material and knitting
Beautiful cut and design
Shop from Myntra
Product Review
The quality of the product is really good. It is warm and good for the fall season …and it is stylish so it is a really good choice. Saumyaa Dixit
2. Full Sleeve Printed Sweatshirt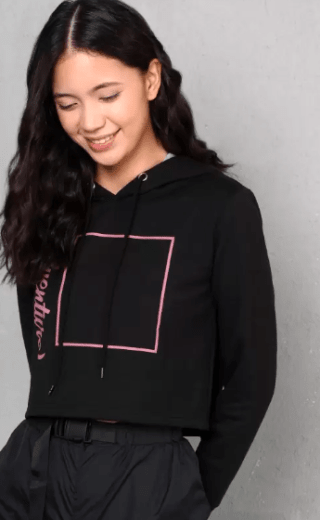 Channel the fun-loving cool girl in you with this cute sweatshirt with a hoodie! This sweatshirt can be paired with contrasting light blue high waist denim. Alternatively, you can pull off an all-black look with black denim or trousers.
The sweatshirt also comes in other variations that let you pick a favourite. It is available in black/yellow, grey/yellow, pink/black/ and black/white combinations.
What's Great?
Multiple colours and print options
Smooth cotton material
Shop from Flipkart
Product Review
Loved it ❤️!! Muskan Muskan
3. Faux Fur Crop Sweatshirt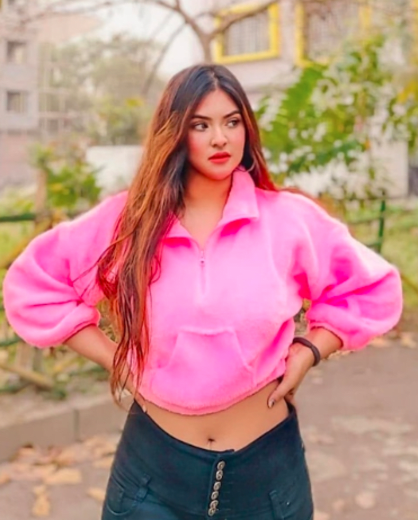 Looking for something bright and beautiful? This pink winter wear for women balances high fashion and simplicity. The faux fur is soft on the skin and the design fits comfortably.
It comes with a mock collar that you can zip up to have a turtle neck. It also has a pocket, making it all the more snuggly to wear.
What's Great?
Made of high-quality polyester to mimic the look and feel of fur
Available in pink and blue colours
Shop from Myntra
Product Review
Received my sweatshirt today and it's just amazing. If you have some thoughts of buying this amazing sweatshirt, go for it and you won't regret. The material is somewhere thin but it's okay with the price. Richa Gogoi
4. Fleece Black Hoodie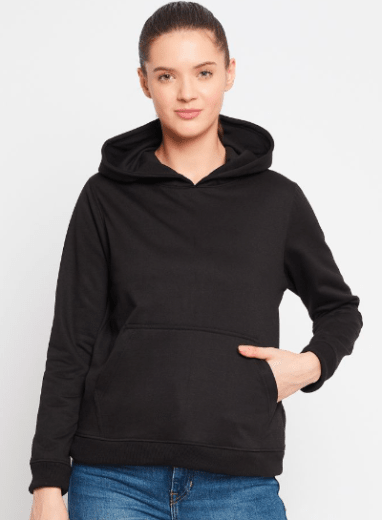 A basic black hoodie is essential for ladies in the winter. This highly-rated hoodie by French Flexious is Roseman Black in colour and looks stunning on all body types. You can style it over a dark blue denim or you can buy a larger side hoodie and rock the baggy clothes trend.
The huge hooded back and kangaroo pocket help you cozy up when the cool winds blow as you strut down the street in style.
What's Great?
High-quality fibre and stitching
The hoodie is complete with stretchable drawstrings
Shop from SnapDeal
Product Review
It's an outstanding product…I just love it so much…and yes, thank you snapdeal for this lovely product. Subhashree
5. DressBerry Black Ribbed Pullover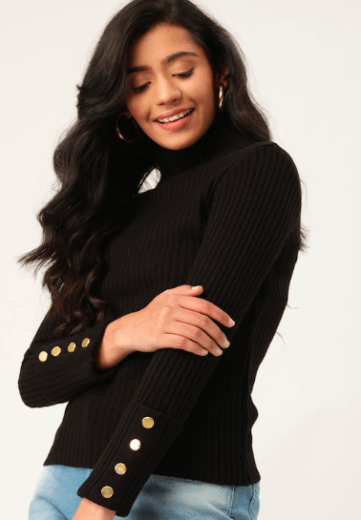 Turtleneck exudes sophistication, simplicity, and style, all at once! This charcoal black sweatshirt from DressBerry is a unique turtleneck that stands out among the basics.
The black sweatshirt provides coverage and shape like any other sweatshirt. However, the golden buttons down the arms give it an extra dimension.
What's Great?
Made of long-lasting, high-quality acrylic fabric
Comfortable cut and design
Shop from Myntra
Product Review
Nice….it's warm and stylish. Ginni Miglani
6. Puma Lightweight Padded Women's Jacket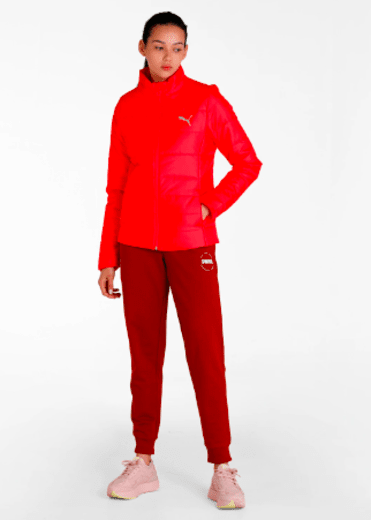 Would you like to carry around the feeling of being wrapped up in a warm blanket everywhere you go? If you do, then this puma padded jacket is for you. Moreover, the lightweight paddings help you enjoy the warmth without having to bear the weight of a heavy jacket.
The jacket comes in different colours such as black, red, yellow, and maroon. You can pick your favourite and layer it on your graphic tees and shirts.
What's Great?
Extremely lightweight and easy to carry
Provides full coverage with a zip closure
Shop from Puma
Product Review
The jacket looks good and premium a bit less warm but ok and really nice at this price. Aditya Malik
7. Kassually Solid Tie-Up Shrug
Next up, we have a beige shrug by Kassually. This shrug is long and elegant which makes it wearable for formal and casual events. It looks excellent over a denim and t-shirt outfit, cocktail dresses, or simple kurtas.
The studded silver pearls on the collar make the shrug perfect for layering during special occasions. It is complete with an adjustable tie-up that you can tie into a beautiful bow on the front.
What's Great?
Amazing quality material
Versatile design and colour
Shop from Myntra
Product Review
Surprisingly way better than the pictures. It's really good in terms of quality and is perfect for the Indian tropical temperature that makes wearing coats difficult. Diana Parry
8. Mango V-Neck Cardigan
If there is one winter staple for women, it is a cardigan. We have picked a cozy and cute cardigan that goes with almost everything! This white cardigan by Mango is complete with a round neck and tiny, elegant button closures.
The cardigan has small patterns that add a bit of dimension and improves its appeal. You can wear it over a cute crop top in the early days of winter or layer it over a sweatshirt for more warmth.
What's Great?
Lightweight and warm material
The knitting quality is excellent
Shop from Myntra
Product Review
The material is thin but feels warm. A must have in your wardrobe, it's beautiful. Sarah Singson
9. Red Puff Sleeves Cardigan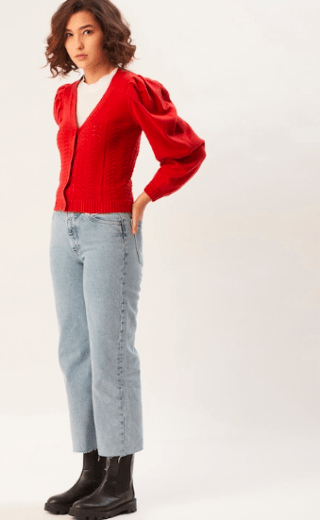 As we said before, cardigans are a wardrobe staple when it comes to winter wear for women. If the last simple white sweater is not your style, here's a more dashing version of the cardigan for you. This rich red, self-design cardigan will surely turn a few heads!
The cardigan has a deep V-neck and medium-sized button enclosures. It is complete with long puffed sleeves that will definitely give you an edgy look.
What's Great?
Made of high-quality viscose, polyester, and polyamide materials
Beautiful and comfortable design
Shop from Myntra
Product Review
It's very comfortable and looks very different… Like this product very much. Isha Dey
Closing Lines
Hope you found your favorite from our list of 9 best winter wear for women! If you did, you can simply click on the link and add it to your cart. However, before purchasing there are some important things you need to consider such as quality, budget, and size.
FAQs
Q. Which is the best place to shop for winter clothing for women?
Ans. There are tons of online stores that have a range ofwinter staples for women. To name a few – Myntra, Flipkart, Snapdeal, Ajio, Vero Moda, and Tata Cliq.
Q. Can you find sweaters for women under 500?
Ans. Yes, you can find beautiful and quality sweaters for women under 500 in some of the above-mentioned e-stores.
Q. Which are the best brands for women's winter clothes?
Ans. The best brands for winter wear for women are Mango, DressBerry, and Puma among others.