Pants are the most versatile piece of clothing in a man's wardrobe. Whether you need to dress up for a formal occasion or just want to lounge around on the weekend, there is a style of pant suited for every situation. Knowing the different types of pants for men and when to wear them can help you always look stylish and put together.
In this comprehensive guide, we will look at the major categories and most popular styles of pants for Indian men along with tips on how to wear them.
Types of Pants for Men
Here are the main types of pants that every Indian man should have in his closet:
Formal Pants
Formal pants are meant for professional and special occasions that require a dress code. They are tailored from luxurious fabrics like wool, cotton, linen, polyester etc. The most popular formal pant styles are: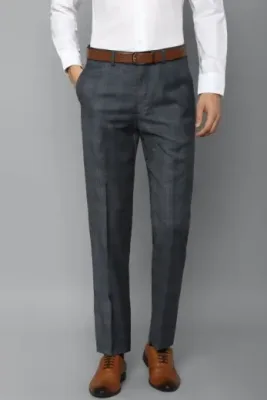 Trousers are perhaps the most common type of formal pants. They have a crease in the front and back, a waistband, belt loops, zip fly and flat front. Trousers look best when tailored and paired with a button-down shirt, blazer and dress shoes.
Popular trousers styles:
Pleated Front Trousers – Have folds at the waistband for more room.
Flat Front Trousers – Smooth, creaseless front with a tailored look.
Cuffed Trousers – Hemmed with a cuff at the bottom.
Buy From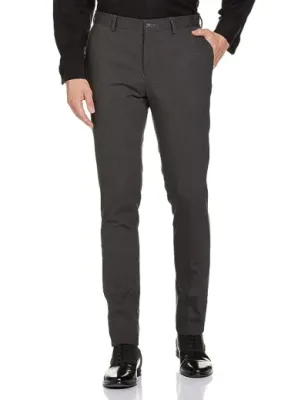 Dress pants have a similar pattern to suit pants but are made from lightweight fabrics like cotton, polyester or linen. They have a crease, closure fly, belt loops and pocket trim. Dress pants can be worn to the office or formal events without a matching jacket.
Buy From

Suit pants are designed to be worn with a matching suit jacket. They are sharply tailored from wool or wool blends. The jacket and pants are cut from the same fabric for a polished look.
Buy From
Casual Pants
Casual pants offer relaxed styling and breathable fabrics for everyday wear. They include:
No wardrobe is complete without a pair of classic jeans. Originally workwear, jeans are now a versatile staple. The most popular jeans styles are:
Skinny Jeans – Tight and figure-hugging from hip to ankle.
Straight Leg Jeans – Fitted in the hips and thighs with straight legs.
Bootcut Jeans – Tapered thighs with slight flares from the knee down.
Relaxed Fit Jeans – Loose fitting through the seat and thigh.
Buy From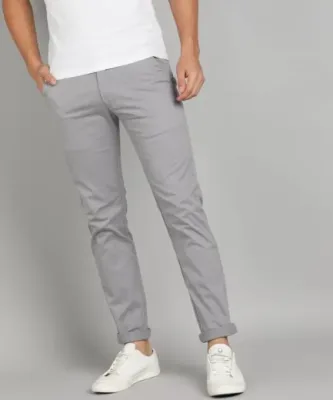 Chinos are more casual cotton, linen or synthetic pants. They are similar to trousers but usually have no pleats. Chinos can be dressed up with a blazer or worn casually with a polo tee and loafers.
Buy From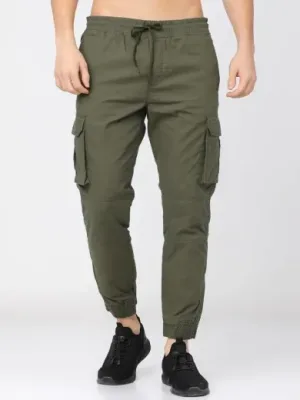 Cargo pants are designed with large pockets along the sides of the legs for a utilitarian look. They work well for casual settings and outdoor activities.
Buy From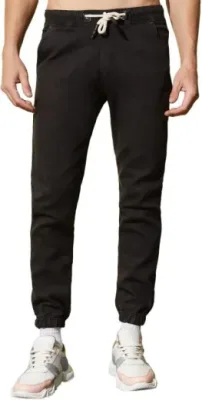 Joggers have an elastic waistband and cuffed ankles. They are made from lightweight cotton, nylon or polyester. Joggers are quite popular for sports and athleisure.
Buy From
Specialty Pants
There are also pants made for specific professions, activities and environments: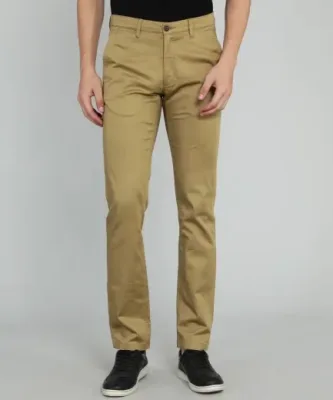 Khakis are sturdy cotton pants traditionally worn by military soldiers. They come in versatile solid shades like navy, black, olive, grey and more. Khakis can be dressed up or down.
Buy From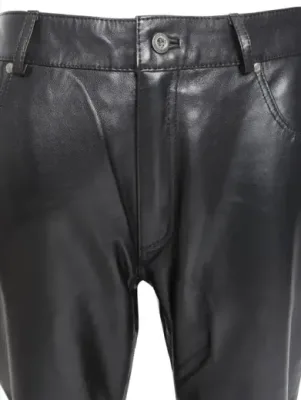 Leather pants have an edgy, rockstar vibe. They are typically made of lambskin or cowhide leather. While leather pants are eye-catching, they can be hard to integrate into outfits for regular wear.
Buy From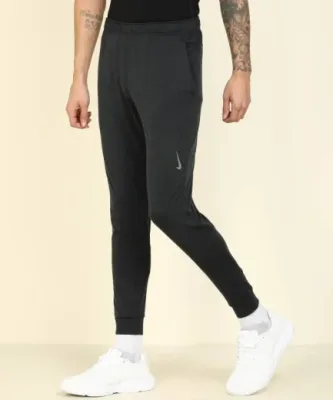 Yoga pants are designed for comfort, with a flexible, breathable fit to allow free movement. They are most often worn for yoga, exercise and athleisure.
Buy From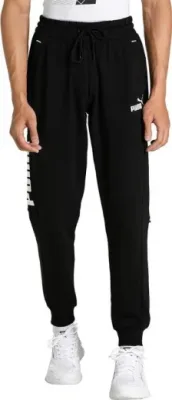 Sweatpants have an elastic waistband and soft lining for optimal comfort. They are commonly worn as loungewear but also work for sports and travel.
Buy From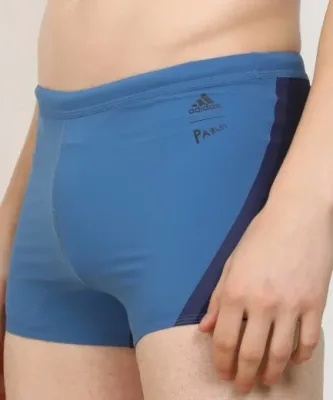 Swim trunks are mid-thigh length shorts made to be worn for swimming and water sports. They are designed from fast-drying nylon or polyester.
Buy From
How to Choose the Right Pants
With so many types of pants to pick from, here are some tips on choosing the right pair:
Consider the occasion – Pick formal pants for professional settings and smart casual events. Save casual styles for everyday activities.
Get the right fit – Pants should fit well in the hips and seat, with a hem hitting near the top of the shoe. Skinny guys can go for slim fits while larger men should opt for relaxed or loose fits.
Pick suitable fabrics – Lightweight cotton and linen pants are optimal for hot Indian weather. Wool and polyester blends work for formal and winter wear.
Choose versatile colors – Stick to neutral solid colors like black, navy, olive, grey, khaki and brown for the most use.
Mind the details – Elements like pleats, cuffs, pockets etc. can make pants more dressy or casual.
Try different rises – Low, mid and high rise pants ride at different areas on your waist. Find what suits your body type.
Buy multiple lengths – Have pants hemmed for use with different shoes like sneakers, boots or dress shoes.
How to Wear Different Types of Pants
Here are some tips on styling pants for different occasions:
Office and Formal Wear
Pair wool trousers with a button-down shirt, blazer and oxfords for a smart professional look.
Chinos worn with a collared shirt or sweater and loafers make a sharper casual outfit for work.
Pleated trousers add polish when worn with a button-down and sports jacket for events and weddings.
Opt for a full suit with matching jacket and pants for important meetings, interviews and formal functions.
Casual and Weekend Wear
Jeans are versatile for casual settings – wear them with tees, polos, shirts or hoodies.
Joggers or sweatpants paired with a t-shirt make a comfortable loungewear or workout outfit.
Cargo pants work for outdoor activities and errands – just add hiking boots or sneakers.
Chinos or khakis with loafers and a shirt create a sharp weekend look.
Night Out Attire
Wear dark jeans with a button-down or blazer for drinks or a date night.
Pair leather pants with a graphic tee and leather jacket for edgy style at parties or concerts.
Joggers and sweatpants are too casual. Stick to dark denim, trousers or chinos for going out.
Where to Buy Pants for Men in India
Here are some of the best places to shop for pants in India:
Online
Myntra – Wide range of jeans, trousers, chinos, joggers and more from brands like Roadster, Wrogn, Spykar etc.
Ajio – Formal pants, chinos, denim, cargos and joggers available from Campus Sutra, Sparx, Ira, Louis Philippe etc.
Amazon Fashion – Extensive selection of jeans, dress pants, cargos, khakis, joggers and activewear.
Malls and Stores
Shoppers Stop – Large formal wear and casual sections with pants from Arrow, Louis Philippe, Levi's and other labels.
Marks & Spencer – Quality work trousers, chinos, jeans and suit pants available.
Westside – Affordable everyday pants including denim, cargos, joggers, khakis and more.
Lifestyle – Wide range of formal, semi-formal and casual pants from designer brands.
Zara – On-trend chinos, cargo pants, joggers and denim styles for men.
H&M – Carries suit pants, chinos, jeans, cargos, joggers etc. at lower price points.
Key Takeaways from This Guide to Pants for Men
The major pant categories are formal, casual and specialty pants designed for specific activities.
Popular formal styles include trousers, dress pants, chinos and suit pants.
For casual wear, jeans, chinos, joggers, cargos and sweatpants work well.
Make sure to buy pants in the proper fit and suitable fabrics and colors for the occasion.
Know how to pair different pants with tops, footwear and accessories for both dressy and laidback looks.
Shop online and at malls and fashion stores to find good quality pants from major brands across all budgets.
Investing in versatile, well-fitting pants can elevate your style while also keeping you comfortable. Use this guide to build the ultimate pants wardrobe.
Frequently Asked Questions on Pants for Men
Here are some common FAQs on the different types of pants for men:
Q1. What is the difference between trousers and pants?
Trousers generally refer to more formal, creased pants while pants is a broader category that includes trousers along with jeans, khakis, and other styles.
Q2. Should men wear pleated or flat front pants?
Pleated pants provide more room but flat fronts create a sleeker silhouette. Pleated pants work well for conservative offices while flat fronts are better for most casual settings.
Q3. What pants go well with a navy blazer?
Grey trousers or wool dress pants pair sharply with a navy blazer. Chinos also work well for a more casual take on the navy blazer outfit.
Q4. What is the difference between chinos and khaki pants?
While often used interchangeably, khakis are made from khaki-colored cotton while chinos refer to pants in any color with a cotton or synthetic twill weave.
Q5. Can you wear yoga pants as regular pants?
It is generally not recommended to wear yoga pants outside of the gym as they are quite figure-hugging and casual for most public settings.
Q6. Why are jeans so popular?
Jeans are loved for their versatility, ability to flatter different body types, and classic fashion that never goes out of style. The durable denim also wears well.
Q7. What colors go with black pants?
Black pants pair well with light colors like white, tan, light blue as well as most shades of grey and even pastels. Browns also complement black pants.
Q8. How should dress pants fit?
Dress pants should be well-fitted in the hips and seat, tapering down to the legs without bunching at the ankles. Leave room for movement and sitting.
Q9. What is the standard inseam length for pants?
The average inseam length for off-the-rack pants is 32″. However, pant lengths can range from 28" to 34" so find the measure that fits you best.
Q10. Should I get my pants tailored?
It is worthwhile to get even off-the-rack pants tailored for the best fit for your body type. Proper tailoring makes inexpensive pants look custom-made.
Conclusion
Whether building a professional wardrobe or weekend outfit, every man needs a solid selection of pants in different styles. Follow this guide to pick the right pants for your build, personal style and occasion. Pay attention to the fabric, fit, rise, colors and design details. With options like denim, trousers, chinos, khakis, joggers and cargos readily available from major fashion brands, it is easy to create both dressy and relaxed looks. Investing in pants you love is a surefire way to always look and feel your best!