Are you tired of using your smartphone to capture your outdoor adventures only to end up with shaky, low-quality footage? It's time to upgrade to an action camera! Whether you are a professional videographer or an amateur content creator, an action camera is an essential gadget to have in your arsenal. These cameras are small, durable, and packed with features that make them ideal for capturing stunning footage of extreme sports, outdoor adventures, and everyday life.
With so many options available in the market, choosing the best action camera can be overwhelming. That's why we have compiled a list of the best action cameras available in India to help you make an informed decision. From high-end models to budget-friendly options, these cameras offer excellent video quality, durability, and user-friendliness to capture all your action-packed moments.
How to Choose the Best Action Camera
With so many models on the market, it can be tricky to pick the best action camera for your needs and budget. Here are some key factors to consider:
Video Quality: Look for features like 4K or 5K video, high frame rates and advanced image stabilization for smooth, immersive footage. High-end models have larger sensors for improved video quality.
Ruggedness: Action cams should withstand splashes, drops and bumps. Waterproof and dustproof designs allow you to film underwater and in inclement weather. Look for durability features like Gorilla Glass lens covers.
Battery Life: Battery life varies from 40 minutes to over 2 hours of recording time. Extra batteries and chargers are recommended for all-day use. Models with removable batteries make swapping batteries easy.
Size and Weight: If you want an ultra-compact model, go for tiny cubes like the Insta360 Go. For more versatility, opt for mid-sized or modular cameras.
Features: Look for useful capabilities like voice control, GPS tagging, auto-uploading, zoom and slo-mo. High-end models offer pro specs like 10-bit color and Raw photos.
Mounts and Accessories: The best action cams work with a variety of mounts, mods and accessories for expanded utility. Some even have built-in mounting.
Price: Action cams range from $200 to $500. Higher-end models have better video quality, ruggedness and features.
The 10 Best Action Camera
Based on ratings, reviews, features and expert opinion, here are the 10 best action cameras:
1. GoPro HERO11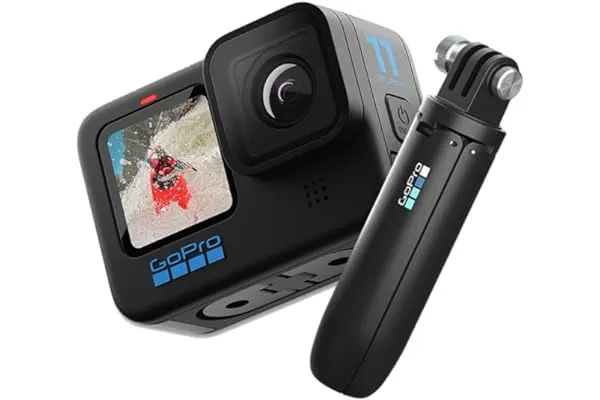 Ratings: 4.1 out of 5 stars
Key Features: 5.3K60 Ultra HD video, HyperSmooth 5.0 stabilization, 1080p live streaming, dual screens
The GoPro HERO11 is the newest addition to GoPro's legendary action camera lineup. It captures stunningly smooth 5.3K video at up to 60 fps, while HyperSmooth 5.0 stabilization delivers gimbal-like steadiness. The front and rear LCD screens make framing shots a breeze. This camera also live streams in 1080p, has a rugged, waterproof design and offers smart features like scheduled capture and HindSight. For versatility, reliability and professional-grade video, the GoPro HERO11 is the best action camera available.
2. DJI Osmo Action 4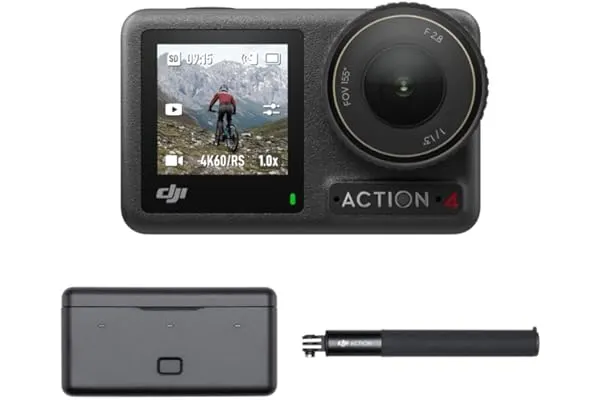 Ratings: 4.5 out of 5 stars
Key Features: 4K/120fps video, 1/1.3" sensor, 10-bit D-Log color, 7.5 hours battery with 3 batteries
DJI's Osmo Action 4 shoots incredibly smooth, professional-looking footage with its 1/1.3″ sensor and advanced RockSteady stabilization. It records high-quality 4K video at up to 120 fps for epic slow motion. The large sensor, 10-bit color and D-Log color profiles capture rich detail and dynamic range. Adventure ready, it's waterproof down to 16 feet without a case. The Osmo Action 4 is an outstanding choice for vloggers, travelers and adventurers seeking cinema-quality video.
3. Insta360 X3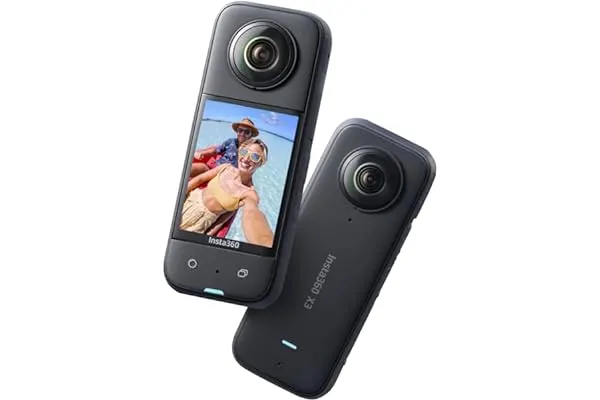 Ratings: 4.3 out of 5 stars
Key Features: 5.7K 360 video, 72MP photos, optical zoom, bullet time
The innovative Insta360 X3 excels at shooting immersive 360 footage, thanks to its dual fisheye lenses. This versatile action cam also features a single lens mode with a large 1/2" sensor for 4K wide-angle video. The groundbreaking bullet time feature freezes time by circling the camera as it captures. With its stellar image quality, 5.7K 360 capability, 72MP photos and bullet time, the Insta360 X3 stands out as a top 360 action camera.
4. GoPro HERO12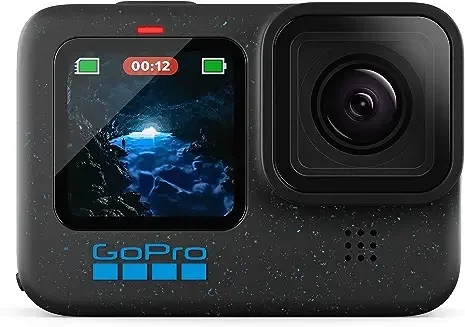 Ratings: 3.8 out of 5 stars
Key Features: 5.3K60 video, 27MP photos, HyperSmooth 6.0 stabilization, live streaming
The brand new GoPro HERO12 Black takes flagship performance to the next level with 5.3K60 video and 27MP photo capture. HyperSmooth 6.0 stabilization delivers gimbal-like smoothness for immersive POV footage. It live streams in 1080p, has a durable, waterproof design and rear touch screen. Plus, it has handy extras like a built-in mount and LED light. For cutting-edge features and versatility, the GoPro HERO12 is one of the best action cameras available.
5. DJI Osmo Action 3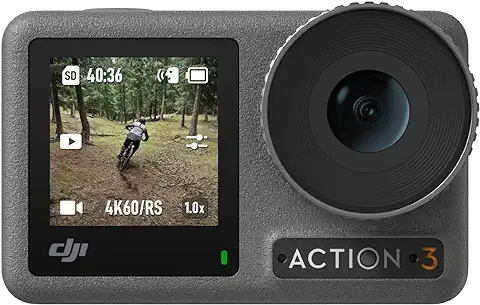 Ratings: 4.3 out of 5 stars
Key Features: 4K/120fps video, 4x optical zoom, HorizonSteady stabilization, cold resistant
The DJI Osmo Action 3 really stands out for its excellent 4x optical zoom, which gets you even closer to the action. This model shoots stable, detailed 4K video at up to 120 fps thanks to RockSteady stabilization and a 1/1.7″ sensor. It's also cold resistant and waterproof at depths down to 16 feet. If you want an action cam with superb optical zoom for up-close shots, the DJI Osmo Action 3 is a top choice.
6. GoPro Hero9 Black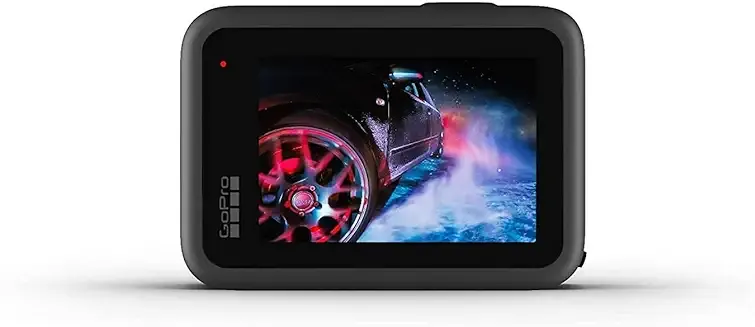 Ratings: 4.3 out of 5 stars
Key Features: 5K video, 20MP photos, dual screens, live streaming
The GoPro Hero9 Black boasts ultra-high resolution 5K video for stunning footage. Its dual screen design with a front facing screen makes vlogging and selfies a breeze. This rugged action camera shoots 20MP photos, live streams in 1080p, and has Max HyperSmooth image stabilization for smooth shots. Overall, the versatile Hero9 Black is one of GoPro's best and most advanced models yet.
7. Insta360 GO 3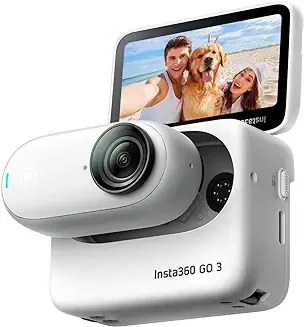 Ratings: 4.3 out of 5 stars
Key Features: Ultra-compact and lightweight, stabilized video, waterproof to 16 feet
Weighing just 31 grams, the tiny Insta360 GO 3 is a marvel of engineering. It records excellent stabilized video in up to 1440p, while FlowState stabilization keeps footage smooth. This pocket-sized action cam is also waterproof and attaches anywhere with its magnetic design. The Insta360 GO 3 is highly versatile, portable, and easy to use – perfect for capturing everyday adventures.
8. GoPro HERO10 Black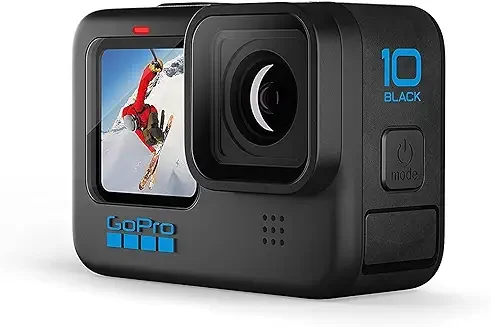 Ratings: 4.1 out of 5 stars
Key Features: 5.3K60 video, 23MP photos, HyperSmooth 4.0 stabilization
The GoPro HERO10 Black boasts new powerful features like 5.3K video at 60 fps for stunningly detailed footage. It shoots 23MP photos, has HyperSmooth 4.0 stabilization and a front facing screen that's great for vlogging. This rugged and waterproof camera also offers handy extras like live streaming and Webcam mode. For its top-of-the-line performance, the GoPro HERO10 is one of the best options out there.
9. DJI Action 2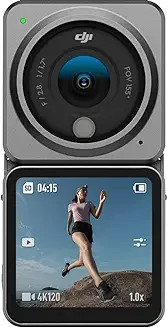 Ratings: 4.1 out of 5 stars
Key Features: Modular design, 155° FOV, HorizonSteady stabilization
Featuring an innovative magnetic, modular design, the DJI Action 2 delivers excellent performance in a tiny, portable package. It has an ultra-wide 155-degree field of view to capture the full action. HorizonSteady keeps video impressively smooth and steady. As a dual-screen combo or standalone camera, the DJI Action 2 excels at POV shooting thanks to its stellar stabilization and compact, mountable design.
10. GoPro Max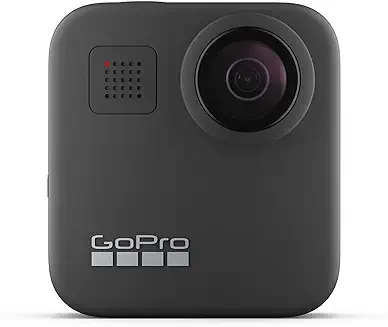 Ratings: 4.7 out of 5 stars
Key Features: 360-degree capture, HyperSmooth stabilization, Max TimeWarp video
The GoPro Max is GoPro's 360-degree camera that makes it easy to capture immersive 360 footage. With its dual fisheye lenses, it stitches together a spherical image. Its awesome features include 360-degree HyperSmooth stabilization, horizon leveling and 360 audio. TimeWarp video lets you create mesmerizing hyperlapsed videos. For incredible versatility and 360 capture, the GoPro Max is one of the best 360 action cameras available.
Comparision Table of Best Action Camera
| Action Camera | Video Resolution | Key Feature |
| --- | --- | --- |
| GoPro HERO11 | 5.3K60 | HyperSmooth 5.0 stabilization |
| DJI Osmo Action 4 | 4K/120fps | 1/1.3" sensor |
| Insta360 X3 | 5.7K 360 | Optical zoom 3X |
| GoPro HERO12 | 5.3K60 | HyperSmooth 6.0 stabilization |
| DJI Osmo Action 3 | 4K/120fps | 4x optical zoom |
| GoPro Hero9 Black | 5K | Dual screens |
| Insta360 GO 3 | 1440p | Ultra-compact size |
| GoPro HERO10 Black | 5.3K60 | 23MP photos |
| DJI Action 2 | 4K/120fps | Modular design |
| GoPro Max | 5.6K 360 | 360-degree capture |
Types of Action Cameras
There are a few main types of action cams:
Standard Action Cams
These versatile cams are designed for capturing all kinds of adventures and extreme sports. Most have a compact, rectangular shape and are made to handle rugged activities. Standard options range from affordable entry-level versions ideal for casual users to high-end models packed with advanced specs and features for professionals.
360 Cameras
360 action cams use dual ultra wide-angle lenses to capture immersive, spherical video and photos. They stitch the footage in-camera into a 360-degree view that you can pan and explore. Some 360 cams also shoot standard wide-angle 4K video. Their unique perspective is great for travel, scenic experiences and VR content.
Tiny Cube Cams
Cube-shaped tiny cams weigh less than two ounces and are about the size of a golf ball. Their discreet, mount anywhere designs make them awesome for capturing POV footage throughout your day. They lack some advanced features, but make up for it in portability.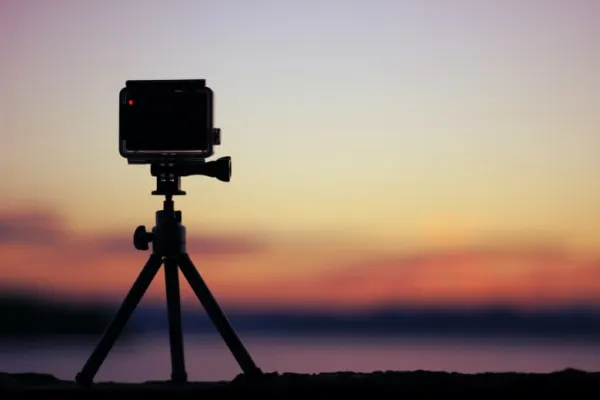 Action Camera Buying Guide
Follow this guide when shopping for an action camera:
1. Pick Your Price Point
Budget ($200-$300): Great for casual users and beginners. Offers good HD or 4K quality.
Mid-Range ($300-$400): A versatile sweet spot. Excellent 4K/30fps video and ruggedness. Top sellers like GoPro HERO9 Black.
High-End ($400-$500): Cutting edge features and performance like 5K video. For professionals and serious enthusiasts.
2. Consider Video Quality
Look for 4K, 5K or 6K video, high frame rates (60 to 120fps), image stabilization and large sensors for stunning image quality.
3. Assess Ruggedness
Durability features like waterproofing, shockproofing and cold/heat resistance allow you to film in any conditions.
4. Check Battery Life
Cameras with removable batteries that support spares are ideal for extended shooting. Battery life is improving, but still limited on most action cams.
5. Research Features
Zoom, audio, data overlays, connectivity options, shooting modes and companion apps offer creative flexibility.
6. Look Into Accessories
Accessories like mounts, cases, lights, mics and mods expand what you can do and where you can mount the camera.
Usage Tips
Here are some tips for getting the most out of your action camera:
Use mounts – take advantage of mounts for your gear, body and vehicles to capture immersive POV footage. Sticky curved mounts for helmets, chest straps and handlebars work great.
Shoot wide – action cams excel at capturimg sweeping wide angle perspectives. Use wide framing to immerse viewers in the thick of the action.
Mind the angle – angle the camera to best capture the action and give a sense of speed. Pointing it straight ahead or angled slightly down often works well.
Use high frame rates – set your camera to high frame rates like 120fps or 240fps to shoot epic slow motion during moments of intense action.
Try different modes – switch between timelapse modes to condense time and single shot modes to leverage your camera's full resolution.
Take advantage of waterproofing – don't be afraid to get your rugged action cam wet to film things like surfing, diving, waterfalls and more from an aquatic perspective.
Use stabilization – turn on the camera's stabilization setting for smoother handheld and POV shots. Newer HyperSmooth stabilization gives gimbal-like steadiness.
Control with your voice – many models offer handy voice commands, so you can control the camera hands-free when it's mounted. This helps when your hands are occupied.
Care and Maintenance
Here are some tips for keeping your action cam in top shape:
Keep the camera in its protective housing when not in use. Avoid dropping it.
If the camera gets wet, dry it thoroughly before removing the battery and memory card.
Avoid excessive heat and prolonged sun exposure, which can damage the battery and camera.
Check the waterproof housing O-rings regularly and replace if worn. Keep the seals clean.
Periodically re-format the memory card to maximize performance.
Clean the lens carefully using a microfiber cloth and lens cleaner designed specifically for lenses.
Update firmware when new versions are available for enhanced functionality.
Use only recommended batteries and accessories for safe operation.
Conclusion
In conclusion, the world of action cameras is constantly evolving, and there are now an array of options available in India that cater to different needs and budgets. From the premium GoPro Hero 10 White to the budget-friendly FitSpark Eagle i9 Action Camera, each camera has unique features that make them stand out. Hope this list of the six best action cameras in India will help you pick the right camera.
FAQs
Q. Which action camera is best?
Based on expert testing and reviews, the GoPro HERO11 currently stands as the best action camera overall. It captures superb 5.3K video and 20MP photos thanks to its large sensor and advanced HyperSmooth 5.0 stabilization. The HERO11 also has a convenient dual screen design, live streaming capabilities, and improved durability. Its versatility, video quality and performance make it the top choice for most consumer and professional needs.
Q. Is there an action camera as good as a GoPro?
While GoPro dominates the action camera market, competitors like DJI and Insta360 have closed the gap in recent years. The DJI Osmo Action 4 gives GoPro a run for its money with professional-grade 4K/120fps video, cinema-like color profiles, and RockSteady stabilization. For shooting immersive 360 footage, the Insta360 ONE RS and X3 outperform GoPro's 360 camera. But for mainstream consumer use, no other action camera matches GoPro's overall blend of usability, durability, features and video quality.
Q. Which action camera is best for beginners?
The GoPro Hero9 Black is an excellent choice for beginners seeking high-quality video paired with helpful usability features. It shoots smooth 5K video and 20MP photos while remaining easy to use thanks to its touch screen interface and smartphone app connectivity. Beginners will appreciate the Hero9's built-in horizon leveling, HyperSmooth 3.0 stabilization and useful presets for quick shooting. Its comprehensive design and performance make it the ideal starter action cam.
Q. What is the best action camera for basketball?
To capture fast-paced basketball games and skills training, look for an action camera with a wide field of view, high frame rates and stabilization like the GoPro Hero11 or Insta360 ONE RS. These cams can shoot super slow motion thanks to frame rates up to 240fps. Their slim form factor easily mounts to backboards and rims to put you in the heart of the action. Advanced stabilization keeps the footage smooth despite vibration and movement. For comprehensive basketball videography, a 360 camera like the Insta360 X3 allows unique 360 replays.
Q. Which is better – GoPro or Insta360?
GoPro and Insta360 both make excellent action cams. GoPro is the leader known for versatile, rugged cameras with fantastic HyperSmooth stabilization. Insta360 specializes in innovative 360 cameras as well as single lens models with great stabilization.
Q. How much 4K video can a 64GB card hold?
A 64GB microSD card can hold about 2 hours of 4K/30fps footage or around 1 hour of 4K/60fps footage with an action camera. Larger 128GB cards are better for extended shooting.
Q. Do I need an SD card for an action camera?
Yes, you need a microSD card to save photos and videos. Look for cards rated for 4K video recording. The card capacity depends how much content you plan to capture. Most users are fine with 64GB to 128GB.
Q. Can I live stream with an action camera?
Many newer action cams offer live streaming so you can broadcast in real-time. You can live stream up to 1080 HD footage to sites like YouTube and Facebook via WiFi. A high speed data connection is recommended for best results.
Q. Do action cameras take good photos?
Yes, today's top action cams excel at shooting crisp, vivid photos. Flagship models capture 20MP to 27MP photos with excellent detail and HDR for balanced exposure. Some even shoot in RAW photo format for the most editing flexibility.
Q. What accessories do I need for my action camera?
Some essential accessories include spare batteries, a charger, protective case, mounts (for your body, gear, etc.) and memory cards. You may also want accessories like external mics for better audio, lights for low light scenes and mods to enhance features.
Q1. What is the difference between 4K and 1080p video resolution?
While 1080p is considered high definition, 4K offers four times the number of pixels, resulting in clearer and more vibrant footage. However, 4K requires more storage space and processing power than 1080p, so it may not be useful for everyone.
Q2. What accessories are included with an action camera?
The accessories included with an action camera vary from brand to brand, but typically they may include a waterproof housing, mounts for different surfaces and gear, a battery, a charging cable, and possibly a memory card. Some cameras may also come with additional features such as remote controls or live streaming capabilities.
Q3. Can action cameras be used for live streaming?
Yes, many action cameras on the market today offer live-streaming capabilities. You can broadcast your adventure in real-time to platforms like Facebook, YouTube, or Instagram. But live streaming also needs a stable internet connection.