Polaroid cameras are making a comeback! This fun, retro cameras allow you to print photos instantly and tangibly capture memories. With so many Polaroid camera options on the market, it can be tough to decide which is right for you. This guide covers the top Polaroid cameras available and provides tips on choosing the best polaroid camera for your needs.
How to Choose the Best Polaroid Camera
Here are some key factors to consider when selecting a Polaroid camera:
Film Type: Polaroid cameras use different film sizes and types like Instax Mini, Instax Square, and Instax Wide. Consider which film size you prefer based on the final photo size and aesthetic.
Extra Features: Look for cameras with additional features like a selfie mirror, macro lens, remote shutter, and more. These allow for more creativity with your instant photos.
Image Quality: Pay attention to image resolution, clarity, and color quality produced by the camera. Higher-end models tend to produce better image quality.
Manual Controls: If you want more control over your settings, look for adjustable shutter speed, flash, focus, and exposure options.
Durability: Check camera reviews to ensure it can withstand regular use. Many low-cost models may have issues with photo quality declining over time.
Price: Polaroid cameras range widely in price from $60 to $300+. Set a budget and find the best camera you can afford within that range.
By keeping these aspects in mind, you'll be able to select the perfect Polaroid camera for your needs and budget.
The Best Polaroid Cameras of 2023
Best Overall: Fujifilm Instax Mini 11
Ratings: 4.3 out of 5 stars (23,076 reviews)
The user-friendly Fujifilm Instax Mini 11 is our choice for best overall Polaroid camera. It produces high-quality instant photos with Fujifilm's iconic Instax Mini film. The Mini 11 has a simple design with just a power button, shutter release, and flash toggle. The auto exposure feature makes it easy to get great shots in various lighting conditions. Users love the sturdy plastic body, cute design, and affordability of this camera. Images have excellent color quality with a soft vignette effect around the edges. The Instax Mini film develops quickly in just 90 seconds. An excellent choice for anyone looking to explore instant film photography.
Best Design: Fujifilm Instax Mini 12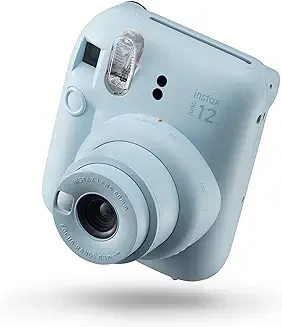 Ratings: 4.2 out of 5 stars (673 reviews)
The Fujifilm Instax Mini 12 wins points for its adorable design. This compact camera comes in fun colors like pink, blue, green and purple. It features a sleek, rounded body shape with a playful backlit display. Like the Mini 11, it uses Instax Mini film to produce credit card-sized instant photos. Improvements include a selfie mode with selfie mirror, macro mode for close-ups as near as 30cm, and exposure compensation dial. Users love the stylish retro look, range of color options, and easy-to-use buttons. Image quality is fantastic with excellent detail and dynamic range. If you want a cute, trendy Polaroid camera, the Mini 12 is a great choice.
Best Image Quality: Fujifilm Instax Square SQ1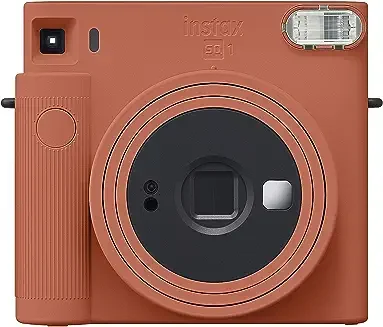 Ratings: 4.5 out of 5 stars (2,188 reviews)
Serious photographers will appreciate the excellent image quality from the Fujifilm Instax Square SQ1. It uses Instax Square film to produce 2.4" x 2.4" instant photos with stunning detail and color rendition. The camera has auto exposure with lens shift technology for consistent exposure across the image. An additional close-up lens allows focussing as close as 11.8 inches. The viewfinder provides accurate framing and dual shutter buttons enable comfortable vertical or horizontal shooting. Users highly recommend this camera for beautifully clear, vivid instant photos and an excellent value. It's a superb option for landscapes, portraits, events and more.
Most Versatile: Fujifilm Instax Mini LiPlay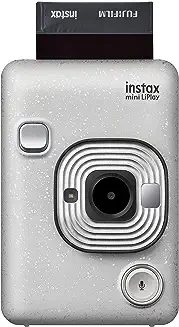 Ratings: 4.4 out of 5 stars (3,943 reviews)
For maximum flexibility, choose the Fujifilm Instax Mini LiPlay hybrid camera. This innovative camera bridges analog and digital formats. It prints Instax Mini instant photos via digital files on an internal memory or micro SD card. The LiPlay has a 2.7" LCD screen to preview shots, control settings, and view photos stored on the device. Additional creative options include double exposure, digital zoom, filters, and QR code printing. Users love the versatility of digital and analog capabilities plus the ability to print photos from other sources like social media. It's an excellent all-in-one device for modern hybrid photography.
Best for Kids: Fujifilm Instax Mini 9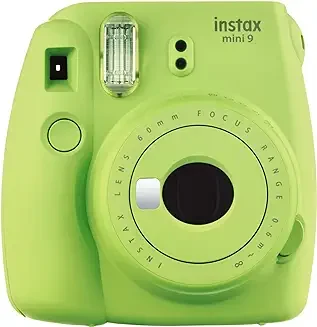 Ratings: 4.3 out of 5 stars (12,406 reviews)
The affordable Fujifilm Instax Mini 9 is a great first Polaroid camera for kids and teens. It comes in fun colors like ice blue, flamingo pink and cobalt blue. The Mini 9 keeps things simple with basic settings and an automatic flash. Focusing is fixed to 0.6m to infinity to make the experience foolproof. Users mention it's very easy for young photographers to learn on this camera. Image quality is quite good for the price with pleasing colors and acceptable detail. While it lacks some of the features of pricier models, the Instax Mini 9 delivers on the instant camera experience for little ones. A perfect and inexpensive way to explore analog photography.
Best Large Format: Fujifilm Instax Wide 300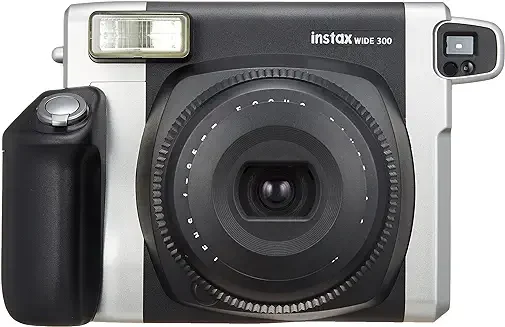 Ratings: 4.2 out of 5 stars (828 reviews)
For a truly retro experience, check out the Fujifilm Instax Wide 300. It uses a larger Instax Wide film format to produce 3.4" x 4.3" instant photos with excellent detail and dynamic range. The lens, viewfinder and image sensor are specially designed for the larger film size. Automatic exposure measurement targets the subject for ideal results. Users particularly love the stunning instant photos that have an artistic, professional look straight from the camera. It's a fantastic option for travel, nature photography and special events. The Instax Wide 300 delivers big, beautiful instant photos.
Best for Selfies: Kodak Mini Shot 3 Retro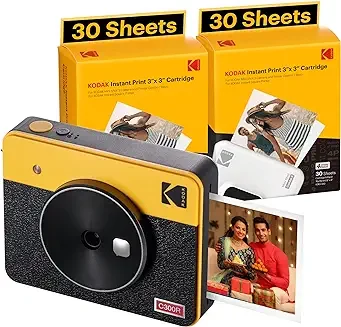 Ratings: 4.0 out of 5 stars (5,197 reviews)
Instant cameras aren't just for scenery – they're perfect for selfies too! The Kodak Mini Shot 3 Retro makes this easy with a tiltable 3" x 3" instant photo printer and an innovative camera mirror. Simply rotate the mirror upwards, frame yourself on the LCD display, then print! This portable camera uses zinc-based photo paper for vibrant, accurate colors. It also has a Micro SD card slot for saving photos digitally. Users love the modern design in white or yellow with an integrated hand strap. Definitely a smart choice for adding some analog flair to your selfies and portrait shots on-the-go.
Best Budget: Fujifilm Instax Mini 7+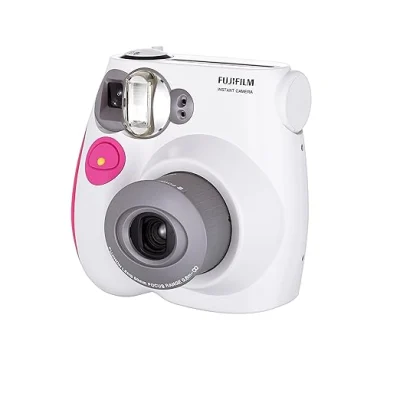 Ratings: 4.4 out of 5 stars (1,947 reviews)
You don't have to spend a lot to enjoy instant photography. The Fujilfilm Instax Mini 7+ provides an affordable way to shoot Instax Mini instant photos. While it lacks some of the features of pricier models, you still get good quality instant photos with its 60mm f/12.7 lens and viewfinder for framing shots. Automatic exposure measurement helps ensure proper lighting. Users mention it's an excellent value for capturing travel memories, family events, and everyday moments with a nostalgic feel. Although basic, the Mini 7+ is a cost-effective way to explore the world of instant photography.
Best Analog/Digital Hybrid: Fujifilm Instax Mini Link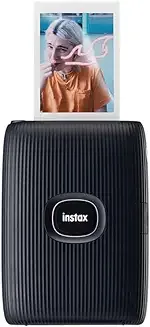 Ratings: 4.6 out of 5 stars (136 reviews)
For next-level instant photos, the Fujifilm Instax Mini Link combines digital convenience with analog charm. This portable printer connects wirelessly to your iOS or Android device via the Instax Mini Link app. Simply choose an image from your camera roll, add filters and effects, then print an Instax Mini instant photo! The sleek rounded design comes in Ash White, Dusky Pink and Rich Black. Users rave about the premium metal body, gorgeous print quality, and endless creative possibilities from editing digital photos. Truly the best of both worlds, the Mini Link lets you easily print artsy instant photos from life's best moments.
Best Square Format: Polaroid Now+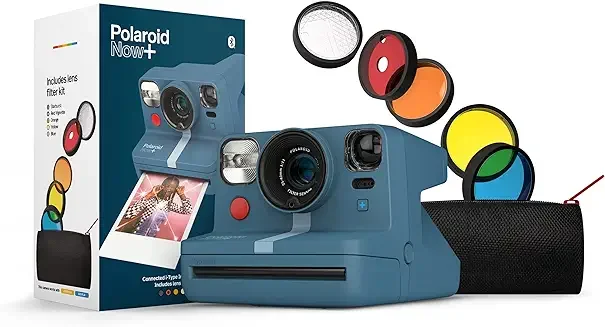 Ratings: 4.6 out of 5 stars (805 reviews)
This revamped camera brings back the iconic Polaroid square format in a creative, updated package. The Polaroid Now+ shoots on i-Type film to produce vibrant 3.5 x 2.4 inch instant prints packed with detail. New features include creative modes like double exposure and light painting, plus remote app control. Users love the rainbow color border option and print ejection mechanism that keeps the film flat as it develops. Portrait, landscape and double exposure guides on the viewfinder make perfect framing simple. For those after the classic Polaroid experience, the Now+ delivers splendidly.
Most Stylish: Lomo'Instant Automat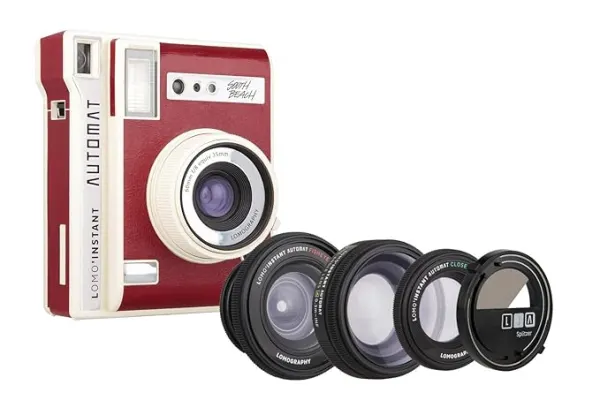 Ratings: 4.5 out of 5 stars (1,074 reviews)
Instant cameras don't have to look toy-like! The Lomo'Instant Automat has a sophisticated retro design in black or brown leatherette. This sleek all-analog camera brings together modern functionality with vintage charm. It uses Fujifilm Instax Mini film for credit card-sized instant photos. The auto exposure system produces excellent results, while creative options like multiple exposure and lens filters allow for artistic experimentation. Users especially love the high-quality metal body, luxurious leather finish, and fantastic optics. A perfect instant camera for design-conscious shooters.
Comparison of Best Polaroid Cameras
| Camera Model | Film Type | Key Features |
| --- | --- | --- |
| Fujifilm Instax Mini 11 | Instax Mini | Auto exposure, simple operation |
| Fujifilm Instax Mini 12 | Instax Mini | Trendy design, selfie mirror |
| Fujifilm Instax Square SQ1 | Instax Square | Excellent image quality, close-up lens |
| Fujifilm Instax Mini LiPlay | Instax Mini | Hybrid digital/analog, LCD screen |
| Fujifilm Instax Mini 9 | Instax Mini | Affordable, easy for kids |
| Fujifilm Instax Wide 300 | Instax Wide | Large 3.4"x4.3" prints, retro look |
| Kodak Mini Shot 3 Retro | Zink-based paper | Tilting print mechanism, ideal for selfies |
| Fujifilm Instax Mini 7+ | Instax Mini | Budget option, automatic exposure |
| Fujifilm Instax Mini Link | Instax Mini | Connects to phone app, add effects |
| Polaroid Now+ | I-Type Film | Vintage square format, creative modes |
| Lomo'Instant Automat | Instax Mini | Sophisticated design, manual control |
Different Types of Polaroid Cameras
There are several main types of Polaroid cameras available today:
Instant Print Digital Cameras: These integrate an instant photo printer with a digital camera to create hybrid analog/digital devices. They print photos from captured digital images. Examples: Fujifilm Instax Share series, Kodak Mini Shot cameras.
All-Analog Instant Cameras: These use film packs to capture and instantly develop analog photos. No digital capability. Examples: Fujifilm Instax Mini, Instax Wide, and Instax Square cameras.
Smartphone Printers: These portable devices connect to smartphones via an app to print instant photos from your mobile images. Examples: Fujifilm Instax Mini Link, Kodak Step.
Vintage Refurbished: Older vintage Polaroid models like the SX-70 have been refurbished and adapted to work with new film. These classics give an ultra retro photography experience.
Medium Format: Higher-end models use large-format instant film packs for professional quality. Examples: Fuji Instax Wide 500AF, Polaroid 600.
Using and Caring for Your Polaroid Camera
Read your camera's manual thoroughly to understand its features and operation.
Only use compatible Polaroid film designed for your specific camera model.
Keep spare film cartridges on hand so you can reload quickly. Store film in a cool, dry place.
Be gentle when handling your camera to avoid damage. These vintage-style devices are not the most durable.
Wipe the lens gently with a microfiber cloth to remove dust and fingerprints. Never use harsh cleaners.
Avoid touching or shaking your photos immediately after they eject. Allow time to properly develop.
Display and store photos out of direct sunlight to prevent fading.
For digital hybrid models, charge batteries fully and bring extra batteries/memory cards when shooting.
Periodically clean printer rollers and mechanisms in digital cameras for optimal performance.
To extend the life of vintage cameras, have a professional periodically service and refurbish the unit.
Following camera care best practices will help keep your Polaroid working its best for years of quirky, creative instant photography!
Frequently Asked Questions
Q. How do I store Polaroid film properly?
A. Keep unused Polaroid film packs in a cool, dry place away from direct sunlight and heat to maintain freshness. Store individual photos in albums or display frames out of sunlight as well.
Q. How long does it take for Polaroid photos to fully develop?
A. Development times vary by film type, but count on at least 10-15 minutes. Avoid shaking or bending photos during this time. For best results, allow 1-2 hours before handling.
Q. Can I reuse or reload Polaroid film packs?
A. No, Polaroid film packs cannot be reused or reloaded once exposed. You must insert a new film cartridge into the camera when the previous one is finished.
Q. Why do some of my Polaroid photos come out dark or blurry?
A. This is likely due to insufficient light exposure. Make sure your shot is properly framed and wait for the automatic flash to go off before snapping. Move closer to subjects for clearer focus.
Q. How many photos can I take per Polaroid film pack?
A. The number of photos per pack ranges from 8 (for Square format) up to 20 shots (for Instax Mini). Check your film pack for the total photo capacity.
Q. What accessories are useful for Polaroid photography?
A. Helpful accessories include tripods for stability, lens filters for artistic effects, fun photo albums, batteries, microfiber cloths, and external flash units for low-light shooting.
Q. Which camera is best for Polaroid?
The Fujifilm Instax Mini 11 is an excellent overall choice for Polaroid-style photography. It produces great quality instant photos with Fujifilm's Instax Mini film. The Mini 11 has an easy-to-use design, automatic exposure for consistent lighting, and delivers images with vibrant color and pleasing soft vignette effects. It's affordable, portable, and a fantastic way to explore instant photography.
Q. What is the most famous Polaroid camera?
The Polaroid OneStep first introduced in 1977 is considered one of the most iconic and well-known Polaroid cameras. The original OneStep used Polaroid's SX-70 instant film to produce photos with a classic white-framed, square format. This hugely popular vintage camera made Polaroid photography accessible to the mainstream public. Updated versions like the OneStep+ have been released, but the original model remains highly recognizable and famous as a pioneering instant camera.
Q. Which instant camera is worth buying?
Great options for quality instant cameras worth the investment include the Fujifilm Instax Square SQ1, Fujifilm Instax Mini 90 Neo Classic, and the Lomo'Instant Automat. The SQ1 produces excellent large square instant photos, while the Mini 90 has professional shooting modes. For a sophisticated retro style, the stylish Lomo'Instant Automat uses Instax Mini film with advanced creative controls. Any of these models will provide outstanding instant photo results and a rewarding photography experience.
Q. Why Instax is better than Polaroid?
There are a few key advantages of Fujifilm's Instax instant cameras and film over Polaroid options:
Wider availability – Instax film is easier to find and purchase than Polaroid film types like I-Type.
Lower cost – Instax cameras and film tend to be more affordable and budget-friendly.
Newer technology – Instax incorporates more recent improvements in instant photo quality and performance.
Creative options – Instax cameras offer more built-in shooting modes, effects and filters.
Vibrant colors – Instax film is known for producing images with bright, saturated color rendition.
Capture Instant Memories with a Polaroid Camera
Thanks to the resurgence of instant film, this retro photography format is back and better than ever. With so many great options now available, you're sure to find a Polaroid camera that fits your style and inspires your creative vision. Just point, shoot, print and enjoy tangible photos you can hold in your hand!