Honey has many antibiotic and medicinal properties and has also been used as a sweetener for ages. Incorporating it into your desserts and dishes imparts sweetness without the addition of extra calories or sugar to your diet. It's also a great sugar substitute for patients with diabetes.
Adulteration is common in honey due to its widespread use. There have been many cases where companies have added chemicals and preservatives to the product.
It is said that natural honey, without any adulteration, never gets spoilt. So, if you buy an adulterated honey pack and keep it open at room temperature, the probability of it degrading is quite high.
There's a simple solution to get your hands on pure honey. Go for the brands selling the best honey in India. Here are our top 5 brand choices for the best honey in India.
How to Choose the Right Brand for Honey?
Processed: The first thing that you should look for is whether the honey has been processed.
Certifications and Testing: Look for the national certifications and testing stamps that are placed on the packaging. Check that the honey bottle has been certified by national institutions. If NMR (Nuclear Magnetic Resonance) testing has been performed, then you are good to go with it.
Visual inspection: You can also do a visual inspection after purchasing the honey. It should have a natural colour without any kind of cloudiness or crystallisation.
Viscosity: Pure honey has a very low viscosity. You can see if the honey stays on your thumb or starts to flow very easily.
Source: Lastly, check the source of the honey if the sellers have mentioned it. Brands that are transparent about their sourcing can be trusted to provide the best honey in India.
Top 5 Brands that Offer the Best Honey in India
Dabur Honey
Baidyanath Honey
Patanjali Honey
Humdard Natural Blossom Honey
Saffola Honey
Dabur Honey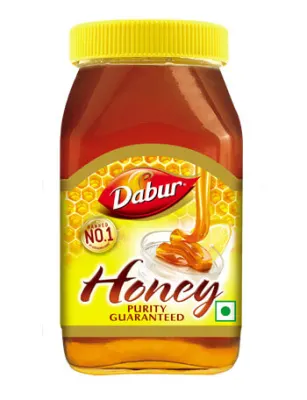 Every Indian household has a bottle of Dabur Honey in their kitchen. Dabur Honey is the market leader in selling the best honey in India. They have been at the top for over a century by providing the finest products to Indian households. Dabur was launched in 1884 by an Indian Ayurveda practitioner and has grown to become the largest honey seller in India.
What's great?
The honey is collected naturally from widespread honey farms across India.
It is completely unadulterated and has no added sugar in it.
It has been tested for the presence of antibiotic properties.
It complies with 22 FSSAI parameters.
Baidyanath Honey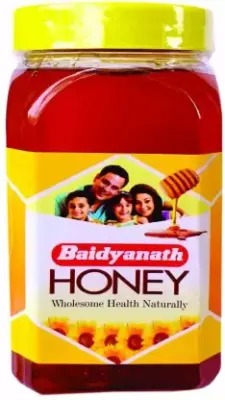 When it comes to choosing the best honey in India, Baidyanath has to be one of the top choices as well. They have been providing Ayurvedic-grade products to consumers for a very long time.
Ayurvedic practitioners recommend Baifyanath Honey for medicinal purposes. Baidyanath launched this product in 1917 from Kolkata. It has since become one of the best sellers in the country.
What's great?
It is sourced directly from the honeycombs and packed without processing.
FSSAI has certified this product along with multiple other certifications.
Baidyanath honey helps with treating cold and cough.
Patanjali Honey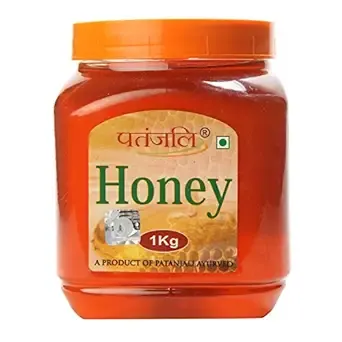 Patanjali is the market leader in terms of selling the most number of Ayurvedic products. The brand sells products catered to Indian households which are completely pure and unadulterated.
Patanjali Honey gets its sweetness from glucose in its honey, which is a monosaccharide. Patanjali claims that it provides the best pure honey. It is not just a natural sweetener but also a multifunctional food with ample health benefits for daily consumers. Patanjali was founded in 2006 and has become a household name within very little time.
What's great?
97% of its sweetness comes from glucose.
It stands true to the FSSAI standards and has been tested by many other laboratories.
It is rich in vitamins, minerals and other nutrients.
It sells for a very affordable price.
Humdard Natural Blossom Honey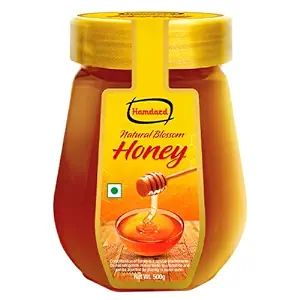 Humdard was founded in 1906 in India. They were initially operating out of small shops and used to sell unadulterated honey and other medicinal products. Today, they are one of the largest exporters of the best pure honey.
What's great?
Hamdard Natural Honey has been certified by FSSAI for maintaining zero adulteration standards.
The honey has anti-fungal and anti-bacterial properties.
It is great for immunity.
It is a naturally sourced floral honey.
Saffola Honey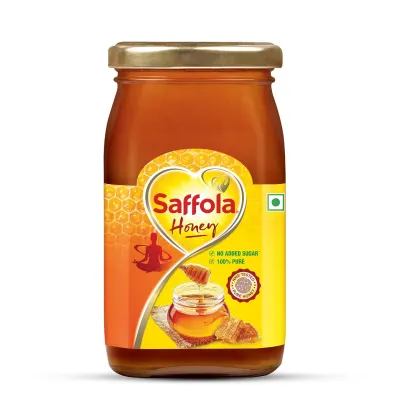 Saffola entered the Indian honey market in 2020. They have become quite famous in the International market for maintaining quality standards in household products. Saffola follows very high standards for sourcing and packaging the best pure honey.
What's great?
Saffola tests the honey through NMR testing before packaging every lot.
It sources the best honey in India from floral farms.
The honey is completely natural and gets tested for adulteration with every new lot.
The product complies with all the required FSSAI standards and food certifications.
Conclusion
You must have gotten a good idea of which brands sell the best honey in India. The top four – Dabur, Baidyanath, Patanjali, and Hamdard — enjoy a territorial reign over the honey market in India.
These brands are trusted by millions of consumers for providing the best quality honey and have been trusted by Indian households for decades. Saffola, being a new brand in the honey market, is fast capturing the fancy of Indian consumers. The next time you want to get honey for your home, make sure you choose from the best honey brands.
FAQs
1. How do you check honey for purity visually?
When you pick a bottle of honey or wish to order it online, make sure you see that the colour of the product is naturally honey brown. It should not have any haziness or impurities floating in it.
2. Which is the right brand to buy the best honey in India?
Brands like Dabur, Patanjali, Baidyanath, Humdard, Saffola, etc., are top-tier choices if you want natural honey at an affordable price. You can also get the best honey in India through locally sourced organic stores.
3. What is the testing standard for honey?
In India, Natural Magnetic Resonance (NMR) testing is the standard for checking the quality of honey being supplied.