Hoodies are a wardrobe staple loved by men and women alike. With origins in the 1930s as worker sweatshirts, hoodies today combine style and comfort, making them a popular garment across ages.
When looking for the best hoodie brand in India, consider factors like material, fit, design range and pricing. The top brands offer high-quality fabrics like soft cotton, breathable technical fabrics and smooth fleece. They provide great fits like regular, slim and oversized. Design choices include solids, prints, colour blocking and other details. And they suit varying budgets.
Based on these criteria, here are the top 10 best hoodie brands in India:
1. Allen Solly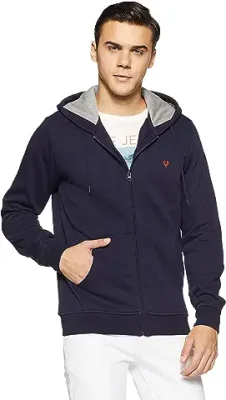 With a 4.1/5 star rating across over 22,000 reviews, Allen Solly is one of the most popular hoodie brands. Their cotton hoodies start at just ₹787 with varied discounted prices.
Key Features:
Soft cotton fabric provides great comfort
Range of solid colours and camouflage prints
Regular fit works well for most body types
Buyers praise the quality cotton fabric and value-for-money pricing of Allen Solly hoodies. The sweatshirts are soft, breathable and hold up well after multiple washes. The camouflage and colour block prints are eye-catching. Overall, one of the best choices for budget-friendly cotton hoodies.
Q. What fabric are Allen Solly hoodies made of?
A. Allen Solly hoodies are made from high-quality cotton that provides softness and breathability. Some hoodies may contain cotton blends.
2. Roadster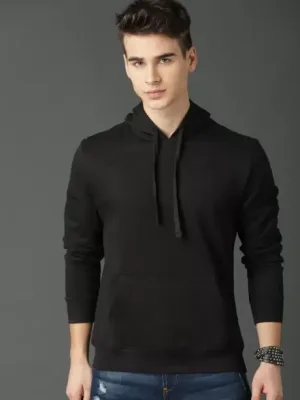 With prices starting at ₹428, Roadster is another wallet-friendly hoodie brand in India. The 4.3 rated hoodies come in cotton, polyester and viscose blends.
Key Features:
Value buys under ₹800
Vibrant colours and graphic prints
Relaxed and regular fits
According to buyers, Roadster hoodies are super soft and comfortable. The fabric holds up well after washes. The relaxed fits and graphic prints make these hoodies apt for casual wear. Overall, one of the top budget hoodie brands in India.
Q. What are some popular Roadster hoodie designs?
A. Roadster has vibrant solids, camouflage prints, graphic prints and colour blocked hoodies. Popular designs include typography, palm tree prints, tie-dye patterns, etc.
3. Puma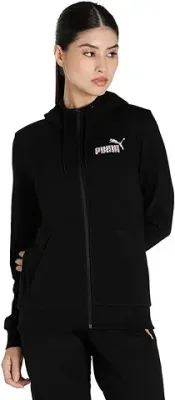 With a dominant presence in activewear, Puma also offers some of the best hoodies combining performance and style. The 4+ rated hoodies feature moisture-wicking fabrics and sporty designs.
Key Features:
Technical fabrics like polyester and cotton blends
Athletic and motorsport-inspired designs
Full zip and pullover styles
Reviewers find Puma hoodies extremely comfortable for workouts and daily wear. The technical fabrics provide stretch and sweat absorption. The cuts allow for easy movement. And the motorsport designs add flair. Overall, one of the top activewear hoodie brands.
Q. Does Puma have sustainable hoodies?
A. Yes, Puma has introduced recycled polyester hoodies as part of its sustainability initiatives. These eco-friendly hoodies feature recycled plastic bottles and bamboo fibers.
4. H&M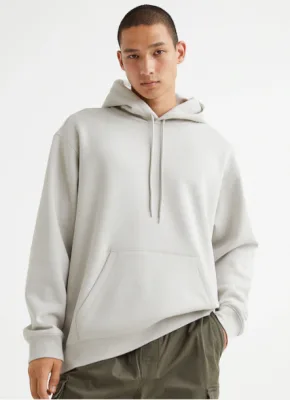 With a rating of 4.4/5 from over thousands of buyer reviews, H&M is one of the best hoodie brands for trendy styles. The Swedish brand offers hoodies from ₹1,499 in the latest fits, prints and details.
Key Features:
Oversized, relaxed and regular fits
On-trend camouflage, tie-dye and graphic prints
cotton, polyester and blends
H&M hoodies get high praise for their super soft fabrics and stylish designs. The oversized and relaxed fits couple with cool prints to create laidback, fashionable looks. And the quality rivals higher price points. Overall, one of the top fast-fashion hoodie brands.
Q. Does H&M offer hoodies for plus size?
A. Yes, H&M has designated plus size hoodie options with sizes going up to 5XL. These offer roomy cuts for comfortable layering.
5. WROGN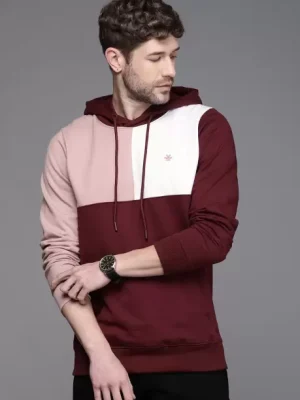 With prices ranging from ₹1,000 onwards, WROGN offers contemporary hoodie styles for men. The 4+ rated hoodies feature premium fabrics, modern fits and eye-catching details.
Key Features:
Premium cotton, polyester and blended fabrics
Modern slim and relaxed fits
Contrast taping, colour blocking and contemporary graphics
Reviewers love the soft, stretchy fabrics that hold shape after washes. The unique colour blocking and applique designs make the hoodies stand out. And the fits complement athletic and stocky builds. Overall, one of the top premium men's hoodie brands.
Q. What are some bestselling WROGN hoodies?
A. Some popular WROGN buys are the space-dyed hoodies with contrast taping, colour block hoodies with split kangaroo pockets and floral print applique hoodies.
6. Adidas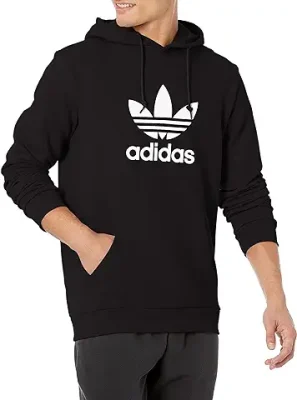 As a leading activewear brand, Adidas offers some of the most comfortable and performance-friendly hoodies. The 4.4+ rated sweatshirts feature sweat-wicking Climalite fabric and bold designs.
Key Features:
Climalite fabric for moisture management
Sporty fits and details
Iconic Adidas prints and colour blocks
According to buyers, Adidas hoodies are extremely soft, breathable and suitable for workouts. The fabric and athletic cuts provide ease of movement. And the Adidas styles look cool for lounging and everyday wear. Overall, one of the top activewear hoodie brands in India.
Q. Does Adidas offer full zip hoodies?
A. Yes, Adidas has both pullover and full zip hoodie options. The full zip makes them more versatile for layering and temperature regulation.
7. Jack & Jones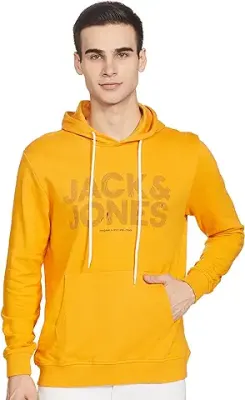 Owned by Bestseller, Jack & Jones is a popular men's clothing brand from Denmark. Their hoodies earn a 4+ rating for the premium fabrics, versatile fits and standout graphics.
Key Features:
Pure cotton, soft fleece and cotton blends
Slim, regular and oversized fits
Graphic prints, embroidered logos, and colour blocks
Buyers praise the plush fabric, easy fits and eye-catching designs of Jack & Jones hoodies. The hoodies hold shape well through washes. Some highlighted buys are the embroidered logo and camouflage print styles. Overall, a top premium hoodie brand for men.
Q. What are the price ranges for Jack & Jones hoodies?
A. Jack & Jones hoodies cost between ₹1,500 to ₹3,500. They offer premium quality at competitive prices.
8. Superdry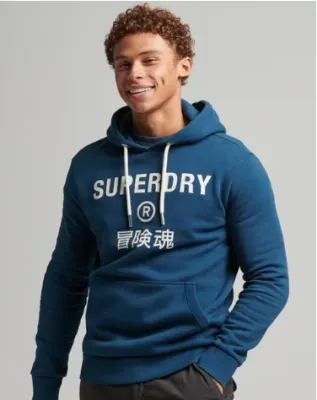 This popular British brand offers cool casual wear including well-rated hoodies. Superdry hoodies start at ₹3,000 featuring vintage sporty designs crafted in soft fabrics.
Key Features:
Premium cotton fleece and polyester fabrics
Relaxed and oversized fits
Vintage sport-inspired graphics and colour blocks
Reviewers love the plush, roomy fits and iconic Superdry graphics like colourful logos, vector prints and text prints. The details like appliques, taping and zips add interest. Overall, Superdry hoodies make trendy athleisurewear.
Q. Does Superdry offer hoodies in plus sizes?
A. Yes, Superdry has designated plus size and big-tall size options for roomy, comfortable fits going up to 4XL.
9. Umbro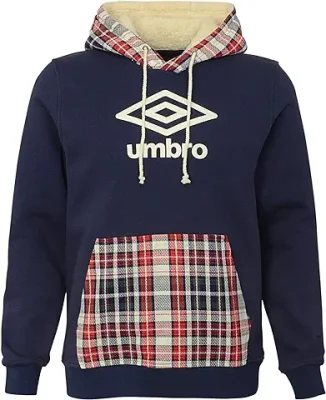 Owned by Nike, Umbro is a heritage British sportswear brand that offers casual hoodies with a vintage athletic vibe. The 3.5+ rated hoodies cost just ₹450-510 featuring heathered fabrics and colour blocks.
Key Features:
Budget buys under ₹600
Heathered cotton, polyester and blends
Colour blocks, split kangaroo pockets and ribbed cuffs
According to buyers, Umbro hoodies offer superb value with their soft fabrics and stylish sporty looks. The colour blocks and pockets create visual interest. Overall, one of the most affordable hoodie options.
Q. Does Umbro have zipper hoodies?
A. Yes, Umbro offers both pullover and zip-front hoodie options. The full zip styles allow versatile wear.
10. Calvin Klein Jeans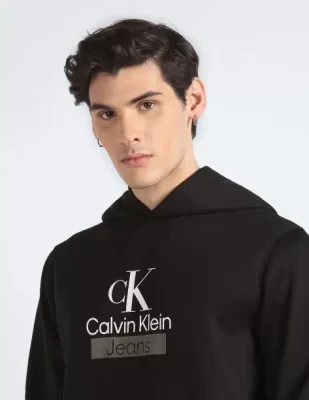 The premium American brand offers elevated essentials including well-rated hoodies. Calvin Klein Jeans hoodies cost ₹5,000+ made from smooth cotton and cotton blends.
Key Features:
Luxurious cotton and cotton-rich fabrics
Iconic CK logo embroidery/prints
Slim and regular fits
Reviewers love the amazing quality, durable fabric and flattering fits of Calvin Klein Jeans hoodies. The CK logo styles look polished for everyday wear. Overall, these are luxe wardrobe staples.
Q. What is Calvin Klein Jeans known for?
A. Calvin Klein Jeans is known for its luxury essentials from t-shirts to denims. It focuses on high quality fabrics and flattering cuts. The pieces feature minimalist designs and elevated finish.
Comparison for the 10 Best Hoodie Brands in India
| Brand | Key Fabric | Style Fit |
| --- | --- | --- |
| Allen Solly | Cotton | Regular |
| Roadster | Cotton, Polyester, Viscose blends | Relaxed, Regular |
| Puma | Polyester, Cotton blends | Athletic |
| H&M | Cotton, Polyester, Blends | Oversized, Relaxed, Regular |
| WROGN | Cotton, Polyester, Blends | Slim, Relaxed |
| Adidas | Climalite Cotton | Athletic |
| Jack & Jones | Cotton, Fleece, Blends | Slim, Regular, Oversized |
| Superdry | Cotton Fleece, Polyester | Relaxed, Oversized |
| Umbro | Cotton, Polyester, Blends | Regular |
| Calvin Klein Jeans | Cotton, Cotton blends | Slim, Regular |
How to Choose the Best Hoodie Brands in India
Here are some tips for choosing the best quality hoodies in India:
Fabric
Cotton, polyester, fleece and blends are popular hoodie fabrics. Cotton provides softness, breathability and natural comfort. Polyester offers moisture wicking properties for activewear. Fleece has a plush, fuzzy handfeel. And blends like cotton-polyester combine beneficial properties of different fibres.
Choose sweatshirt base fabrics to suit your needs like workouts or lounging. Also check fabric weight – mid to heavyweights above 200 gsm offer more warmth.
Fit
Hoodies come in slim, regular, relaxed and oversized fits.
Slim hugs the body for a tailored look. It works well for lean body types.
Regular provides a classic hoodie silhouette. It suits most builds.
Relaxed offers looser fit through body and arms for easy layering.
Oversized features dropped shoulders and roomy shape for streetstyle appeal.
Choose a hoodie fit based on your style preferences and body shape. If opting for oversized, go one size up.
Details
Design details that enhance hoodie style:
Pockets: Kangaroo, side seam and slip pockets provide function
Colour blocking: Contrast fabric panels add visual interest
Zippers: Full or quarter front zips allow adjustable coverage
Appliques & embroidery: Logos, graphics and text provide flair
Ribbed trims: Cuffs and hems hug the body and lock in warmth
Drawcords: Adjustable hood and hem cords enable a customisable fit
Look for these details to find unique and stylish hoodies.
Price
Basic cotton hoodies from value brands start at ₹400-500. Premium fabric hoodies from athletic and designer brands can go up to ₹10,000.
Factors impacting hoodie prices are fabric quality, construction, fit, brand and design details. Loungewear hoodies tend to be cheaper while performance and branded hoodies are pricier.
Compare hoodie prices across brands to identifyvalue buys for different budgets.
Types of Hoodies
There are many hoodie styles and variations available:
Pullover Hoodies
Pullover or front-open hoodies are the classic hooded sweatshirt style with a drawstring hood. They may include a front kangaroo pocket and ribbed trims. These versatile hoodies can be worn as both outerwear and for layering. Cotton and cotton blends are common pullover hoodie fabrics.
Zip Hoodies
As the name suggests, zip hoodies feature a zip closure rather than open front. The zipper extends partway or fully and allows adjustable coverage. Activewear brands often use technical fabrics like polyester fleece for zip hoodies. The zip front style also enables easy wear.
Athletic Hoodies
Athletic hoodies use moisture-wicking technical fabrics like polyester fleece, Climalite cotton, French terry etc. The fits allow ease of movement while details like thumbholes and mesh panels aid performance. These are ideal for workouts and active lifestyles.
Oversized Hoodies
Oversized or boyfriend hoodies offer a baggy, slouchy silhouette. They feature extended shoulders, roomy bodies, long sleeves and sometimes elongates hoods. The loose styling creates a laidback streetstyle vibe. These hoodies allow for relaxed layering over innerwear.
Pocket Hoodies
These include front kangaroo pockets or side pockets for functional appeal. The pockets enable carrying small items and keeping hands warm. Performance hoodies may have zippered pockets for safely stashing belongings during workouts.
Graphic Hoodies
Graphic hoodies feature eye-catching designs like prints, embroidered logos, applique detailing etc. The graphics can include typography, photo prints, pop culture motifs and brand logos. These statement hoodies work well for casual and streetstyle outfits.
Hoodie Care Tips
Follow these tips to increase the longevity of your hoodies and maintain their comfort:
Follow the fabric care instructions mentioned on the label to identify safe washing methods i.e. machine wash or only handwash. Wash hoodies inside out to protect the fabric.
Use a mild detergent and wash in cold water to prevent damage, shrinkage and colour bleeding in printed hoodies. Avoid using bleach or other harsh chemicals.
Limit hoodie washing to once every 3-4 wears if only worn casually indoors. Wash activewear hoodies after every wear. Hang dry hoodies instead of machine drying to extend their life.
Steam iron inside out on a medium setting if the fabric wrinkles. Do not iron printed areas.
Avoid excessive sun exposure and contact with rough surfaces to prevent pilling and fabric breakdown.
Store folded hoodies in cool, dry place. Do not overload closets.
Consider handwash or dry clean for high quality designer hoodies to maintain the fabric's look and feel.
FAQs about Best Hoodie Brands in India
Q. Which brand has best hoodie?
Based on ratings, reviews and product quality, some of the best hoodie brands in India are Allen Solly, Roadster, Puma, H&M and WROGN. Allen Solly offers great value cotton hoodies. Roadster has budget friendly designs. Puma provides performance hoodies. H&M gives stylish fits and prints. And WROGN provides premium fabrics and contemporary designs.
Q. What brand has best hoodies for men?
For men, some of the top rated hoodie brands are WROGN, Jack & Jones, Superdry and Calvin Klein Jeans. WROGN offers a range of modern fits, fabrics and graphics. Jack & Jones provides versatile fits, plush fabrics and prints. Superdry gives vintage sporty designs. And Calvin Klein Jeans offers luxe everyday essentials.
Q. What is good quality for hoodies?
Good quality hoodies feature fabrics like soft cotton, breathable technical fabrics and smooth fleece. They have well-finished seams, durable stitching and reinforced stress points. The fabric should be thick enough to provide warmth and hold shape after washes. Premium hoodie brands also offer better fabric quality.
Q. Why are hoodies famous?
Hoodies are extremely popular because they combine style and comfort. The hood provides extra coverage while the front pouch pocket is functional. Materials like cotton and fleece feel soft against the skin. Oversized and relaxed fits are casual and laidback. Prints, colour blocks and appliques allow self-expression. This winning combination makes hoodies a famous garment.
Q. How do I buy a good hoodie?
When buying a hoodie, check the fabric quality and weight – good cotton, polyester and blends feel smooth and thick. Compare fits like slim, regular and oversized based on preference. Look for stylish details like colour blocking, graphic prints and branded appliques. Check workmanship in seams, stitching and zippers. Compare pricing across brands for value buys. Finally, read online reviews about fit, quality and design.
Q. What fabrics are best for hoodies?
A. Cotton, polyester, cotton blends and fleece are great hoodie fabrics. Cotton offers softness and breathability while polyester provides sweat-wicking properties. Fleece has plush warmth. Blends combine benefits of different fabrics.
Q. Should hoodies fit big?
A. Hoodies are often worn oversized for casual outfits or to layer over innerwear. But regular or slightly relaxed fits also work well. The best hoodie fit ultimately depends on your style and comfort preferences. Size up for extremely oversized hoodies.
Q. Are hoodies better zipped or unzipped?
A. Both zip and pullover hoodies have their merits. Zipped hoodies allow you to customise coverage. Unzipped hoodies have a casual, laidback vibe. Choose zip or pullover hoodie based on your styling preferences.
Q. Which hoodie brand is best for everyday wear?
A. Champion, Allen Solly, Nike and Adidas make great everyday hoodies combining comfort, quality and value. Their cotton and cotton blend hoodies work well for casual everyday use.
Q. What hoodies are warmest?
A. Thicker heavyweight hoodies above 300 gsm provide more warmth than lightweight options. Fleece and wool hoodies insulate better than cotton. But lined cotton hoodies with inner fleece or thermal layers also offer great warmth.
Q. What size should I b uy if I want a baggy hoodie?
Ans. Go for two sizes up than your usual size for an oversized hoodie.
Q. Which fabrics are best for summer hoodies?
Ans. Breathable fabrics like cotton and Linen are best for summer.
Q. What are the different types of hoodies?
Ans. Zipper Jackets, front pockets, pullovers, raglan, and cropped and sleeveless hoodies are some common types.
Q. What is the average price range of hoodies?
Ans. Depending on the brand, style, and quality, hoodies are available for around Rs. 799- 3500.
The Final Word
Hoodies are a fashion staple that works in every season for everyone. We have prepared this list of some of the best hoodie brands to help you start your quest to find the right hoodies for you, but treat it like a starting point and not an end in itself. Hover on multiple platforms and experiment a lot till you find the which suits your unique personality uniquely.