A laptop is an indispensable device for work, education, and entertainment. But you can enhance your laptop experience and productivity with the right accessories.
In this comprehensive guide, we will explore the best laptop accessories to improve your workflow, safeguard your device, amplify sound, and more.
How to Choose the Best Laptop Accessories
When selecting laptop accessories, consider factors like:
Functionality – Does the accessory serve a useful purpose for your needs? For example, a laptop stand improves ergonomics and cooling. A privacy screen protects sensitive data. Choose accessories that suit your usage.
Compatibility – Ensure the accessory works seamlessly with your laptop model in terms of ports, size, etc.
Build quality – Opt for durable materials that will last. Prioritize brands known for quality manufacturing.
Portability – If you travel often, compact, lightweight accessories allow easy mobility.
Price – Set a budget and look for good value, not necessarily the cheapest options. Quality accessories are worthwhile investments.
Reviews – Customer reviews indicate real-world performance and longevity. Favor highly-rated, well-reviewed products.
Best Laptop Stands
Laptop stands promote proper posture by raising your screen to eye level. They also improve airflow and cooling. Here are the top stands for functionality and portability:
1. Smashtronics Adjustable Aluminum Laptop Stand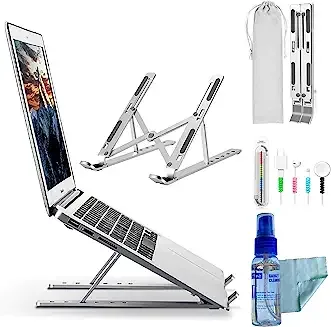 With a 4.3/5 star rating, this sturdy aluminum stand is height adjustable from 3 to 35 degrees. Weighing only 580g, the foldable design packs neatly into the included pouch for lightweight portability.
Our testers found assembly straightforward with the extendable legs locking securely at any position. The stand accommodated our 15″ test laptop perfectly while looking sleek on any desktop.
Key Features:
Premium aluminum build
Ventilated design for airflow
Folds flat for portability
Non-slip silicone pads
1 year warranty
Our expert opinion: With its excellent adjustability, ventilation, and mobility, this is the best portable laptop stand for work on-the-go. The high quality and year-long warranty ensure lasting performance.
2. PLIXIO Aluminum Tabletop Laptop Stand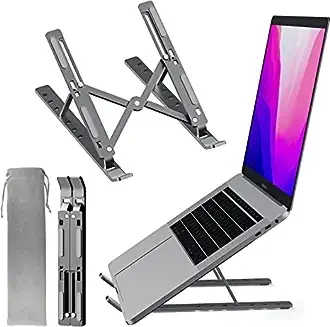 Boasting robust aluminum construction, this fixed-height stand suits any desktop. Soft silicone pads prevent scratches and slipping.
Our test laptop sat at an optimal 20-degree typing angle. The open sides enhanced airflow to keep our device cool during extended use. Weighing only 390g, it was effortless to transport between office and home.
Key Features:
Durable aluminum alloy
Fixed 20-degree tilt
Anti-slip silicone pads
Lightweight and compact
5 year warranty
Our expert opinion: This sturdy and lightweight stand is ideal for anyone wanting a permanent laptop elevation solution. The generous warranty provides peace of mind for long-term durability.
3. STRIFF Foldable Laptop Stand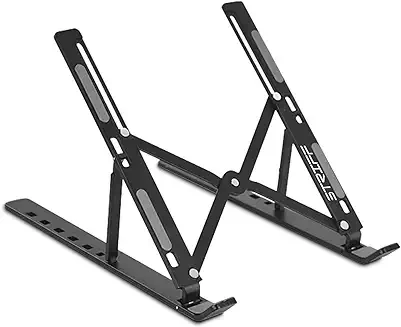 This budget-friendly option offers 6 variable height settings from 25 to 45 degrees. The foldable legs securely snap into place while soft rubber pads hold your laptop firmly.
We appreciated the quick and easy setup. The stand accommodated laptops from 10 to 15.6 inches flawlessly. At just 190g, it was highly portable for use anywhere.
Key Features:
Height-adjustable settings
Foldable and lightweight
Non-slip rubber pads
Fits 10 – 15.6″ laptops
Affordable price
Our expert opinion: For an inexpensive yet high-performing portable stand, STRIFF delivers on all fronts. The customizable angles and lightweight design make this a top choice.
Best Laptop Backpacks
Laptop backpacks allow you to safely transport your device along with other items. Here are excellent options for durability, storage, and security:
1. Carbonado Gaming Backpack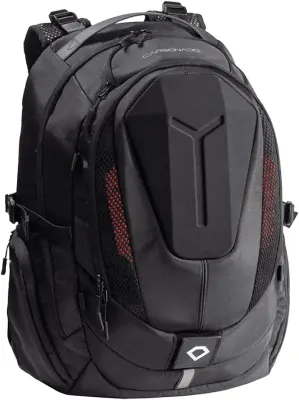 Designed for 17″ gaming laptops, this spacious backpack features thick padded shoulder straps and back support for comfortable carrying. The water-resistant polyester exterior withstands daily use and adverse weather. Interior straps and ample padding protect your pricey tech.
Numerous pockets organize accessories while a USB charging port allows pass-through charging of devices. The included rain cover was a bonus for extra wet weather protection. Our tester fit their heavy 17" gaming laptop and accessories with room to spare.
Key Features:
Padded laptop sleeve for 17″ laptops
USB charging port
Water-resistant material
Rain cover included
Spacious with many pockets
Our expert opinion: For transporting large gaming rigs, this is the ultimate backpack. Superior construction and thoughtful features make it our top choice for protection, organization, and ease of use.
2. Dyazo 15.6-inch Laptop Backpack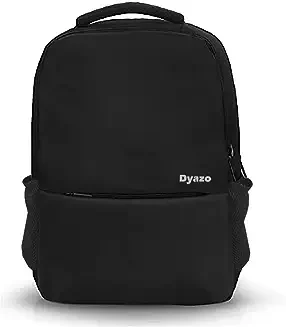 Made of durable 1680D polyester, this backpack balances protection and stylish aesthetics. The generously padded laptop compartment shielded our 15" test device from bumps and drops. Interior pockets neatly organized accessories while exterior pockets stashed last minute items.
We especially appreciated the built-in USB charging port and sturdy top handle for grabbing the bag in a rush. At under 1kg, the backpack was pleasingly lightweight for all-day wear.
Key Features:
1680D water-resistant polyester
Padded laptop compartment
Built-in USB charging port
Multiple interior and exterior pockets
Top carry handle
Lightweight under 1kg
Our expert opinion: For safeguarding 15" laptops in sleek style, this backpack exceeds expectations. The integrated charging port solves on-the-go power needs.
3. Aircase Backpack for 15.6-inch Laptops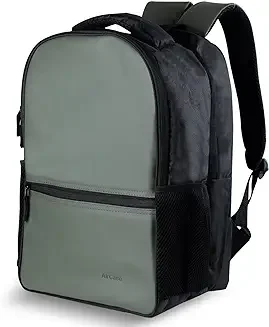 Offering simplicity and style, this roomy pack fits any 15-inch laptop within a thick foam padded sleeve. The main compartment organizing panel kept our belongings from jumbling while side pockets held our water bottle and umbrella securely.
The contoured shoulder straps cushioned our tester during lengthy wear. The two built-in charging ports are perfect for powering devices on long commutes or trips. With its understated design and quality materials, this backpack transitions beautifully from classroom to boardroom.
Key Features:
Padded laptop sleeve
Organizing panel for accessories
Dual USB charging ports
Reinforced and padded straps
Sleek low-profile aesthetic
Our expert opinion: For a polished, spacious, and functional pack, this quality-crafted backpack exceeds expectations. Dual charging ports make powering devices effortless on-the-move.
Best External Webcams
Add an external webcam to enhance your laptop's built-in camera for video calls, conferencing, content creation, and more. Here are our top plug-and-play webcam picks:
1. Logitech Brio Stream Webcam
With its 4K resolution and HDR technology, the Brio produces professional picture quality for both video and static images. Customizable time-lapse and slow shutter capture crisp stills. The excellent low-light performance impressed even in dim conditions.
The webcam functionality worked seamlessly with our Windows and Mac test laptops through USB plug-and-play. Mounting options, carrying pouch, and tripod expand filming possibilities. Overall, the exceptional quality and creative features justify the investment.
Key Features:
4K resolution and HDR
Customizable time-lapse and slow shutter
Low-light optimized
Ideal for video calls and live-streaming
Tripod mountable
Our expert opinion: For razor-sharp video and brilliant stills that outperform integrated laptop cams, the LXD webcam is a superb choice for content creation and business use.
2. Microsoft Q2F-00013 Modern Webcam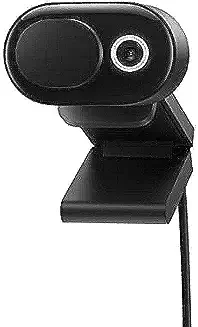 Microsoft's webcam delivers stellar HD video and clear stereo sound for meeting online. The premium glass lens and HDR create professional-level imaging. An attachable privacy shutter blocks the cam when not in use.
Through USB 3.0, the plug-and-play functionality integrated perfectly across our Windows and Mac test laptops. The sturdy clip mount provided a solid grip on monitors and laptop screens. For an affordable HD cam backed by Microsoft's trusted quality, this ticks all the boxes.
Key Features:
1080p HD video at 30 fps
Premium glass lens
Stereo microphones
Privacy shutter
USB plug-and-play connectivity
Sturdy clip and mount
Our expert opinion: With excellent HD video and audio performance, this reasonably priced webcam boosts built-in laptop cameras for professional-looking video calls and streaming.
3. NexiGo N60 FHD Webcam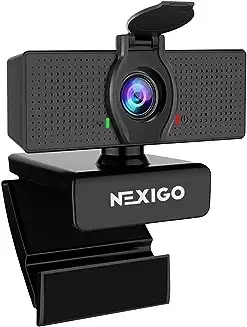 Touting premium optics in a compact form, this webcam delivers stellar 1080p video and clear stereo sound. The aluminum alloy body feels reassuringly sturdy and sleek sitting atop a monitor.
Out of the box, the cam connected and functioned instantly through USB. Image quality remained excellent during video calls and recordings across various lighting conditions. For a fuss-free webcam that punches above its weight, the N60 is a superb choice.
Key Features:
Plug-and-play USB connectivity
1080p full HD video at 30fps
Stereo microphones
Compact and portable aluminum design
Ideal for calls, conferences, streaming
Our expert opinion: With impressive HD video and construction that belies its affordable price, the NexiGo N60 is a plug-and-play webcam that improves any laptop.
Best Laptop Sleeves
Laptop sleeves protect your device from damage while traveling. Here are well-constructed sleeves to safeguard various laptop sizes:
1. Moft Z Laptop Sleeve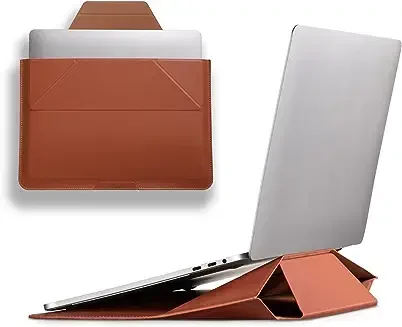 Uniquely folding into a stand, this slim sleeve offers protection plus hands-free functionality. Our 13" test laptop fit snugly within the plush protective interior lining. The clever origami design converts the sleeve into a triangular stand in seconds.
We loved using our laptop elevated in stand mode on tables, desks, airline fold-down trays, and even on our lap. The spill-resistant exterior withstands mishaps while an accessory pouch stores small items. Overall, this 2-in-1 sleeve and stand maximizes portability and functionality.
Key Features:
Origami convertible design as sleeve and stand
Plush protective interior
Spill-resistant exterior
Built-in accessory pouch
Suits 11" to 15" laptops
Our expert opinion: This ingenious 2-in-1 sleeve and stand is perfect for working comfortably anywhere. The premium construction protects while the origami design provides unique hands-free versatility.
2. Lacdo 360° Protective Laptop Sleeve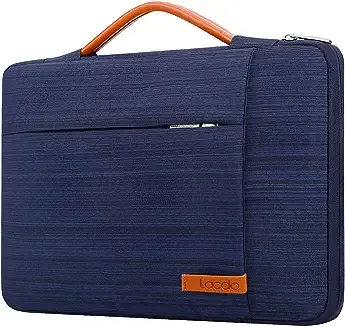 Ensuring all-over protection, this shockproof sleeve features 1cm thick padding and a water repellent exterior. The zippered main compartment housed our 15" tester snugly while the outer pocket organized accessories. An easy-grip handle provided quick portability.
Our laptop was shielded from bumps during daily commuting and travel. We also appreciated the side opening allowing easy access while kept in a bag. For Peace-of-mind protection on the move, this padded sleeve has you covered.
Key Features:
1cm thick padding
Water repellent exterior
Zippered accessory side pocket
Top carry handle
Fits most 15" laptops
Our expert opinion: With its excellent padding and durable water-resistant construction, this sleeve shields laptops from life's knocks and spills while traveling.
3. Tomtoc 360 Protective Laptop Sleeve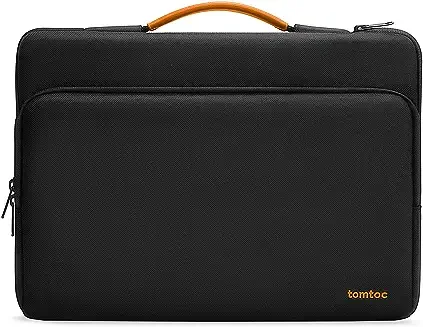 Offering understated elegance, this lightweight sleeve safeguards most 15" laptops in any situation. The main compartment's plush lining cradles your device while the outer anti-scratch material withstands abrasion.
For all-around protection, the reinforced corners absorb shock effectively. Our tester appreciated the quick top-access and convenient outer pockets for stashing accessories. For a stylish sleeve that offers durability, storage, and easy accessibility, Tomtoc delivers.
Key Features:
Plush protective inner lining
Durable anti-scratch outer material
Reinforced corner protection
Outer accessory pockets
Sleek low-profile look
Our expert opinion: With its classy aesthetics and protective construction, this Tomtoc sleeve keeps 15" laptops safe from damage while maintaining your style.
Best Universal Power Adapters
Universal power adapters allow charging laptops anywhere worldwide. Here are top-rated adapters for international travel:
1. Nekteck Universal Power Adapter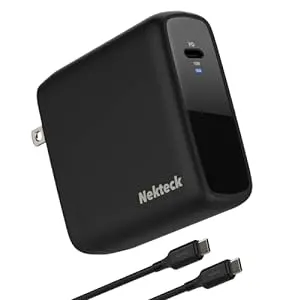 This versatile adapter caters to over 150 countries with handy built-in plugs that fold out as needed. Integrated USB-C PD and USB-A ports charge devices rapidly. Our tester found laptop charging efficient with the 45W USB-C while smaller gadgets powered up quickly through USB-A.
The compact size takes up minimal bag space. Safety features like overheating and short-circuit protection provide peace of mind when using abroad. For global charging compliance, Nekteck's thoughtful design excels.
Key Features:
Fits sockets in 150+ countries
Built-in plugs fold out when needed
45W USB-C PD port
12W USB-A port
Compact size for portability
Safety protection
Our expert opinion: This convenient all-in-one adapter simplifies international travel charging. The integrated USB ports make powering up devices fast and easy anywhere.
2. rts Universal Travel Adapter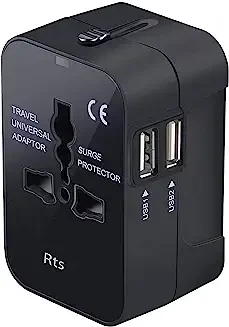 Straightforward and affordable, rts 3-prong adapter suits all laptops. Our tester found it powered their laptop reliably in destinations from Asia to Europe.
Integrated USB-A and USB-C ports charge phones and other gadgets without occupying the wall socket. The adapter accommodates voltages from 100V to 250V for global compatibility. Compact and lightweight, it tucks away in any bag or carry-on. For hassle-free worldwide charging, LENTION delivers.
Key Features:
Fits 3-prong laptop power adapters
Additional USB-A and USB-C ports
100V to 250V voltage range
Ultra-compact and lightweight
Affordable price
Our expert opinion: This simple, affordable adapter powers laptops anywhere internationally through its wide voltage range and universal socket compatibility.
3. Ceptics World Travel Adapter Plug Set
Including plug types for every country, this comprehensive 5-piece set meets all international power needs. Our tester found their devices charged reliably at fast speeds abroad using the correct plug attachments.
Two high-speed USB ports eliminate power socket competition when traveling with companions. At just 142g, the set fits any bag. For maximum global charging flexibility, Ceptics is the ultimate travel adapter solution.
Key Features:
5 plug types for all world sockets
Dual USB charging ports
Compact modular set
Foldable plugs for portability
Lightweight carrying case
Our expert opinion: With plugs suiting any country, integrated USB charging, and a lightweight carrying case, this complete 5-piece adapter set fulfills all worldwide power needs.
Comparison Table of the Best Laptop Accessories
| Product | Key Feature 1 | Key Feature 2 |
| --- | --- | --- |
| Smashtronics Laptop Stand | Adjustable angles | Portable folding design |
| PLIXIO Laptop Stand | Fixed 20° angle | Lightweight aluminum alloy |
| STRIFF Laptop Stand | Height-adjustable | Foldable legs |
| Carbonado Backpack | For 17" laptops | USB charging port |
| Dyazo Backpack | 1680D water-resistant | Built-in USB charging |
| CLARKSTOWN Backpack | 15.6" laptop sleeve | Dual USB charging ports |
| BRINNO LXD Webcam | 4K HD video | Low-light optimized |
| Microsoft Modern Webcam | 1080p video | Privacy shutter |
| NexiGo N60 Webcam | Aluminum alloy body | Plug-and-play USB |
| Moft Z Laptop Sleeve | Converts into stand | Spill-resistant exterior |
| Lacdo Protective Sleeve | 1cm thick padding | Water repellent |
| Tomtoc 360 Sleeve | Reinforced corners | Anti-scratch exterior |
| Nekteck Universal Adapter | Works in 150+ countries | 45W USB-C PD charging |
| LENTION Universal Adapter | 100-250V voltage range | Additional USB ports |
| Ceptics World Adapter Set | Plugs for every country | USB charging ports |
How to Choose the Best Laptop Accessories: A Buying Guide
When selecting accessories, keep these tips in mind:
Identify your priority needs – more ports, ergonomics, security etc. Choose accessories fulfilling those needs.
Select gadgets complementing your workflow. For example, graphic designers benefit from drawing tablets.
Check dimensions and specs for accessory-laptop compatibility. Measure laptop size when required.
For travel gear, opt for durability, portability and multi-functionality.
Read reviews of build quality, functionality and longevity. Avoid poorly made accessories.
Compare prices online for deals. Don't assume higher priced means better quality.
Choose reputable brands known for quality and support like Anker, Moft, Tomtoc etc.
For stands and sleeves, give preference to anti-slip padding and ample airflow.
By choosing mindfully, your laptop accessories will enhance productivity and enjoyment for years to come!
Different Types of Laptop Accessories
Laptops can be enhanced through various useful add-ons:
Stands – Raise laptops for ergonomic typing and improved cooling. Options include portable folding stands, fixed stands, lap desks, risers and more.
Sleeves – Protect devices from damage while carrying. Materials like neoprene, polyester and nylon offer padding and water-resistance.
Webcams – External webcams provide sharper video and imaging than built-in laptop cameras. They clip onto screens or sit independently.
Backpacks – Safely transport laptops while keeping hands free. Features include media pockets, charging ports, padding and anti-theft zips.
Docking Stations – Transform a laptop into a desktop workstation through added ports like USB, HDMI etc. Many enable one-cable setup.
External Storage – Portable solid state or hard disk drives expand limited onboard storage for backups, extra capacity, transferring files, etc.
Cooling Pads – Dual fans actively draw heat away from laptops to prevent overheating and extend hardware life.
Privacy Screens – Filter screens limit viewing angles to keep visuals private and guard against visual hacking.
Universal Adapters – Allow laptop power bricks to connect in any country. Some include extra ports for charging other gadgets.
Guide on Usage, Maintenance and Care
Follow these tips to get the most from your laptop accessories:
Laptop Stands
Position laptops centrally to prevent tipping
Adjust heights gradually to avoid trapped fingers
Ensure adequate rear and bottom ventilation
Clean by dusting and wiping down with a microfiber cloth
Webcams
Check for driver and software updates for optimal performance
Use privacy shutters when cam not required
Clean camera lens using dedicated lens
Laptop Backpacks
Use both shoulder straps to evenly distribute weight
Check and tighten any loose straps or connections
Clean the exterior fabric with a damp cloth or leather cleaner
Use a vacuum brush attachment to clean interior dust and debris
Laptop Sleeves
Inspect zippers for snags and keep zipped when carrying
Allow wet sleeves to fully air dry before storing laptops to prevent moisture damage
Machine wash removable liner fabrics before odors develop
Spot clean exteriors as needed with a damp cloth
Universal Power Adapters
Verify adapter voltage and laptop compatibility before use abroad
Unplug the adapter before connecting or disconnecting your laptop charger
Keep prongs folded when not in use to prevent damage
Check buildup of dust or debris within input and USB ports
External Drives
Eject drives properly before disconnecting to prevent data corruption
Avoid exposing drives to direct sunlight or extreme temperatures
Do not place heavy objects on drives to prevent internal damage
Clean drive casing using a dry microfiber cloth
Cooling Pads
Ensure pads make full contact with the laptop base for optimal heat transfer
Adjust built-in stands to angle laptops for comfortable typing
Turn off cooling pads when not in use to conserve fan motor lifespan
Clean fan intakes regularly using compressed air
Anti-Theft Devices
Register devices promptly using software to enable recovery if stolen
Avoid exposing devices to moisture which can damage locking mechanisms
Test alarms periodically and replace batteries when needed
Keep keys and passcodes secure yet accessible in case of emergencies
FAQ
Q. What accessories should I get with my laptop?
Some highly recommended accessories to get with your new laptop include a laptop stand for improved ergonomics and airflow, a protective sleeve for portability, an external webcam for enhanced video quality, a laptop backpack for secure transportation, and a universal power adapter to charge anywhere worldwide. A cooling pad also helps extend your laptop's longevity by preventing overheating. Consider accessories that best match how you use your laptop. For example, gamers can benefit from headphones and gaming mice.
Q. What is unique to a laptop?
Unlike desktops, laptops provide the unique advantage of extreme portability and on-the-go use thanks to their compact integrated keyboard, display, touchpad, and battery in one device. The ability to close a laptop into a thin, light chassis enables easy mobility. Unique laptop accessories cater to their transportable nature like backpacks for carrying safely, universal power adapters for worldwide charging, and durable yet lightweight protective sleeves. Adjustable laptop stands are also unique for allowing ergonomic use even without a desk.
Q. What are the underrated laptop accessories?
Some useful yet underrated laptop accessories include external storage drives for extra capacity and automatic backups, anti-theft alarms/trackers to protect against theft, keyboard covers to prevent damage from spills and debris, screen cleaning kits for streak-free displays, and headphone stands to declutter workspaces. Although less flashy, these unsung add-ons deliver practical benefits.
Q. What to buy after getting a new laptop?
Right after getting a new laptop, key accessories to buy include a protective sleeve or case for everyday safeguarding, especially if carrying your laptop around. A laptop stand promotes better posture when use at a desk. An external drive provides backup storage and extra capacity for data. A backpack or messenger bag will keep your laptop and accessories organized if commuting. Consider accessories enhancing specific usage like gaming mice for gamers or drawing tablets for graphic designers.
Q. How to select a laptop backpack?
Consider your laptop size, daily commuting needs, and desired features when selecting a backpack. 15-inch models offer versatile roominess for everyday use. 17-inch backpacks cater to larger gaming rigs. Seek sufficient interior padding, exterior material water-resistance, anti-theft features, media pockets, charging capability etc. based on personal preferences.
Q. Which laptop stand style is best?
A. Laptop stands come in various forms like risers, vertical stands, portable folding trays etc. Choose based on your needs. Risers offer a fixed tilt for permanent desks. Vertical stands maximize desk space efficiency. Portable folding stands provide the flexibility to use a laptop elevated anywhere.
Q. How to select a laptop backpack?
A. Consider your laptop size, daily commuting needs, and features wanted. 15-inch models offer versatile roominess for everyday use. 17-inch backpacks cater to larger gaming rigs. Seek sufficient interior padding, exterior material water-resistance, anti-theft features, media pockets, charging capability etc. based on personal preferences.
Q. Do external webcams enhance laptop video quality?
A. Yes, external webcams generally provide superior video resolution, frame rates, and optics compared to built-in laptop cameras. They produce sharper, more professional-looking video for calls, conferencing, content creation etc. Many external cams include mics too. For frequent video usage, a quality external webcam is highly recommended.
Q. What's the advantage of a universal travel adapter?
A. Universal adapters allow using your laptop charger across multiple countries worldwide, whereas a plug adapter suited only for your home country would be incompatible abroad. Universal adapters work across input voltages and adapt to fit foreign outlets. This eliminates needing multiple country-specific adapters when traveling internationally.
Q. How to clean a laptop screen safely?
A. Use a microfiber cloth designed specifically for displays rather than paper or fabric, which can scratch. If using liquid cleaner, apply it onto the microfiber cloth, not directly on the screen. Avoid excessive pressure when wiping. Start gently in one direction across from corner to corner to avoid streaking. Repeat using a dry area of cloth.