Oats are one of the healthiest cereal grains that can be easily turned into tasty dishes. They come from a plant called Avena Sativa and are free of gluten. Oats are full of vitamins B3, B6, and E, along with minerals, antioxidants, and fibre.
Oats are a popular breakfast option. Eating oats can help keep your blood sugar in check, aid in weight loss, lower the chance of heart problems, make your immune system stronger, and even reduce high blood pressure. They're a great way to start the day and keep you healthy!
If you are on your weight loss journey but don't know which oats are best for weight loss, don't worry.
In this blog, we'll tell you about the best oats for weight loss in India in 2023. Keep reading!
How to Choose the Best Oats for Weight Loss?
When it comes to picking the best oats for weight loss, it can be a bit confusing with all the options out there. Here are some simple tips to help you choose:
Check the Nutrition Labels: Look at the nutrition labels on different oatmeal packages. Find ones that have low calories, low sugar, and high fibre content. These are great for weight loss because they keep you feeling full for longer.
Avoid Flavoured Oats: Flavoured oats often contain added sugars and artificial flavours. It's better to go for plain oats and add your own healthy toppings like fruits or nuts.
Steel-Cut or Rolled Oats: Steel-cut and rolled oats are less processed and have a lower glycemic index compared to instant oats. They take longer to cook but are healthier choices.
Remember, the best oats for weight loss are the ones that align with your dietary preferences and goals. So, do your research, read labels, and choose the oats that work best for you and your weight loss journey.
Listing of the Top Six Oats for Weight Loss
Saffola Oats
True Elements Rolled Oats
Disano Oats
Kellogg's Oats
Nutriorg Gluten-Free Rolled Oats
Bagrry's White Oats
1. Saffola Oats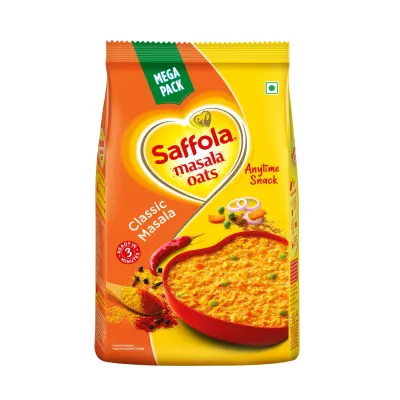 Saffola's oats are a pantry staple in many Indian households. They make a tasty and guilt-free breakfast or even a snack. Rich in fibre and other nutrients, a bowl of Saffola's oats keeps you feeling full. Eating these oats regularly can help lower your cholesterol and manage weight.
What's great?
Made entirely from natural wholegrain oats
Ready to eat in just three minutes
Promotes heart health
Packed with iron and protein
2. True Elements Rolled Oats
Stay healthy and in shape by enjoying a bowl of True Elements' rolled oats. These oats are free from gluten and are loaded with fibre. Enjoy them with a bowl of fresh milk and fruits and your favourite nut butter for a balanced and super healthy meal. You can also go the savoury route by adding some spices and cut veggies in it.
What's great?
High magnesium
Loaded with fibre and protein
Filled with immunity-boosting antioxidants
High in vitamin B for better skin
Supports muscle development
3. Disano Oats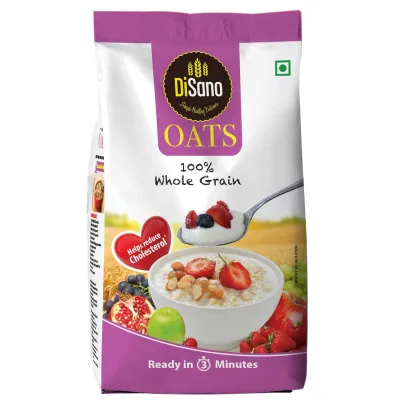 Disano Oats are free from preservatives and are packed with fibre and protein. They offer delicious flavour while promoting your well-being. You can make tasty porridge or dosa in just about three minutes and have a healthy breakfast.
What's great?
These oats are 100% whole grain and gluten-free.
They're packed with dietary fibre.
They're rich in important minerals and vitamins like iron, zinc, and magnesium.
They have beta-glucan fibre that's great for your cholesterol.
They can help control your blood sugar.
4. Kellogg's Oats
Start your day right with some of India's best weight-loss oats from Kellogg's. These oats are super easy and fast to prepare. They're packed with protein and fibre but have low sodium, which is great for keeping your weight in check. You can get creative with new oatmeal recipes every day and still enjoy the delicious taste without compromising your health.
What's great?
Whole grain oats
Reduces high blood pressure risk
High dietary fibre
Cholesterol-free
No preservatives
5. Nutriorg Gluten-Free Rolled Oats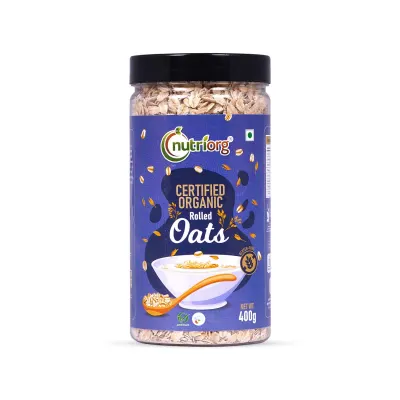 Nutriorg's rolled oats are full of complex carbs and protein. These oats are high in soluble fibres, which aid in managing weight. Nutriorg's oats are grown on organic farmlands, ensuring premium quality. If you're looking for oats that absorb a good amount of liquid and maintain their shape after being cooked, Nutriorg is a great choice.
Completely free of gluten & extra sugar
Loaded with dietary fibre and vital nutrients
Abundant in antioxidants, vitamins, and minerals
6. Bagrry's White Oats
Bagrry's oats are a healthy choice because they don't have sugar, salt, or preservatives. They're full of nutrients that your body needs and taste really good. These oats are made from 100% whole grain and have benefits like cholesterol control. Low in fat, these oats are the perfect choice for people maintaining their weight or trying to lose a few kilograms.
What's great?
100% whole grains
Rich in protein, fat, and fibre
Useful for weight management
Efficient at lowering cholesterol levels
Conclusion
Oats play a pivotal role in shaping healthy dietary habits. We've curated a list of the best oats for weight loss, which make a significant impact in the health food market.
These oats brands are at the forefront of innovation, introducing new and improved variants that cater to diverse dietary needs. From improved texture to enhanced nutritional profiles, these oats are set to revolutionize the way we approach healthy eating. So, if you're on a journey to better health, make sure to explore these leading oats brands!
FAQs
Q. Why oats are important for weight loss?
Oats are great for weight loss because they're rich in fibre, which helps you feel full and satisfied, reducing overeating. They also have a low glycemic index, which helps control blood sugar levels and cravings.
Q. Is it okay to eat oats every day for weight loss?
Yes, it's perfectly fine to eat oats daily for weight loss. In fact, oats can be a healthy and filling part of your daily diet, supporting your weight loss goals.
Q. What is the best time to eat oats?
You can enjoy oats at any time that suits your routine. Many people prefer them for breakfast to start the day feeling full, but oats can be eaten as a healthy snack or meal at any time.
Q. Are oats good with milk or water?
Oats can be prepared with either milk or water, depending on your preference. Milk makes them creamier and adds extra nutrients, while water keeps them lighter. Choose what you like best!