A quintessential Indian attire, sarees are worn fondly by traditional and modern women of all ages. The beauty of sarees lies in the fact that there is something special for every occasion and season. While it can be comfortable everyday wear for some women, others may wear it to dress up elegantly for special events and festivals.
There's no denying that sarees are evergreen and always add a touch of sophisticated glamor to one's personality, which explains why saree shopping is so popular. Here's a list of the best saree brands in India that offer great collections for different tastes and budgets.
Quick Overview of the Brands
A Glance at the Best Saree Brands in India
1. Nalli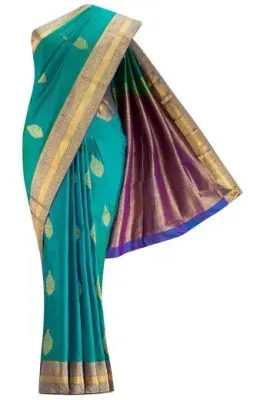 Originating from Chennai, Nalli has become a household name all over India and has expanded its presence abroad. It has stores across many cities like Chennai, Kolkata, Mumbai, Kochi, Madurai, Bengaluru, and more. Its products are also available in Singapore, Dubai, USA, and Canada. While Nalli is famously known for its superior silk sarees, its offerings feature other fabrics, too, like crepe, organza, georgette, chiffon, and more.
Pros:
Trustworthy quality of fabrics
Chic, designer patterns
Caters to different styles and needs from daily wear to bridalwear
Cons:
Rating: 4.5/5
Price Range: Medium to Premium
2. Fabindia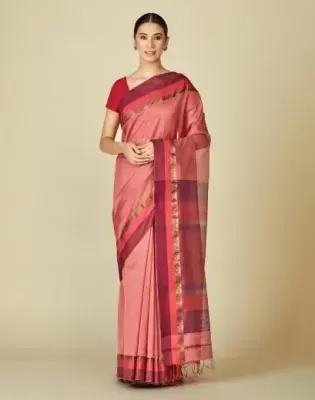 Fabindia is renowned for a wide range of products that represent Indian craftsmanship, including home decor, furnishings, lighting, ethnic wear, etc. Sarees are a highlight in this expansive collection. The brand offers a great combination of premium quality and budget-friendly prices. With comfortable fabrics and exquisite designs, Fabindia sarees stand out for their classic look and are perfect for modern Indian women.
Pros:
Celebrates Indian artistry and provides interesting styles like hand-woven and embroidery
Ensures comfort with grace to appeal to everyone
Cons:
Limited contemporary styles
Rating: 4/5
Price Range: Budget-friendly
3. Ritu Kumar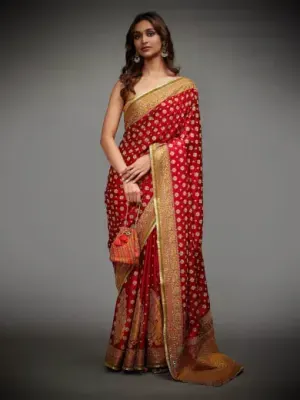 You know how exclusive a brand is when even Bollywood celebrities love wearing it. Therefore, the Ritu Kumar brand needs no introduction. Its designer ethnic wear, including sarees, is always the talk of the town. Whether you're getting ready for a cocktail party or prepping for your big wedding day, Ritu Kumar sarees are ideal for all your important moments. While the sarees may be on the higher end, they're worth it, considering their uniqueness.
Pros:
Available in fabrics like silk, satin, crepe blend, silk blend, etc.
Traditional printing is portrayed beautifully
Cons:
Rating: 4.5/5
Price Range: Premium
4. The Chennai Silks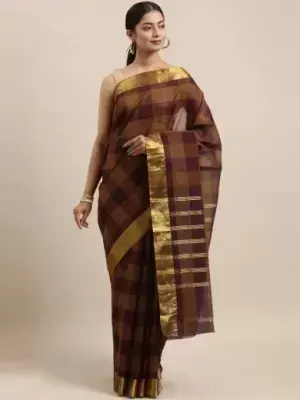 If you happen to be in South India for saree shopping, then The Chennai Silks is one shop you don't want to miss. The brand's notable presence across South India is well-known for its breathtaking collection of sarees, particularly in pure Kanchipuram silk. In addition to Mysore silk, Tussar silk, Uppada silk, and Pochampally silk, it offers cotton sarees too. The brand takes pride in consistently providing up-to-date collections for saree lovers.
Pros:
A superb collection of different silk sarees
Reliable quality that ensures timelessness
Cons:
Limited presence across India
Rating: 4/5
Price Range: Medium
5. Meena Bazaar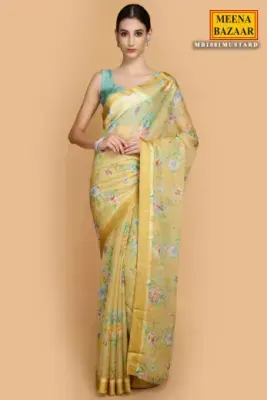 Meena Bazaar sarees will give you all the charm, glamor, and elegance you need for your next occasion. The brand curates an impressive collection of sarees from party to casual wear. There are many fabrics to choose from, like georgette, chiffon, lycra, cotton, linen, crepe, silk, organza, and more. If you like sarees with a contemporary touch, then Meena Bazaar has such varieties, too.
Pros:
Stylish and innovative designs are incorporated into high-quality materials
Covers many styles, from conventional to modern
Cons:
Quality may be inconsistent
Rating: 3.5/5
Price Range: Medium
6. Kalamandir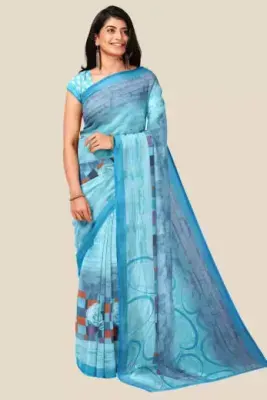 Kalamandir is one of the best saree brands in India because you'll find a broad range of sarees catering to different preferences and needs. Their common aspect is that they're all dazzling statement pieces in their own right. With retail stores in the south Indian states of Karnataka, Andhra Pradesh, and Telangana, Kalamandir offers highly economical sarees without compromising on quality and style.
Pros:
Exciting saree varieties like chanderi, silk, cotton, Banarasi, linen, etc.
Wide-ranging print options such as bandhani, floral, abstract, checks, brocade, lahariya, etc.
Cons:
Limited presence across India
Rating: 4/5
Price Range: Budget-friendly
7. Mimosa

A renowned Indian silk saree manufacturer, Mimosa brand's saree collection encompasses distinct fabrics and patterns. They come in top-notch materials like Mysore silk, raw silk, art silk, net, chiffon, cotton, Kanjivaram, Banarasi, Paithani, and more. There are many design varieties like Kantha Stitch, embroidery, handpainted, etc.
Pros:
Beautiful sarees at pocket-friendly rates
Many choices are available to suit every purpose
Cons:
Styles may not be very contemporary
Rating: 3.5/5
Price Range: Budget-friendly
8. Ishin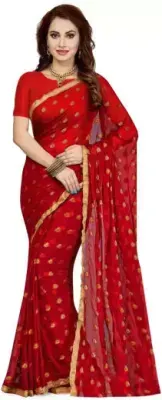 Ishin has carved a niche for itself when it comes to quality ethnic wear. Across its saree collection are enchanting aspects like floral print, zari border, ethnic themes, geometric design, mirror work, etc. Currently, the brand's products are available across multiple online stores. Whether you want a saree to wear to work, at home, or to gift someone, Ishin has got you covered with its diverse collection.
Pros:
Has fashionable designs like ruffles
Rich quality and feel at jaw-dropping prices
Cons:
Limited unique or contemporary designs
Rating: 3.5/5
Price Range: Budget-friendly
9. Chhabra 555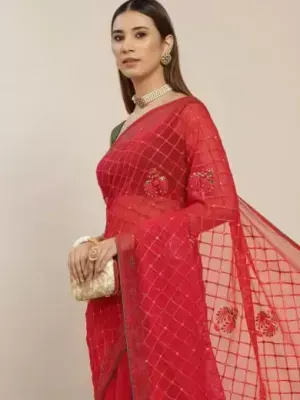 Chhabra 555 is a trusted name in ethnic wear with a rich, successful history. Founded in 1954, Chhabra 555 is one of the best saree brands in India today, although its sprawling collection also consists of suits, gowns, and lehengas. The diverse saree styles available include Banarasi, Kanjivaram, ruffled, Bandhani, Jamdani, and Bhagalpuri, to name a few.
Pros:
A choice between myriad fabrics like organza, chanderi, georgette, velvet, chiffon, lycra, cotton, silk, crepe, rayon, etc.
Beautiful patterns are available such as floral, abstract, striped, bohemian, tribal, and geometrical.
Cons:
Contemporary styles are limited
Rating: 4/5
Price Range: Medium
10. Unnati Silks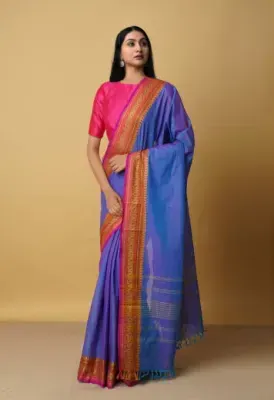 Last but not least on our list of best saree brands is Unnati Silks, which offers a wide range of offerings, all showcasing authentic Indian touch. In the brand's saree collection, you'll find gorgeous sarees in Banarasi, Chanderi, Andhra Handloom, Kalamkari, organza, Maheshwari, Bandhani, Chettinad, Kanchipuram, Bengal silks, etc.
Pros:
The collection features specialties of different Indian states
Captivating patterns like block print, embroidery, and Kantha are available in many fabrics like handloom silk, cotton, pure silk, and linen
Cons:
Contemporary and fusion styles are limited
Rating: 4/5
Price Range: Medium
Conclusion
Sarees truly convey the essence of the Indian tradition. However, this traditional wear has received a whole new meaning in modern times. It has been reinvented to meet the fashion needs of the present generation. This is why the attraction for sarees transcends all ages. Sarees give you the liberty to represent your sense of style. As discussed above, shop for sarees from some of the best saree brands in India, and flaunt your flair.
FAQs
Q. Which is the No 1 saree brand in India?
Nalli and Ritu Kumar are considered among the top saree brands in India owing to their premium quality, exotic designs and craftsmanship.
Q. Which brand is best for silk sarees?
Some of the best brands for silk sarees include Nalli, The Chennai Silks, Mimosa, Kalamandir, Ritu Kumar etc. They offer a great collection of different silk varieties like Kanjivaram, Banarasi, Mysore silk, Tussar silk etc.
Q. What is the most expensive saree brand?
Ritu Kumar is one of the most expensive and premium saree brands in India. Their bridal and occasion wear silk sarees with intricate designs and patterns can cost upwards of Rs. 1 Lakh.
Q. Which is the cheapest and best saree brand?
Brands like Kalamandir, Fabindia, Mimosa offer great quality sarees at really affordable and pocket-friendly prices. You can get good sarees for prices ranging from Rs. 500 to Rs. 2000 from these brands.
Q. What makes a good saree?
A good saree is made from fabrics like silk, cotton, georgette etc. that are comfortable to drape. It will have a great fall, elegant borders and patterns. The saree should be well-stitched and of superior quality. Unique designs and vivid colors also make a saree stand out.
Q. How do I choose the perfect saree?
Select the fabric based on the occasion, weather/climate and your comfort.
Look for sarees with colors, prints and work that flatter your body type.
Choose the right blouse for the saree – sleeveless, backless etc.
Go for a trusted brand known for its quality.
Pick a saree you can drape comfortably.
Make sure it fits well and complements your style.
Q. What are the different ways to drape a saree?
Some popular ways to drape a saree include –
Nivi style (most common)
Gujarati/Rajput style
Bengali style
Maharashtrian dhoti drape
Mermaid style
Pant style
Indo-western drapes like saree pants, skirt, gown etc.
Q. Does wearing a saree feel comfortable?
Ans. It may feel daunting to wear and carry a saree initially. But once you learn and practice proper draping, you'll understand how to adjust the saree to get more comfortable.
Q. What are some key points to remember when wearing a saree?
Ans. Choose the fabric depending on the season, occasion, and experience level in wearing sarees. Feeling comfortable is of utmost importance, so select a draping style that allows you to move freely. Coupling your saree with the right accessories and jewelry enhances the overall look.