Designed initially as apparel for athletic leisure, tracksuits became wardrobe essential with their chic, comfortable, low-key nature.
Today, they are a style statement endorsed by celebrities and worn by people from all walks of life. Being unisex, they are in high demand among the youth seeking a different identity through fashion.
How to Handpick the Best Tracksuit for You?
1. Nature of The material
Suiting different types of activities, you are going to perform in the tracksuit; you need to ensure the suitable material for it. For a soft and gentle touch, go for breathable fabric like cotton and Lycra, whereas synthetic fabrics suit tough workouts the most.
2. The Cut
The right cut: Straight (regular), fitted or baggy are intended to enhance your performance in a specific workout, i.e. body-hugging fit for athletics(i.e. running) and yoga sessions.
3. Colour
Neutral tones of black and blue with combinations of white are a classic choice for men. Try mixing patterns and shades of light colours to give an uber-cool look.
4. Weather
Remember the weather conditions when you're planning to wear a tracksuit. Be it sleeve length or the nature of the material used; a tracksuit should be modified according to the weather.
Top 7 Best Tracksuits for Men
Buying a perfect tracksuit is difficult but not impossible; here, we present seven tracksuits for men which give you a headstart in your day.
The leading brands in sportswear are:
Product Overview
1. Dida's Hooded Athletic Tracksuit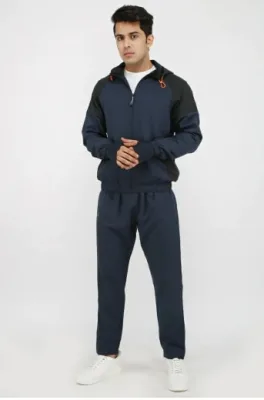 Fit type: Regular fit
Material: 100% polyester
With an attached hoodie that sticks to your head even while running, partial hand gloves, and a full front zipper, this tracksuit is filled with multiple features.
The durable tracksuit is skin-friendly, allows mobility and provides utmost comfort while carrying out an athletic activity. Micro NS is the most superior fabric used in leading sports materials, and guess what?
Dido uses this material in all of its tracksuits.
What's great
Reflectors for night visibility give it a rich look and provide comfort throughout the day and night.
Increases calorie burn by increasing body temperature while exercising.
2. Adidas Men's Tricot Classic Tracksuit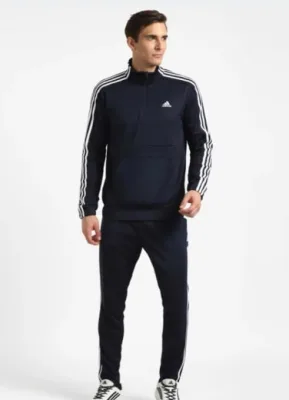 Fit type: Relaxed fit
Material: 100% polyester
As the brand claims, Adidas men's tracksuits are built for an effortless style and structured sporty fashion vibes. The iconic three-three-stripe design on the sleeves is perfect for a signature Adidas look.
Available with two side pockets and an elastic band with an interior stringing, it ensures a snug fit and full functionality of the garment. Being a pioneer brand Reebok follows a "simple yet effective" technique in its garments to make a statement in the fashion industry. The tracksuit is perfect for the gym, workout sessions, outdoor activities, sports, running or even yoga.
What's Great
Guards against environmental hazards: The tracksuit reduces direct UV rays' interaction with the body.
Soaks moisture: The tracksuit is fit for both summers and winters. In the latter scenario, it restricts flowing wind and reduces the chances of flu and cold. In the former, it helps to drive away moisture and reduces the probability of fungal infections.
3. Puma Men's Tracksuit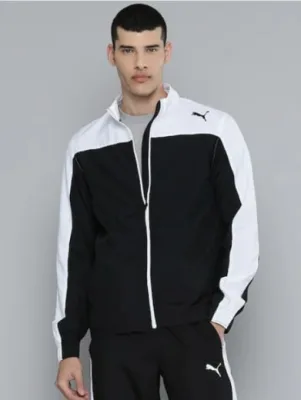 Fit type: Regular/Fitted
Material: polyester
Description
The tracksuit consists of relaxed-fit track pants. The classic black and colour-blocked pants are an excellent casual pick for a relaxing day. Has a straight collar, two side pockets and an elastic waistband to ensure flexibility in movement.
What's Great
A perfect fit ensures fewer chances of injuries by tripping, stumbling, falling, etc.
The ultra-light fabric is easy to dry and traps less moisture.
4. Vimal Jonney Men's Tracksuit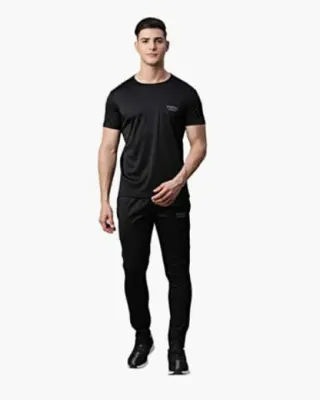 Fit type: Regular
Material: Polyester + Lycra
Description
Vimal tracksuits come with a promising surprise. Made of soft and comfortable polyester, they are different from usual tracksuits.
While most tracksuits are a combination of jacket and track pants, they are a beautiful combination of sweatshirt/t-shirt and track pants. The material is quick to dry and doesn't keep your sweat trapped in the garmUniquepecial feature: the pants will protect you from harmful UV rays.
What's Great
Unique design: pairing a t-shirt with track pants makes you look casual and sporty.
Super soft fabric Lycra and Polyester are skin friendly.
5. Alan Jones Cotton Tracksuit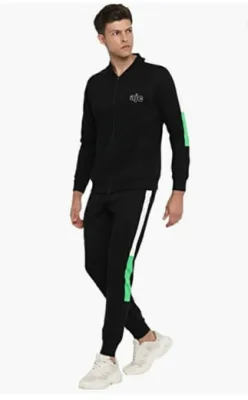 Fit Figure-hugging /Straight
Material: Polyester
Description
The uber cool combination of zipper Jacket and stylish track pants, Lan Jones tracksuits specialises in province comfort with durability in the garment.
The soft, breathable material is a cotton blend perfect for soaking sweat during hard-core workout sessions. The tracksuit is ideal gym wear for jogging, running, or any other kind of sporty fashion.
They're designed for physical activity and home wear to ensure comfort and productivity.
What's Great
Multipurpose: Tracksuit suits every sporty event.
Elastic waistbands and wristbands ensure a snug fit.
6. Chkokko Polyester Tracksuit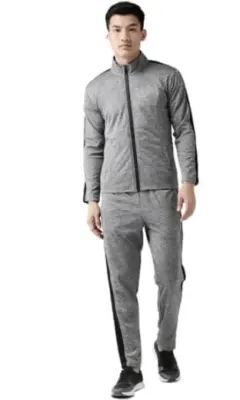 Fit: Straight
Material: Polyester
Description
Suitable for all seasons, the Chkokko Polyester tracksuit is specially made for warm-up activities. It's a four-way stretch that allows free movement in every direction in the varied intensity of your workout. High-quality fabric is easy to maintain and will prove to be durable in all seasons. In addition to this, the super light material will not weigh you down during workouts.
What's Great
High fashion statement: It is built to be at par with world-class fashion.
Attractive shape: fabricated with a blend of Polyester and Spandex, which gives an attractive shape to your body.
7. Reebok Men's Tracksuit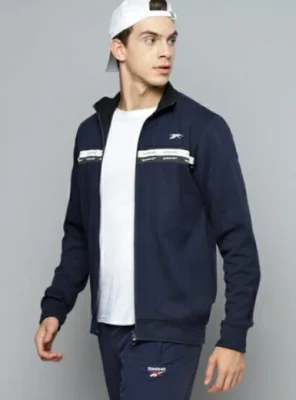 Fit type: Regular
Material: 52% Cotton, 48% Polyester
Description
The tracksuit is available in navy blue, giving a vibrant urban look. The tracksuit comprises a sweatshirt with a mock collar and storage space (side pockets) shaped to give you an energetic ambiance. Reebok tracksuit is a perfect mix of style and comfort, pair it up with sports shoes, and you are good to go.
What's Great
Perfect winter wear: The garment suits winters the most and helps you keep up with workouts even during cold temperatures.
Breathable material ensures full functionality of the garment.
A Final Note
The suitable tracksuit works as a catalyst in practising a sport or physical activity in general. Make sure you have the right one made perfectly for you.
Being super versatile, they are multipurpose and reduce your time deciding your outfit heading out. The above list will help you make a perspective on how and where to start your quest to find a suitable tracksuit for you.
FAQs
Q. Can I wear tracksuits during the summer season?
Ans. Although you may not feel comfortable wearing tracksuits during summer, they prevent most UV rays from harming your skin, so choose a light material-based tracksuit.
Q. Which is the preferable material for tracksuits?
Ans. Cotton happens to be the preferable material for tracksuits, as it makes them light and breathable.
Q. Which material is an Adidas Tracksuit made up of?
Ans. Adidas tracksuits are generally made from polyester
.