Wedding lehengas share a unique space in a woman's heart. For the big day, no other outfit can match the utter elegance of an ethnic lehenga, but things weren't that dynamic back in the days of your mom's generation.
Today's bride is looking for something fresh which matches her unique personality in a world full of classic red lehengas and their experimentation with different styles and colours.
But why is the younger generation of brides losing interest in classic choices?
With the advent of social media and the internet, our choices have expanded at a fast pace. Today, we are exploring global options which weren't present earlier. Be it taking inspiration from your favourite celebrities to ordering an outfit from a remote area, we are leveraging accessibility. This blog lists some of the best wedding lehengas for women.
Things to Keep In Mind Before Buying the Best Wedding Lehenga
1. The Theme of the Wedding
Given that modern weddings are synchronised with a common theme, choose a lehenga that aligns with it.
2. The Material
Concerning the length of Indian weddings, choosing a wedding lehenga just for the look and not for comfort is not a good idea.
Light materials like cotton, Polyester are lighter than silk or equivalent. If the outfit weighs you, you automatically look uncomfortable, whereas if you feel light, you'll glow confidently. The best wedding lehengas for women will do the job.
3. Weather
You don't want to shiver during the whole ceremony, nor do you want to trap the little passage of air in an exquisite lehenga.? Depending on the estimated weather conditions, ensure your convenience in the outfit as your top priority.
4. Price
Though "you only marry once" (not literally), one wants to spend a hefty amount on the outfit, right? But are you even going to wear it again? I don't think so. You can have a lot of things at that great price. Think practically.
Given the parameters you'll be judging your wedding lehenga, we have prepared a list of different styles. You can add your touch, experiment with two or more and customise yours with the help of it.
Choosing the best wedding lehengas for women must be confusing; this list will help you identify your unique style and preferences and shortlist your favourites.
Product Overview
1. Fully Flared Lehenga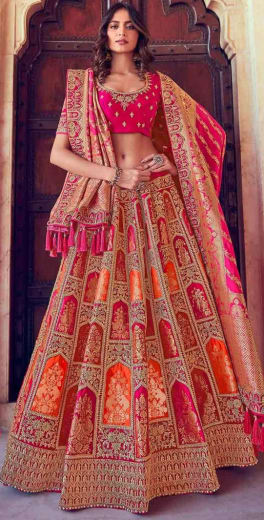 As the name suggests, the flared lehenga adds volume to the skirt via multiple pleats. Being the classic choice, it gives an elegant bridal look. The flared lehenga comprises various layers to provide a perfect twirling effect while moving.
A flared lehenga is usually made up of silk and chiffon; nowadays, designers are experimenting with brocade, crepe, and Georgette to refine the details as much as possible. Trends like adding two dupattas and dramatic bottoms are also popular among young brides.
What's great
Easily available in a wide range of varieties in local shops and big malls.
Customisation is less time taking.
Shop at Karagiri
Shop at Flipkart
Shop at Myntra
Shop at Ajio
2. A-Line Lehenga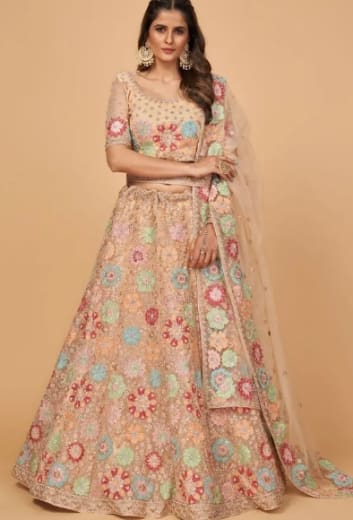 As the name suggests, A-line lehengas are less voluminous than flared ones, making them easier to carry in a lengthy ceremony. Consequently, it has fewer wrinkles.
They have the added advantage of making you look taller. The blouse and lehenga are matched together with a contrasting colour dupatta for a wholesome effect.
What's great
An A-line lehenga gives your waist an attractive shape and an overall waterfall-like appearance.
Ultra Lightweight lehenga helps you enjoy the ceremony.
Shop at wedding Surat
Shop at Karagiri
Shop at Pernia
3. Illusional Saree Lehenga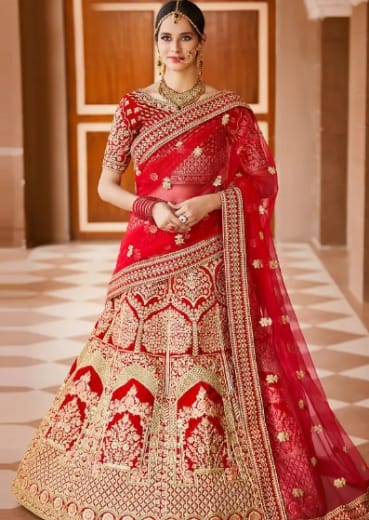 Yes, you guessed it correctly. A saree look-alike lehenga is a product of mixing two beautiful ethnic wears, i.e. saree and lehenga. The look is made possible by draping the dupatta around the waist just like you do in a saree, making it one of the best wedding lehengas for women.
What's great
This lehenga can save an enormous struggle to wear to a saree and a great deal of time.
Usually available in a long dupatta. You can style differently during different occasions.
Shop at saree saga
Shop at Pernia
Shop at Karagiri
4. Jacket Lehenga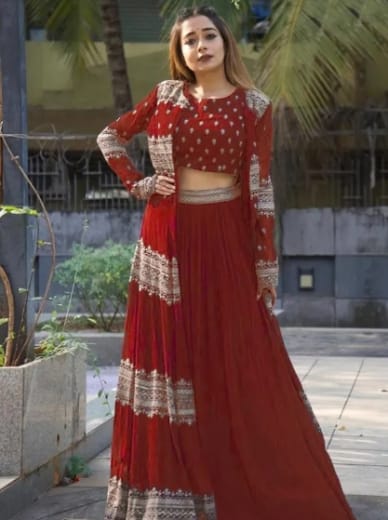 Gone are the days a staple lehenga consists of a lehenga, dupatta and blouse (choli); contemporary brides carry leather jackets, sports shoes, quirky headpieces and whatnot. On the same page, we have jacket lehengas.
Here we are replacing the dupatta with a jacket. The length of the Jacket could be as short as a koti and as long as a shrug. Jacket lehengas work best when your lehenga is lightweight (made from chiffon or Georgette); it will help you balance the two.
What's great
The embroidered Jacket will help add volume to the overall look and will be a perfect saviour for skinny brides.
You can try different accessories matching with jacket lehenga than any other lehenga.
Perfect for cold destination weddings.
Shop at Dolly J Studio
Shop at Pernia
5. Fishtail Style Lehenga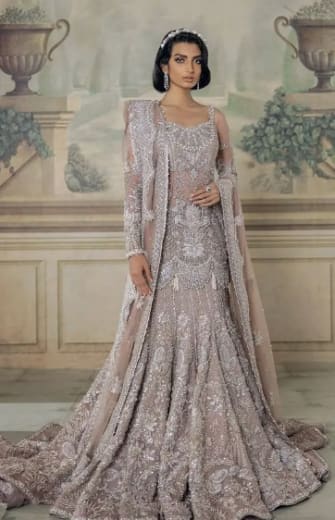 Adding a more western touch to the traditional lehenga, we premium you fishtail-style lehengas. Ideal to accentuate curves, these lehengas give a fishtail appearance.
The lehenga is structured to provide a body-hugging construction from the waist, which flared around the knees.
What's great
Gives you dress-like vibes in a lehenga. A modern touch makes you look straight and organised.
Can carry in different occasions: You can carry fishtail lehengas at reception parties and after parties after the actual ceremony.
Shop at NameeraByFarooq
Shop at Kreeva
Shop at Ananya designer studio
6. Indo-Western Fusion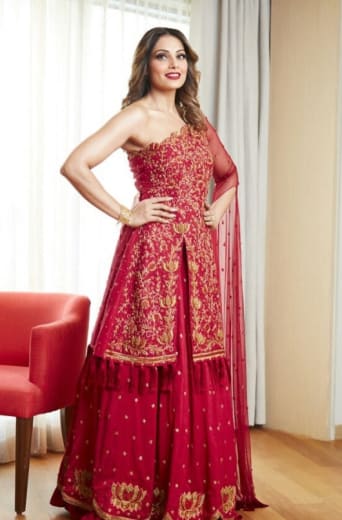 There's no one way to fuse two different cultures. You can mix multiple elements to make a fashion statement of your own. It could be a crop-top blouse with a fit to flare lehenga or off shoulder blouse with a fishtail skirt, totally up to your discretion.
The best thing which makes Indo-western wedding lehengas the best is customisation, through which you can have a personal touch on the existing sophistication. The beauty of Indo western style is that you can feel modern and like a traditional bride in the same attire, making it one of the best wedding lehengas for women.
What's great
A lot of space for adding your personal touch and customisation.
Trendy choice, thus available on most e-commerce websites.
7. Lehenga Kurta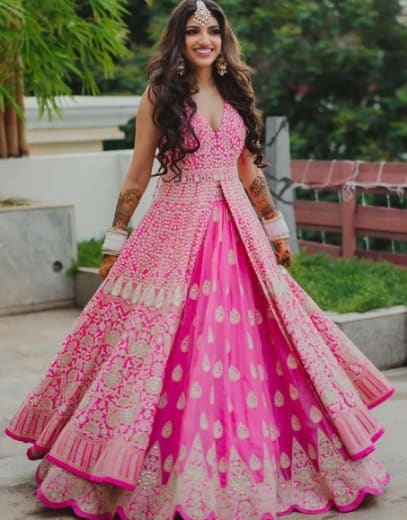 Like the saree lehenga, it is another beautiful combination of a kurta and lehenga. The blouse is replaced by a long peplum top to give kurta vibes. Adding the convenience of a kurta with the grandeur of a classic ethnic wear lehenga, you'll undoubtedly turn heads around. If you are someone who sucks carrying a delicate dupatta, this choice is surely for you.
What's great
Hassle-free: carrying a kurta lehenga is comparatively easy and hassle-free.
Cheaper and goes with a wide range of accessories.
Shop at Saree suit
Shop at Aza Fashions
Shop at Myntra
A Final Word
The above list is a shell in the ocean. You'll encounter hundreds of other choices on your quest to find the best wedding lehengas for women for your D-Day.
While your choices may vary from a classic chic A-line to a sexy fishtail, you can find your quirky choice. We wish you all the best and hope you'll find the perfect lehenga soon.
Frequently Asked Questions
Q. When Should I Begin Searching for the Best Wedding Lehengas?
Ans. If you want a customised lehenga, you can start anywhere from 4-6 months before the wedding. In readymade ones, you can invest the initial time in jewellery shopping.
Q. Apart From Red, What Other Colours Are Preferable?
Ans. Pastel colours like pink, mauve, mint green, peach, periwinkle, and lavender are some trendy choices to look for.
Q. What Is the Starting Price Range of Wedding Lehengas?
Ans. An average wedding lehenga a cost around 50,000 INR to 2,00,000. Customised ones are more expensive.
Q. Should I Buy Wedding Jewellery Before the Lehenga?
Ans. You can do both. But yes, buying jewellery first helps you keep a knack for your budget.