In every man's closet, there should be at least 3 good suits. If you are a regular suit wearer, the number can range anywhere between five to fifteen. Now, if you are in search of a wedding suit to meet your number, you are at the right place. We have curated a list of best suit brands for men in India.
By picking some classic suits from the upcoming suit brands , you can enter the venue with confidence and style. Now, let's jump right into the list, shall we?
Quick Overview of the Brands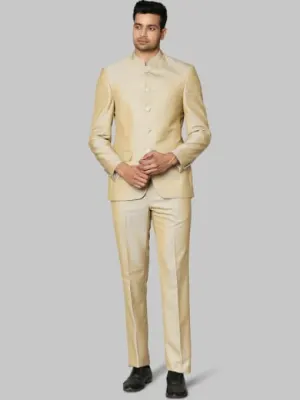 Founded in 1925, Raymond Group is a leading Indian fabric and fashion retailer. Ever since its inception, the brand has been consistently popular for its great quality of fabrics and stitching.
The brand offers a wide range of excellent, superior quality shirts and suit fabrics. You can use them to tailor suits for your fit and style. They also have an impressive collection of two-piece suits that are available at affordable prices.
What's Great About Raymond?
Classic styles at affordable prices
Reliable high-quality material
Excellent collection of fabrics and readymade suits
Pros:
Classic and elegant styles
Affordable pricing
High-quality fabric
Customizable suit stitching
Cons:
Limited modern designs
Mostly solids and subtle patterns only
Raymond is perfect for grooms and guests looking for timeless wedding suits for men on a budget.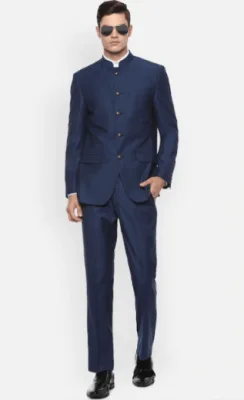 Louis Phillippe is a luxury men's apparel brand with origins in India. It is a subsidiary of the well-regarded Madura Fashion and Lifestyle. The brand caters to every fashion need of a man, from casual clothes, accessories to formal suits.
The brand offers a wide range of two-piece and three-piece suits in sophisticated styles. You can check out the classic solid men's suit for a simple look. Alternatively, you can check out their popular single-breasted desi men's suit for festivities and other traditional events.
What's Great About Louis Phillipe?
Wide range of options
Desi and western styles are available
High-end wear at a reasonable price
Pros:
Huge collection of desi and western suit designs
Premium fabrics like wool, linen, cotton, etc.
Jacquard prints and textured patterns
Cons:
Expensive compared to other brands
Limited simple and subtle options
Louis Philippe is a great choice for stylish Indian grooms looking for rich wedding suits for men.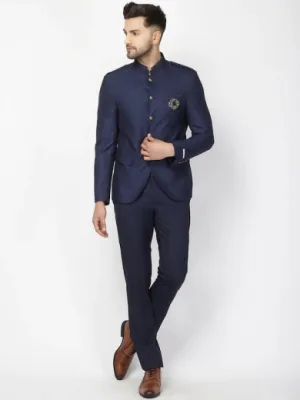 Considered one of the best brand of wedding suits for men, Blackberrys stays true to its reputation with an impeccable variety of suits. They offer an endless number of suits in various styles, patterns, fabrics, and colours.
If you are looking for a chic set of black suits, Blackberrys is the brand for you. They have a wide variety of sophisticated suits in other colours as well. You can check out their best seller Solid Men's Suit to pull off an elegant look this season.
What's Great About Blackberrys?
Excellent collection of black suits
High-quality manufacturing
Trendy cuts and design
Pros:
Huge collection of black wedding suits for men
High-end fabric like wool, linen, velvet, etc.
Contemporary and stylish designs
Cons:
Mostly premium pricing
Limited subtle and simple options
Blackberrys is ideal for grooms and guests looking for stylish black or vibrant wedding suits for men.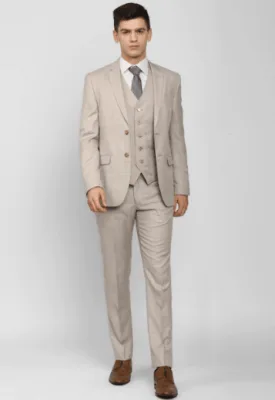 Founded in 1881, Van Heusen is a premium lifestyle brand that has gained extreme popularity in India. The brand has a presence in over 55 countries. Although they are more known for sportswear and casuals, Van Heusen offers an impressive selection of formal suits for men.
You can check out their collection of light-coloured, fashionable suits. They are available in colours such as sky blue, pink, beige, and light grey. They also have great pieces in traditional black, blue and brown colours.
What's Great About Van Heusen?
Availability of different colours and patterns
Excellent collection of Desi-style suits
Reputed brand name
Pros:
Vibrant color options beyond blacks and blues
Trendy slim fit and drape cut options
High brand value and recognition
Cons:
Limited traditional Indian options
Most suits use blended fabrics
Van Heusen is ideal for modern Indian grooms looking for fashionable wedding suits for men.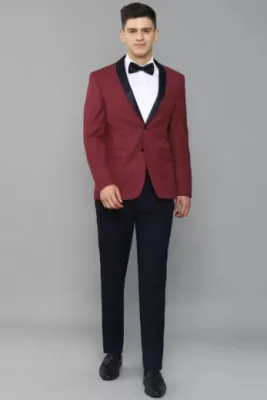 Allen Solly is a high-end edgy and smart brand that was launched in India in 1993. The brand is popular for its luxurious range of clothing items for youth and children.
The brand offers an endless list of three-piece and two-piece suits. Some of their best-selling suits include – Slim Fit Three-Piece Formal Suits Blue, Slim Fit Two-Piece Suit and Men Three-piece Solid Formal Suit
What's Great About Allen Solly?
Highly-recognized brand name
A simple and sophisticated collection
Reliable material and stitching quality
Pros:
Elegant and graceful suit designs
High-quality fabric and stitching
Trendy slim-fit and athletic cut options
Cons:
Limited bold patterns and colors
Mostly subtle and simple styles
Allen Solly is ideal for grooms looking for graceful and classy wedding suits for men.

Park Avenue, dubbed the 'complete wardrobe dressing solutions' is one of the country's leading garment brands. The brand offers a sophisticated collection of ready-to-wear business and semi-casual clothing for men.
This is considered one of the best brands of suits for its use of comfortable fabric. It is usually made of a polyester blend fabric that is made to feel soft on the skin and last a long time. Some of their best pieces include – Two-piece checked extra slim fit suit set, a Two-piece suit set with full sleeves blue, and a checked three-piece suit set.
What's Great About Park Avenue Suits?
Excellent variety of checked and plain suits
Classic and simple designs
Unique combination suits are also available
Pros:
Huge collection of checked and printed suits
Soft, breathable fabric
Classic and tailored suit designs
Cons:
Limited solid color options
Mostly premium pricing
Park Avenue is perfect for grooms looking for unique checked or printed wedding suits for men.

Last on our list of wedding suits for men , we have the well-known brands Arrow, a classy brand. Founded in 1851, the American brand has become people's favourite in India. The brand is known for its classic and sophisticated American styles.
Arrow offers an excellent collection of simple and experimental suit styles. You can go for Arrow's classic black or blue suits. Alternatively, you can check out their mint green suits or checked suits.
What's Great About Arrow?
Reputed American brand
Classy designs
Excellent fit and fabrics
Pros:
Classic American suit designs
Premium wool, linen and velvet fabrics
Great construction and fit
Cons:
Mostly expensive pricing
Limited desi suit options
Arrow is perfect for modern grooms looking for luxury American-style wedding suits for men.
How to Pick the Right Wedding Suit?
Here are some tips to choose the best wedding suit as per your style and budget:
Select a color that complements your skin tone like navy, grey, black etc. Avoid loud colors or prints if you want a graceful look.
Pick a fabric that is comfortable and suits the weather like linen, cotton, wool, velvet etc.
Choose a versatile two-piece or three-piece suit in a classic cut like single-breasted peak lapel.
Try various sizes and cuts to find one that flatters your body type, like athletic, slim-fit, tailored etc.
Buy from a reputed brand that offers good fabric, construction and fit. Avoid cheaper brands that compromise on quality.
Pair with formal shoes, tie and pocket square in coordinating colors for a polished wedding look.
Get suit alterations done professionally for the best customized fit.
Wedding Suit Trends for Men in 2023
Here are some of the hottest wedding suit trends being seen for grooms and guests in 2023:
Bold colors like marsala red, emerald green, royal purple, mustard etc.
Ethnic inspired styles like bandhgala suits, Jodhpuri suits, Achkan suits etc.
Textured fabrics like tweed, houndstooth, herringbone and windowpane.
Floral prints and jacquard patterns for a unique look.
Velvet suits in jewel tones for a luxurious winter wedding look.
Mismatched suits like colored pants with patterned jacket.
Statement suits with embellished lapels, cufflinks or pocket squares.
Skinny ties and slim lapels for a modern, sleek silhouette.
Closing Lines
Each of these brands has something unique to offer you. So, check them out thoroughly and pick the one that feels right. Hopefully, you will meet your number after finding the best wedding suits that matches your style and personality!
FAQs
Q1. What color suit is best for a wedding?
Navy blue, midnight blue, charcoal grey and black are the most elegant and versatile colors for wedding suits for men. They complement most skin tones and give a polished, formal look.
Q2. What fabric is best for a wedding suit?
Wool suits are best for weddings as the fabric breathes well, insulates the body and holds structure nicely. Other good options are linen, cotton, velvet, cashmere, tweed and seersucker based on weather and formality.
Q3. Should you rent or buy a wedding suit?
It's recommended to buy a new wedding suit if your budget allows as rented suits may not fit well or be of good quality. Buy a timeless style that you can wear again vs renting something very trendy for just the wedding day.
Q4. What is the difference between a wedding suit and a regular suit?
Wedding suits are more formal, tailored and made of finer materials than regular business suits. Details like satin trim, ribbon tie loops, and cashmere lining elevate a wedding suit. The cuts are also slimmer and sleeves higher than a regular suit.
Q5. How much do good wedding suits cost?
Quality wedding suits from reputed brands generally cost ₹15,000 to ₹30,000 on average. Made-to-measure or custom-tailored suits can cost ₹50,000 and up but offer the best fit. Readymade suits under ₹10,000 compromise on fabric and construction.
Q6. Should you wear a three-piece suit for a wedding?
A three-piece suit with a vest is more formal and elegant for a wedding. But in hot weather, a two piece suit without a vest allows more breathability while remaining stylish. Match the formality of the wedding when choosing two or three pieces.
Q7. What shoes and accessories go well with a wedding suit?
Classic black oxford dress shoes, a white or light blue shirt, silk tie, lapel pin, pocket square, formal watch, cufflinks and fragrance are great accessories for complementing and completing a wedding suit look.
Q8. How should a wedding suit fit?
A wedding suit should contour the body and drape cleanly without pulling or sagging. The shoulder seams should align with your shoulders. Sleeves should hit right at the wrist bone. Pant cuffs should gently break over shoes without bunching.
Q9. How early should you buy a wedding suit?
It's best to buy or custom make a wedding suit 6-8 months in advance for a perfect fit. This also allows time for any needed alterations. If buying readymade, buy at least 1-2 months early to accommodate any returns/exchanges.
Q10. How do you make a wedding suit more comfortable?
Choose breathable fabrics, allow room through the chest and seat, remove jacket for reception, wear suspenders to avoid a tight waistband, choose natural fibers over synthetics, and get the right size and tailoring for maximum comfort.
Q11. What 3 Suits Should a Man Own?
A. The answer really depends on the type of events the person usually attends and their personal preference. However, there are some classic designs that look elegant and timeless regardless of the occasion. Here are the top three of them –
A blue single-breasted suit
A black/grey double-breasted suit
A casual or patterned suit
Q12. What is the Most Professional Suit Color?
A. Black is, most often, considered the most formal colour for suits. If you are attending a business meeting, entertaining clients, or dressing for a black-tie event black suit is a perfect choice. However, a navy blue or royal blue suit can also be worn to formal events.
If either is not to your taste, you can go with any of the plenty of grey or earth tone suits.
Q13. Where to Shop the Best Brand of Suits for Men?
A. You can shop readymade suits on any of these websites – Myntra, Flipkart, Ajio, and Tata CLiQ. They offer a huge assorted collection of formal suits that you can choose from. Alternatively, you can shop on the official website of the brands that you like.