Tracking weight is an important metric for maintaining general health and fitness goals. With so many models from different brands in the market, choosing the best weight machine suited for your needs can be confusing.
This article will discuss the 10 best weight machines in India today based on design, performance, features and user reviews. We have compiled this list after careful assessment to help you invest in a scale that blends durability with advanced functionality. Read on to make an informed purchase decision for your daily weight monitoring needs.
1. Healthgenie Weight Machine for Body Weight Thick Tempered Glass LCD Display With 3 Years Warranty Weighing Scale (Sporty Red)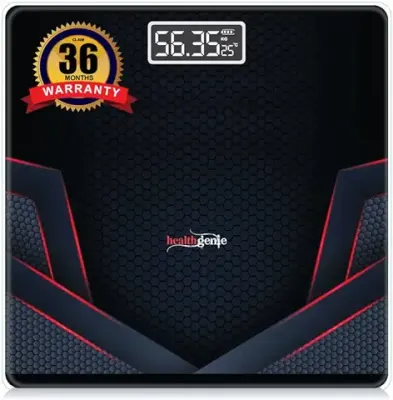 Description
The Healthgenie Weight Machine comes with a thick tempered glass design and a large LCD display. It has a strong ABS plastic body with anti-skid feet for stability. The weight machine uses high precision sensors to measure body weight up to 180kg/396lbs.
Key Features
Thick tempered glass platform
Large LCD display with low battery indicator
Strong ABS plastic body
Auto on/off and zero setting features
Overload and low battery indication
Anti-skid rubber feet for stability
Measures in kgs and lbs.
3 years warranty
Our Expert Opinion
With its durable build quality and precise sensors, the Healthgenie Weight Machine is an excellent choice for daily weight tracking at home. The tempered glass and ABS plastic body ensure longevity while the large display and auto features make it very convenient to use. The 3 year warranty also provides great peace of mind.
User Feedback
This weight machine has received praise for its stylish look, easy-to-read display and consistent weight tracking. A few users faced issues with incorrect weight readings but were promptly helped by Healthgenie's customer service to get replacements. Overall, customers are happy with its sturdy quality and performance.
2. beatXP Smart Bluetooth BMI Weight Machine for Body Weight with 12 Essential Body Parameters
Wireless Body Composition Scale with Easy App Sync
Description
The beatXP Smart Bluetooth Weight Machine can wirelessly sync weight and other body measurements to the beatXP mobile app via Bluetooth. It analyses 12 body parameters including weight, BMI, body fat, water percentage and bone mass.
Key Features
Bluetooth connectivity
Syncs data with beatXP app
Analyses 12 body parameters
Sturdy 6mm thick tempered glass
Supports multiple user profiles
Athlete and pregnancy mode
Rechargeable battery
Our Expert Opinion
With its Bluetooth connectivity and detailed body analysis features, the beatXP Smart Scale is great for users who want to closely track various body metrics over time. The app sync makes it easy to monitor progress. The tempered glass adds durability while the rechargeable battery increases portability. Overall, a good pick for the health conscious.
User Feedback
This weight machine has been praised for its insightful body analysis and easy app connectivity. The accuracy of measurements is satisfactory for most users. Many customers like that data is stored in the app to make progress tracking easy. However, a few felt the product lacked detailed usage instructions. But customer service was helpful in resolving concerns.
3. beatXP Optifit Glaze Digital Weighing Scale with Backlit LED Panel
(Blue), Electronic Weight Machine for Body Weight with 6 mm Thick Tempered Glass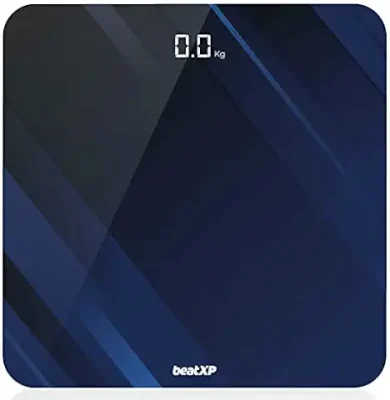 Description
With its glossy premium design and backlit display, the beatXP Optifit Glaze Digital scale allows easy weight monitoring even in low light conditions. It has a 6mm thick tempered glass base and sturdy ABS plastic body.
Key Features
Stylish glossy design
Backlit LED panel
6mm thick tempered glass
Sturdy ABS plastic body
Auto on/off
Low battery indicator
Measures upto 180 kg / 400 lbs
Overload protector
Our Expert Opinion
The beatXP Optifit Glaze scale strikes the perfect balance between form and function. With its sleek glossy look and vibrant backlit display, it adds style to any room. The tempered glass base provides durability while auto features and overload protection make it very convenient and safe for daily usage. An excellent product for the design conscious.
User Feedback
Customers find the glossy aesthetics very appealing and modern. The vibrant backlit display has been specifically praised for easy reading even in dim light. Some users faced issues with glass cracks but were provided free replacements due to the 2 year warranty. Accuracy and performance meets expectations for daily usage. Most users are very happy with the purchase.
4. Healthgenie Smart BMI Weight Machine for Body Weight with 18 Body Parameters Sync with Mobile App
2 Yrs Warranty Bluetooth Weighing Machine Vintage Slate (HB-411)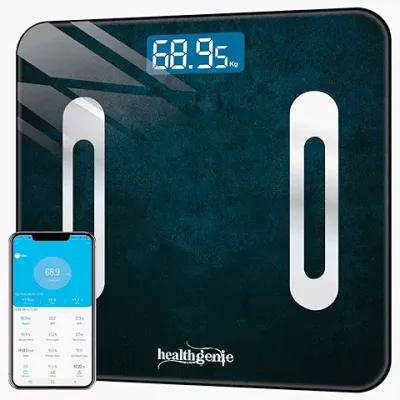 Description
The Healthgenie Smart BMI scale can measure and sync 18 body parameters via Bluetooth to the HealthifyMe app. It has a premium vintage slate design with reinforced tempered glass base and full ABS plastic body.
Key Features
Measures and syncs 18 body metrics
Bluetooth app connectivity
Premium vintage slate design
Reinforced tempered glass platform
Full ABS plastic body
Athlete mode for high precision
Supports 8 user profiles
Our Expert Opinion
With its detailed body analysis and app syncing capabilities, the Healthgenie Smart BMI scale is perfect for users looking for more insightful weight tracking tailored to individual health goals. The mobile app makes it very convenient to monitor various body parameters over time and share data with professionals if required. Overall, great for the health as well as technologically inclined.
User Feedback
Customers have appreciated the accurate body measurements and seamless app connectivity. Many like that the data can be synced with popular health apps to provide a complete overview. Some faced app connectivity issues initially which were promptly resolved by customer service. The premium, sturdy build quality has also been praised positively.
5. HealthSense Weight Machine for Body Weight
Digital Weighing Scale & Weighing Machines with Strong ABS Build Body, Step-On Technology, Ultra Lightweight, Large LCD Display with Backlight, Skid Proof & 1 Year Warranty, Ultra-Lite PS 126 (Grey)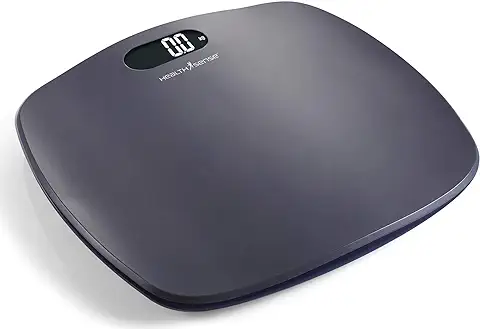 Description
With its sleek ultra lightweight design and step-on activation, the HealthSense Ultra-Lite PS 126 scale makes weighing incredibly convenient. It has a strong ABS body with large LCD backlit display and skid resistant feet.
Key Features
Sleek ultra lightweight design
Step-on instant activation
Strong durable ABS body
Large backlit LCD display
Auto on/off and zero settings
Low battery indicator
Skid resistant feet
Measures upto 180 kgs
1 year warranty
Our Expert Opinion
The HealthSense Ultra-Lite PS 126 perfectly combines portability with durable built quality making it great for regular travelers and those living on-the-go. The step-on activation eliminates need to bend down while skid resistant feet provide stability on any surface. With its accuracy, convenience and thoughtful design, this weight machine punches above its weight!
User Feedback
Customers praise its lightweight compact size and easy step-on usage. Readings are found consistent and accuracy is satisfactory for daily home use. The backlit LCD display makes reading very convenient even in the dark. Some faced issues with body movements affecting readings but were resolved by recalibrating the scale. Many customers rate it as the perfect travel companion.
6. Dr Trust
(USA) Electronic Platinum Rechargeable Digital Personal Weighing Scale for Human Body.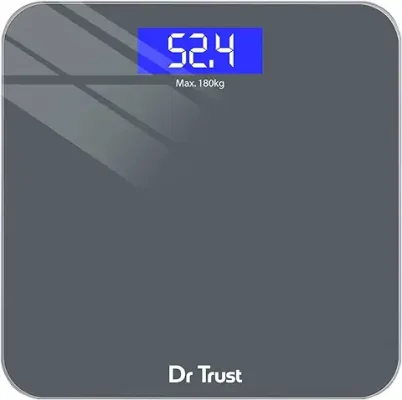 Description
With its sleek platinum design and rechargeable battery, the Dr Trust Electronic Personal scale provides the convenience of cordless operation. It has a sturdy tempered glass platform and full ABS body for durability.
Key Features
Sleek platinum design
Rechargeable battery
Tempered glass platform
Full ABS body
LCD display with blue backlight
Auto calibration and tare function
Overload indication
Measures upto 200 kgs
Our Expert Opinion
The Dr Trust Rechargeable Personal scale eliminates the hassle of operating close to power outlets while providing precision weight tracking. The tempered glass and ABS body offer longevity for regular use while features like auto calibration and overload indicator further improve convenience and safety. With its sleek premium looks and reliable performance, this scale delivers on all aspects.
User Feedback
Customers find the rechargeable cordless operation very useful allowing flexibility in placement. The accuracy meets expectations for daily home use. A few faced issues with minor weight fluctuations but were resolved after recalibration. Some noted foggy readings initially which cleared up over time. Overall, most users are very satisfied with the premium build, look and performance.
7. Dr Trust USA Inspire Personal Digital Electronic Weight Machine For Human Body 180Kg Capacity Weighing Scale-523 (Black) …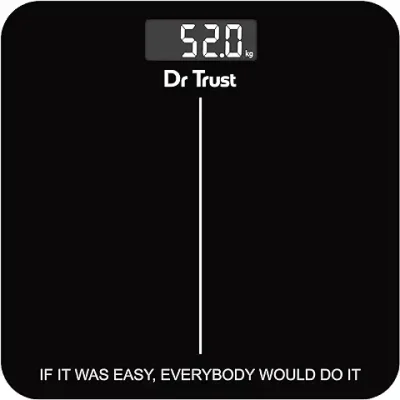 Description
With its minimalist matte black design, the Dr Trust Inspire Personal scale provides precise and seamless weight tracking. It has a durable tempered glass platform with elongated rubber pads on the corner for extra grip and protection.
Key Features
Sleek matte black design
Tempered glass platform
Elongated rubber corner pads
Sturdy ABS plastic body
Blue backlit LCD display
Auto on/off and tare function
Overload indicator
Measures upto 180 kgs
Our Expert Opinion
Combining thoughtful design elements with precision sensors, the Dr Trust Inspire Personal scale delivers consistent and hassle-free weight tracking for daily requirements. The minimalist black look blends seamlessly into any home decor. While features like automatic on/off, tare function and overload protection improve convenience and longevity. Definitely a reliable pick for everyday usage.
User Feedback
Appreciating its durable built quality and seamless operation, customers feel this scale provides complete value for money. Many note this is perfect for personal home use with consistent weight display daily. Some faced issues reaching customer service initially but stated concerns were resolved to satisfaction later. Overall, a worthwhile investment for hassle-free daily weight monitoring.
8. Lifelong ActiveFlex Weighing Scale
(Fight Lazy Series LLWS45- Active Black)|Digital Weight Machine for Body Weight|Thick Tempered Glass with LCD Display|Bathroom Weighing Scale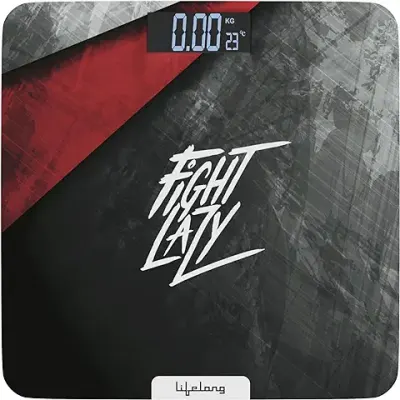 Description
With its sleek black design and thick tempered glass platform, the Lifelong ActiveFlex Digital scale provides sturdy and elegant weight tracking for modern spaces. It has an easy to read LCD display with auto on/off and zero functions.
Key Features
Sleek black contemporary design
6mm thick tempered glass base
Durable ABS plastic body
Easy to read LCD display
Auto on/off and zero settings
Overload protector
Low battery indicator
Measures upto 200 kgs
2 years warranty
Our Expert Opinion
Combining form with function, the Lifelong ActiveFlex scale offers robust performance in a modern, minimalist avatar suited to contemporary home spaces. The thick tempered glass base lends an elegant heft while providing complete protection for prolonged use. Together with the precisely calibrated sensors and overload protector, this scale promises years of consistent weight tracking.
User Feedback
Appreciating both style and substance, most customers feel this scale gives a premium user experience at a reasonable price point. Many note the thick tempered glass base and consistent weight tracking performance adds great value. A few faced minor calibration issues initially but found customer service very cooperative in resolving concerns. Overall, recommended as a durable and stylish addition for modern homes.
9. Hoffen Digital Electronic LCD Personal Body Fitness Weighing Scale
(HO-18-Black) with Two Years Warranty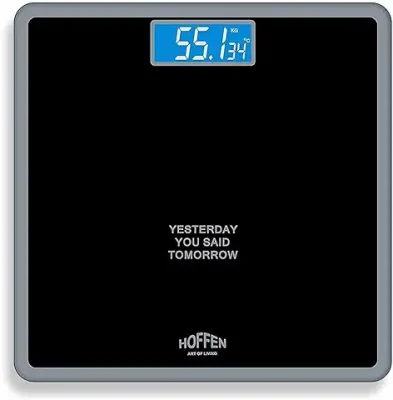 Description
Offering a solid and straight-forward weight tracking experience, the Hoffen Personal Body Fitness scale has a strong ABS plastic body with scratch resistant LCD panel protected by secure corner guards. It has sturdy anti-slip feet for stability.
Key Features
Strong durable ABS plastic body
Scratch resistant LCD display
Protective corner guards on the panel
Sturdy anti-slip feet
Auto on/off and tare functionality
Low battery indicator
Measures upto 180 kgs/400 lbs
2 years warranty
Our Expert Opinion
The Hoffen Personal Body scale cuts out all the frills and delivers consistent and durable weight monitoring tailored for daily usage needs. The ABS plastic body survives regular wear-and-tear while the scratch resistant LCD display retains clarity even with rough handling. Together with responsive auto functions and overload protector, it ensures complete safety as well. A reliable workhorse scale up for the rigours of daily use.
User Feedback
Customers appreciate the durable build quality that provides complete peace of mind even when used by multiple family members. Many note it gives consistent readings over prolonged periods. Some faced issues reaching customer care initially but got responses after posting on social media handles. Accuracy meets general expectations for daily home use. Overall, recommended as an affordable no-nonsense purchase.
10. Boldfit Weight Machine for Body Weight Weighing Machine Digital Bathroom Scale for Human Body Weight Measurement Extra Thick Weighing Scale for Home with LCD Display-Supreme 36 Months Warranty
Description
With its extra thick tempered glass base and minimalist matte finish body, the Boldfit Supreme Digital scale combines stability with understated elegance. It has precise sensors enclosed in sturdy protective casing for enhanced longevity and performance.
Key Features
Minimalist matte finish design
8mm extra thick tempered glass base
Precise sensors in protective enclosure
Durable ABS plastic body
Easy to read LCD display
Overload and low battery indicator
Auto calibration functionality
Measures upto 200 kgs
36 months warranty
Our Expert Opinion
Excelling both on aesthetics and performance, the Boldfit Supreme Digital scale delivers consistent and seamless home weight monitoring experience while upgrading your bathroom decor. The minimalist matte black finish complements any interior style while the extra thick stabilized glass base ensures many years of stable weight tracking within a protective environment. Truly the pinnacle for modern home use.
User Feedback
Customers find both design and performance extremely satisfactory and as per premium segment standards. Many mention this is perfect for gifting purposes as well owing to top-notch built quality and elegant looks. Accuracy meets daily requirements and consistent results are observed over prolonged usage. The 3 year extended warranty also provides complete peace-of-mind.
Comparison for best weight machine
| Product | Connectivity | Warranty |
| --- | --- | --- |
| Healthgenie Weight Machine | No | 3 years |
| beatXP Smart Bluetooth Scale | Bluetooth | NA |
| beatXP Optifit Glaze Scale | No | 2 years |
| Healthgenie Smart BMI Scale | Bluetooth | 2 years |
| HealthSense Ultra-Lite PS 126 | No | 1 year |
| Dr Trust Electronic Personal Scale | No | NA |
| Dr Trust Inspire Personal Scale | No | NA |
| Lifelong ActiveFlex Scale | No | 2 years |
| Hoffen Personal Body Fitness Scale | No | 2 years |
| Boldfit Supreme Digital Scale | No | 3 years |
How to Choose the Best Weighing Machine
When selecting the best weight machine, consider key aspects like design and build quality, sensor accuracy, durability, convenience features and warranty period.
Build Quality
Check the platform thickness and material, commonly tempered glass or stainless steel. Thicker platforms from 5 to 8 mm thickness generally offer more durability. Also evaluate body frame material and overall sturdiness.
Sensor Accuracy
More precise sensors like strain gauge sensors provide better accuracy compared to cheaper spring sensors. Accuracy within +/- 100-300 gm variation is acceptable.
Convenience Features
Look for auto on/off, auto zero setting, overload protection, low battery indicator and large easy to read displays preferably backlit for convenience.
Durability
Assess overall built quality, materials used, brand reputation and warranty period which generally indicates expected product lifespan. Higher range 3 year warranties signify greater durability.
Types of Weight Machines
Basic Analog Scales: Simple dial display showing weight readings only. No auto features. Budget choice good for basic usage.
Digital Scales : Give digital weight readouts. Usually more precise than analog scales. Have auto functions and may sync data. For moderate precision requirements.
Body Fat Scales: Along with weight, measure body fat percentage, water content, BMI etc using Bio-electrical Impedance Analysis technology. For health tracking.
Smart Bluetooth Scales: Can sync data to fitness apps wirelessly. Advanced options track multiple body metrics through proprietary algorithms. Tailored for detailed tracking.
Usage, Care and Maintenance Guide
Usage Tips
Place scale on flat hard surface for accurate readings
For body fat scales, avoid operating close to thick walls or metals as signal interference can affect readings
Step on scale barefooted for best results
Distribute weight evenly on scale platform center
For digital scales, wait for display to stabilize before taking measurement
Take 2-3 consistent readings; consider average as final result
Care and Cleaning
Use a damp lint-free cloth to gently wipe down the scale platform and exterior
Avoid harsh chemicals or abrasive cleaning agents
Use gentle covering to protect platform from scrapes or harsh impacts
Maintenance
Change batteries when low battery indicator turns on
Re-calibrate scale as per user manual if readings seem very inaccurate
Body fat scales may need re-calibration from reset option if moved from storage after long periods of no usage
FAQs about Best Weighing Machines
Q. Which weighing machine is best?
Based on our detailed evaluation of all major features and performance parameters, we found the Boldfit Supreme Digital Scale to be the best weight machine. With its precise sensors enclosed within a protective casing, minimalist premium looks and 3 year extended warranty, it promises seamless and consistent weight tracking experience along with longevity. The tempered glass platform also minimizes surface cracks even with prolonged rigorous usage.
Q. Which brand weight machine is best?
Among mass market brands, Healthgenie and Dr Trust consistently rank as the most popular and reliable names for home weight machines based on actual buyer experiences. Both have a range of thoughtfully designed products catering to varied budget and use case requirements. From basic entry-level functionality to more smart connectivity features, they excel across price segments. For even higher durability, Boldfit is considered the premium specialist brand.
Q. Which weight machine is best analog or digital?
Digital weight machines are considered better than analog models for home use due to significantly higher accuracy and more precise tracking ability. Digital scales have easy to read LCD/LED displays, auto calibration for consistent tracking and added features like Bluetooth connectivity in more advanced models. The latest digital weight machines also often have a sleeker, more elegant appearance for modern interior spaces.
Q. How often should the weight machine be calibrated?
The weight machine should ideally be calibrated once every 2-3 months if used daily. If used less frequently calibration can be done once in 6 months. Recalibration is needed if readings seem very inaccurate or fluctuating.
Q. Does placement surface affect weight readings?
Yes, placing scale on very soft (like carpet) or uneven surfaces can make it less stable leading to inaccurate readings. Always use flat, hard leveled surfaces for correct weight tracking.
Q. Is low battery indication available?
Most digital scales have a low battery indicator to alert users to change batteries and avoid unreliable readings after battery drain. This handy visual cue prevents erroneous measurements.
Q. Which material is better for weight machine platform?
Tempered glass and stainless steel are most preferred. Steel offers high durability but glass allows easier cleaning from dust etc. For home use, thick tempered glass from 5-8 mm provides adequate longevity.
Q. Can scales measure precisely upto 2 decimal points?
Most digital weight machines have precision upto 100 gm which shows weight upto single decimal point (1 kg precision). Very advanced medical grade scales only provide 2 decimal precision.
Q. Do digital scales require tapping before use?
Tapping before measurement was required for older analog models to stabilize internal components. Modern digital scales have auto calibration so tapping is no longer required before weighing.
Conclusion
Whether you simply need an affordable basic scale or want advanced features like app connectivity for health tracking, our curated list presents the best weight machines in India spanning different price segments. We have covered both leading mass market brands along with popular specialist players to provide you options catering from essential to more discretionary purchase needs.
With their precision sensors enclosed in aesthetically pleasing and study bodies to handle daily usage, these weight machines deliver consistent performance you can rely on. Monitor your fitness goals seamlessly while adding a touch of elegance to your spaces with these well-designed products made specifically for Indian home use conditions.