Is your favourite cousin's wedding reception next week? Or, you have not bought a gorgeous crop top and skirt for wedding for your best friend's nuptials that is around the corner?
Off! This can be stressful. To help you out of this situation and attend the wedding in style, we are here with a list. We have got you covered with a list of amazing crop top and long skirt combo for wedding and similar occasions.
Now, read on, pick the combination of top and skirt that suits your personality and get ready to dazzle!
Quick Overview of the Products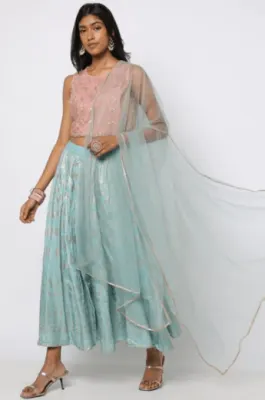 If you want to look simple, and elegant yet stand out in a wedding crowd, this leaf print lehenga is for you. This Avaasa set comes with a beautiful light blue skirt and a light pink crop top. The pastel tones look stunning on all skin tones and body types.
To elevate the essence of the dress and make it look more festive, the skirt has beautiful, small leaf prints. Whereas, the pink top has intricated shiny designs. The simple white, translucent dupatta completes the look and adds to the overall simplicity.
What's Great?
Simplistic yet festive design
Comfortable wearing material
Suitable for the evening and day-time events
Pros
Elegant and simple design
Comfortable, light material
Suitable for day and evening events
Cons
Limited size options
Needs delicate care
"I love it. The material is so comfortable and it looks amazing on." – Nandhini S.
Shop now on Ajio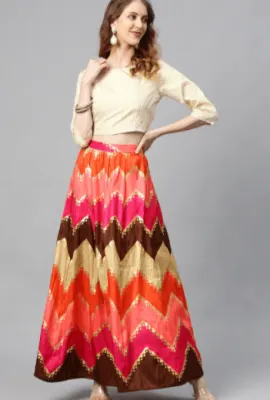 A mix-match of traditional clothing and modern patterns, can it look good? Definitely, yes. This Juniper Pink & Beige Foil print lehenga and beige blouse is a show-stopper. This is a crop top and skirt for wedding during the day.
However, you can pair the skirt with a brighter-coloured crop top and transform it into evening wear. We suggest a bright pink or orange crop top. To complete the look, you can style it with a pair of pumps and a potli clutch.
What's Great?
Eclectic design
Simple yet fashionable look
Made of raw silk & satin materials
Pros
Unique mix of patterns
Versatile for both day and night
Quality silk and satin material
Cons
Dry clean only
Limited color options
"It's an amazing dress – so beautiful! I got so many compliments." – Punnetha
Shop now on Myntra
A simple lehenga with a blouse will look good. But, what if you can make it more interesting? This Kvsfab ready to wear lehenga choli with dupatta is an extraordinary wedding attire for women. It has a beautiful long skirt with tiers and pleats that gives a swaying silhouette.
The sleeves also have a wavy silhouette to match the skirt. It comes with a simple dupatta with detailed borders. The lehenga set is available in two gorgeous colours – green and mauve.
What's Great?
Swirling skirt and sleeves gives volume to the clothing
Tapping border on embellished dupatta
Comfortable enough to wear for long hours
Pros
Unique swirling silhouette
Comfortable for long wear
Intricate work on dupatta
Cons
Needs dry cleaning
Sizing runs small
"The material is so nice and it's really comfortable. I love the color!" – Apoorva G.
Shop now on Myntra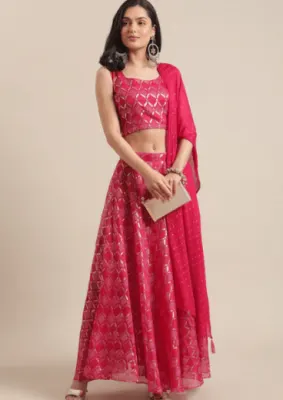 This pink & gold printed lehenga is surely bound to make you the star of the show! It is simple yet exquisitely well-designed. The blouse is an elegant sleeveless piece and the dupatta goes well with it.
The long skirt with gold patterns looks bright and beautiful. It has got slight pleats that twirl a bit when you move. You can complete the look with gold hoops and peep-toe heels.
What's Great?
Blouse and lehenga made of cotton material
Comfortable and stylish wear
Suitable for evening and daytime events
Pros
High quality cotton material
Suitable for both day and night events
Beautiful, eye-catching colors
Cons
Needs dry cleaning
Blouse runs small
"I got so many compliments when I wore this lehenga – it's totally worth it!" – Shivani S.
Shop Now on Myntra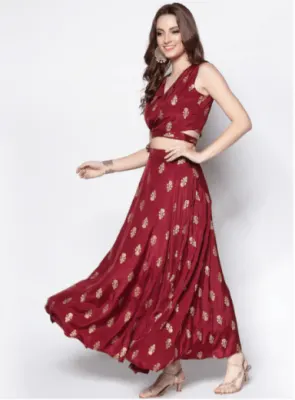 Traditional wedding lehenga, but make it a little edgy! This gold-toned crop top and skirt for wedding is all you need to turn heads. It is available in three bright and bold colours – Pink, Maroon, Red and Blue.
The skirt is pleated more on the sides to give more movement when dancing to those sangeet beats. The top is a deep V-neck with a tie around attached at the bottom. You can pair it with large earrings and a maang tikka for a bold look.
What's Great?
Unique blouse design
Best for evening events
Flattering V-neck and twirling skirt
Pros
Dramatic silhouette
Unique crop top design
Vibrant color options
Cons
Needs dry cleaning
Crop top runs small
"It fits perfectly and looks amazing! Great quality for the price." – Abha B.
Shop Now on Myntra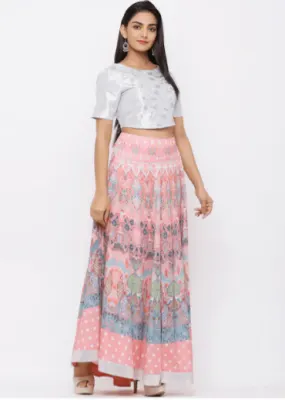 Want to wear something breezy and beautiful? If you are looking for a lehenga that is best suitable for a beachside wedding, this is the perfect choice for you. This lehenga is sophisticated and splendid at once.
It comes with a simple white top with silver printed patterns on it. The long high-waisted skirt is a made of poly muslin fabric. The patterns on it are colourful, different and adorable. You can pair it with silver jewellery and platform heels.
What's Great?
Best suitable for day-time events
Simplistic design
Comfortable to wear since it is made of satin and poly muslin
Pros
Perfect for daytime beach wedding
Lightweight, breathable fabrics
Vibrant patterns on skirt
Cons
Thin material prone to snags
Limited sizing
"The color is so pretty and it's really comfortable for a beach wedding!" – Tripti
Shop Now on Myntra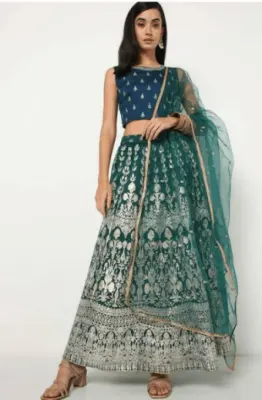 If there's a colour that embodies the classic feel of a wedding it is peacock green. This Avaasa embellished crop top and skirt for wedding is a beautiful set of peacock green skirt, dupatta and peacock blue blouse.
The blouse is simple with a round neck and tiny embellishments. The skirt is where all the designs are. It has elaborate silver patterns that make you shine the brightest even in a crowded room. The net dupatta simply adds to the overall beauty.
What's Great?
Bright colours
Luxurious chanderi material top
A classic cut and patterns
Pros
Eye-catching combination of colors
Luxurious, high-quality chanderi silk
Heavily embellished skirt
Cons
Expensive
Delicate, dry clean only
"The material is amazing quality. It was perfect for my sister's wedding!" – Parul K.
Shop Now on Ajio!
Find Your Perfect Wedding Outfit
With so many gorgeous options, you're sure to find the ideal crop top and long skirt combo for upcoming nuptials. Look for designs that flatter your body type. Seek out comfortable materials like cottons and silks for all-day wear. And don't forget statement accessories to complete your look!
Closing Lines
Hopefully, you found a favourite in one of the above-listed crop tops and skirt combos. If not, you can check out the range of wedding attire for women by the brands that made it to the list.
A small style tip: Many are opting for crop tops and skirts for wedding since it is a trend. If you want to stand out in the crowd, you can accessorize it with a heavy dupatta or a long shrug.
Have more questions? Check out the FAQ section below.
FAQs
Q. Where to find the best crop top and skirt for weddings?
Ans. You can find some of the finest collection of lehenga sets on Myntra, Ajio and Tata CLiQ.
Q. Are lehenga choli set expensive?
Ans. They are available in all price ranges. Some are expensive while others start at 1199 to 1299. You can shop during sale seasons and use coupons to save some extra money.
Q. Can I mix-match the lehenga & choli pieces from one set with another?
Ans. Definitely, yes. As long as you like the looks of it, you can mix-match however you wish.
Q. What accessories should I wear?
Ans. Statement earrings, bangles, maang tikkas, and pumps or heels make the perfect accessories. Don't be afraid to go bold!
Q. Should I wear crop tops and skirts during the day or night?
Ans. Many crop top skirt sets work well for both daytime and evening events. Look for versatile fabrics and embroidery. Add a dupatta or shrug for modest daytime looks.