Kurtis have always been a versatile choice for traditional, casual, and formal wear. This Indian attire comes in various designs, fits, and patterns, adding to your comfort and style. Especially with the fusion of traditional and modern styles, kurtis have evolved into versatile outfits suitable for any occasion. From the very basic to super stylish, these new kurti designs have set the trend. Whether you prefer a simple and elegant look or a bold and vibrant statement, these designs will cater to all your fashion needs.
So, get ready to revamp your wardrobe and make a style statement with these latest kurti designs.
How to Choose the Best Kurti Brand?
Consider these factors to choose from our well-curated list of the latest kurti designs to look and feel your best.
Quality: When choosing a kurti brand, it is important to consider the quality of the fabric, stitching, and embellishments. Look for brands that use high-quality materials and pay attention to the details of their designs.
Style: Kurtis come in a variety of styles, from traditional to contemporary, and it is important to choose a brand that offers the style that suits your taste. Consider the length, neckline, sleeve style, and overall design of the kurtis when making your choice.
Price: Kurtis can range in price from affordable to luxury, so choosing a brand that fits your budget is important. Consider the cost of the kurtis and whether they offer good value for your money.
Top 5 Kurti Designs
Here are the top 5 latest kurti designs from leading brands that will help you stay trendy and traditional.
Kaftan Kurti Design by Anouk
Anarkali Kurti Design by Sassafras
Angrakha Kurti Design by Indya
High-Low Kurti Design by Soch
Mandarin Collar Pattern Kurti Design by Aurelia
1. Kaftan Kurti Design by Anouk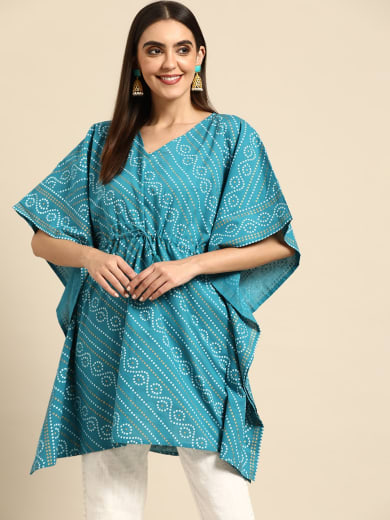 This kaftan kurti design by Anouk is perfect for a comfortable and stylish look. This unique design makes it a standout piece in your wardrobe. You can pair it with white leggings and silver jhumkas for a chic look. Accessorise with a white sling bag and silver juttis. Tie your hair in a low ponytail or keep them open and wear subtle makeup for a complete look.
What's Great:
Unique design
Comfortable and stylish
Perfect for casual occasions
Buy from Myntra
2. Anarkali Kurti Design by Sassafras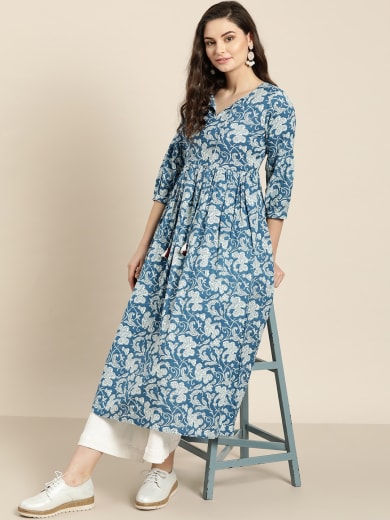 Anarkali kurtis fall into the category of modern ethnic wear for women and have become quite popular. These kurtis are available in trendy designs and can make the perfect addition to any ethnic wear wardrobe. You can wear this latest Anarkali kurta by Sassafras with leggings, palazzos, or a long skirt. To complete the look, you can wear traditional Indian jewellery, such as small Jhumkis, Chandbali earrings, and long statement-making necklaces.
What's Great:
Modern ethnic wear
Trendy patterns
It can be paired with various bottoms
Buy from Myntra
Buy from Flipkart
3. Angrakha Kurti Design by Indya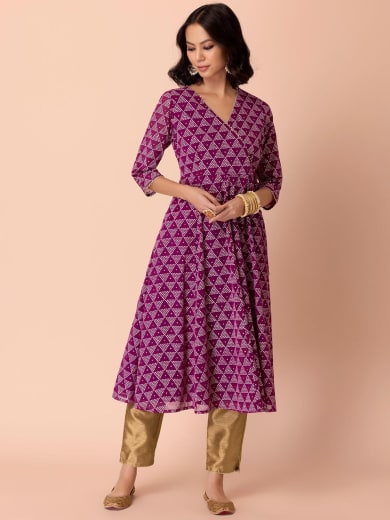 Angrakha kurtis are versatile and have a timeless elegance. You can incorporate the asymmetric cuts in Angrakha kurtis with different styles of bottoms and accessories to create a unique look. You can pair it with jhumkas or traditional Indian jewellery and style your hair in loose waves or braids. A subtle makeup look with kohl-lined eyes and a bold lip colour would complement the outfit well.
What's Great:
Versatile design
Timeless elegance
Asymmetric cuts
Buy from Myntra
Buy from TataCLiQ
4. High-Low Kurti Design by Soch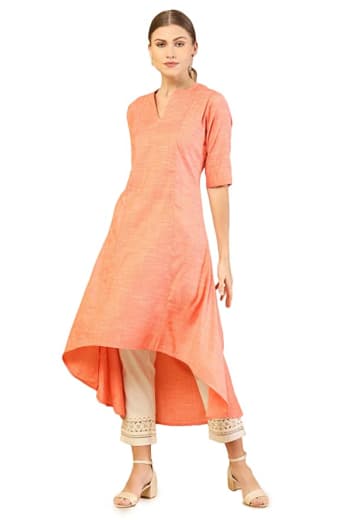 High-low kurtis add a modern twist to traditional attire, and you can wear them for various occasions, from casual outings to formal events. Pair this high-low kurti with palazzo pants, leggings, or jeans, and be ready for any occasion. Team it up with simple gold or bronze earrings to let the kurta stand out. Choose a natural look with a hint of orange and a lip colour that complements your kurta. You can tie up your hair in a messy bun or a fishtail braid.
What's Great:
Versatile for different occasions
Easy to pair with different bottoms and accessories
Comfortable and stylish fit
Buy from Myntra
Buy from Nykaa
Buy from Amazon
5. Mandarin Collar Pattern Kurti Design by Aurelia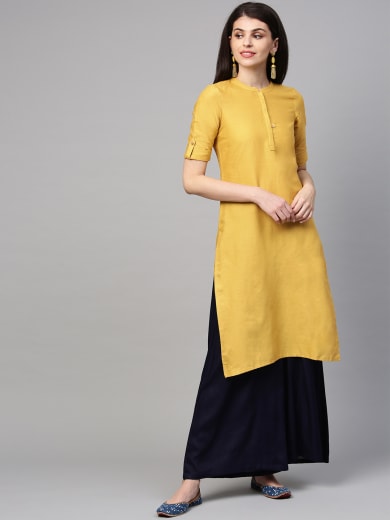 The Mandarin collar kurti, also known as the Chinese collar kurti, has become increasingly popular. It is a fusion of Chinese-style collar with Indian clothing to create a unique and modern look. You can pair this mandarin collar kurti with jeans, leggings, or palazzo pants. Keep your hair loose, or tie them in a sleek low bun. Complete the look with bold, oversized earrings and a delicate gold necklace.
What's Great:
Versatile design
Easy to accessorize
Comfortable and modern
Buy from Myntra
Buy from AJIO
Buy from Nykaa
Wrapping up
Kurtis are a versatile and comfortable clothing option that you can wear for different occasions. With the new kurti designs, you can stay fashionable while embracing traditional Indian wear. You can choose from various patterns, prints, and colours that will make you stand out. Whether you're looking for a casual kurta for everyday wear or a formal kurti for a special occasion, plenty of options are available online on Flipkart, AJIO, Myntra, TataCLiQ, and Nykaa. So, add some of these stunning kurti designs to your wardrobe today!
FAQs
Q. What is the best fabric for kurtis?
The best fabric for kurtis depends on your preferences and the occasion. Cotton is a popular choice for everyday wear, silk and chiffon are ideal for formal occasions, and georgette kurtis are great for parties.
Q. How should I accessorize my kurti?
The type of accessories you choose to pair with your kurti will depend on the occasion and the style of the kurti. For a casual look, you can accessorize with a pair of jhumkas and kolhapuri sandals. You can opt for a statement necklace, a pair of heels, and a clutch for a formal event.
Q. Can I wear a kurti to work?
Yes, you can wear a kurti to work. Choose kurtis made from breathable fabrics like cotton and opt for simple, elegant designs. Pair your kurti with well-fitted pants or leggings and minimal jewellery. Check our list of latest kurti designs for inspiration.
Q. How can I care for my kurtis?
To care for your kurtis, always follow the washing instructions on the label. Hand-washing is generally recommended, but if you must use a washing machine, use a delicate cycle. Avoid using harsh detergents or bleach, as they can damage the fabric. Hang or lay flat to dry, and iron on low heat if necessary.