What makes a train journey more mesmerizing? Your answer would be warm tea in a Kulhad or munchies. But what if you want yummy food for lunch or dinner? How can you get your Hyderabadi Biryani from your favourite restaurant while travelling on a train? Well, now everything is possible in this digital world. You can book food on the train through the websites or apps below. But before you try to jump directly to their names, learn how to choose the best apps for online ordering food on the train.
How To Choose The Best Websites Or Apps To Book Food On The Train?
You can order food online in train with a few apps. However, finding the best options to get cashback and save bucks might be challenging. Let's see each important thing you must consider before selecting top websites.
Ratings: Look for the user reviews of the website or app on the Google Play Store or Apple App Store. Read positive and negative comments to learn about the website's advantages and disadvantages.
Menu options: Check if the website or app offers a wide variety of menu options. It would be better if the website showed more menu options for your preferences and dietary restrictions.
User-friendly interface: A user-friendly interface will make it easy for you to place orders. A website that can track your order status and gives several payment options must be selected.
Delivery time: Check the estimated delivery time mentioned on the website or app. Choose a website or app that offers timely delivery. It will ensure that you receive fresh and hot food.
Customer service: Look for websites or apps that give excellent customer service. This includes features like a 24×7 helpline, chat support, or email support to help you with any queries or issues you may face while placing your order. The team should also assist you at every step of cancelling or tracking your order.
Best 5 Websites to Book Food on the Train
Here are the five websites to book food in the train. Let's demystify them one by one!
RailMitra
IRCTC eCatering
Gofoodieonline
TravelKhana
Zoop
1. RailMitra

While the pantry car has been a traditional food source for train passengers, recent concerns about its hygiene have worried many travellers. Fortunately, a better alternative is ordering food from IRCTC e-catering partners through RailMitra.
RailMitra has teamed up with RailRestro, an IRCTC-authorised e-catering partner, to bring passengers a wide selection of restaurant-quality meals that are both healthy and delicious. You can enter the PNR number and then choose the food you want to eat. Lastly, you can place orders via online payment or COD. By online ordering food in the train, you'll have a tasty meal waiting for you.
What's Great?
Hygienic food by top restaurants
Delicious food in trains at 450+ stations
Multiple choices of cuisines for all age groups
FSSAI-Approved E-Catering service providers
2. IRCTC eCatering
The ideal eCatering travel companion for your rail trips is IRCTC eCatering. You can order food online in train using its website and the official Food on Track app.
With its mobile app, you may receive quality and timely meal delivery while travelling on the train. To know about the restaurants and meal options, all you need to do is to enter your PNR number. You can also look at the food options at a station or aboard a train.
What's Great?
Elimination of the risk of missing the train while finding food at stations.
Quality food at reasonable and affordable prices.
Auto cancellation of an order in case PNR gets cancelled.
A vast hub of restaurants offers hygienic meal options.
Book food from IRCTC eCatering here
3. Gofoodieonline

Gofoodieonline is the best website to book food in the train. Various restaurants will send fresh and hygienic food right to your seat! Isn't that incredible?
This platform provides cutting-edge technology for online ordering food in trains, emphasising quality and freshness. They bring the most incredible cuisine on track as they are the official partner of IRCTC. Non-vegetarian, Jain-food, and fast food, everything is available on this website.
What's Great?
Best quality food with economical prices
To be expanding more than 350+ stations.
We've earned 4.8 stars on the Play Store.
Book food from Gofoodieonline here
4. TravelKhana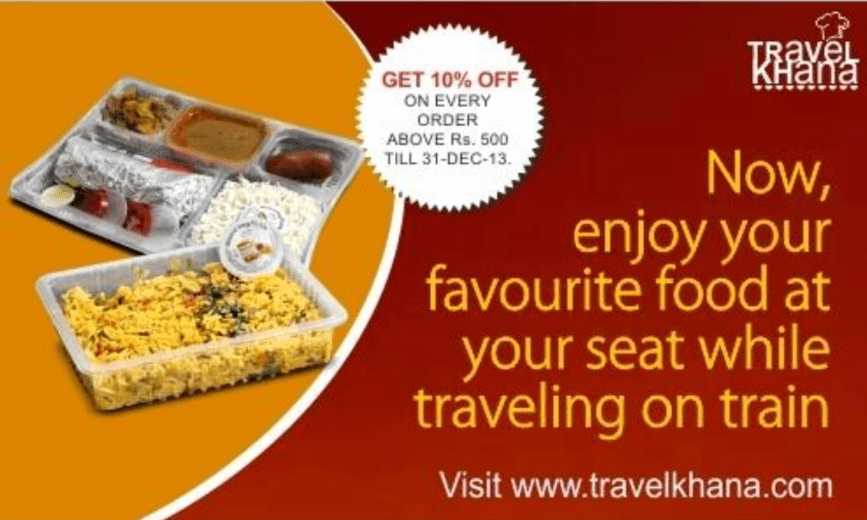 Travel Khana offers a variety of options at reasonable pricing for train passengers. They have connections with renowned eateries across the nation. With Travel Khana, you'll get what you want at your seat, with good taste and the highest quality standards.
The platform is well-known for offering the best services to all of its users. They also handle your order with utmost accuracy and dedication, taking care of food preparation, quality, packing, delivery, and price.
What's Great?
Round-the-clock assistance
You can check the PNR status
Patented platform
Book food from Travel Khana here
5. Zoop

With this app, you can choose from a selection of delectable goodies, including South Indian, Chinese, North Indian, and Mughlai cuisine, vegetarian and non-vegetarian thalis, combo meals, and different meals. All these different types of food will satisfy your taste buds while travelling. Their vendor restaurants are located at more than 130 stations around India.
They'll guarantee you will receive high-quality meals in all major cities. You may now enjoy very comfortable meal delivery on trains with Zoop. They also have active partnerships with top restaurants and fast food chains in different cities nationwide.
What's Great?
Group order
Coach position and train schedule
Check PNR
Locate platforms
Wrapping Up
The websites listed above stand out for their excellent services and commitment to their clients. Each website offers a streamlined ordering process that enables users to book food on the train. They provide everything, from various cuisines to prompt deliveries and helpful customer service. Therefore, for a hassle-free experience, remember to order food online on the train through one of these websites the next time you plan a train trip.
FAQs
Q. Can I order food for my train journey in advance?
Yes, you can book food for your train journey in advance. Most websites that offer food delivery in trains allow customers to place their orders up to 24 hours before arrival.
Q. Can I cancel my food order after booking it?
Yes, it is possible to cancel your food order after booking it. But it depends on the policies of the website you have used to book your food.
Q. What if my food order is delivered late?
If your food order is delivered late, you should contact customer support on the website you have used to book food in the train. Most websites have a dedicated customer support team to assist you with any issues.
Q. Will I get multiple choices of cuisines on the train?
Yes, you can get Pizza, North Indian, Biryani, Veg and Non-Veg Thali on the train.