One of the most versatile accessories that a man can own is a pair of sneakers! Not only do they offer comfort and support for the feet, but they also serve as a statement piece capable of adding a stylish touch to any outfit. Casual yet fashionable, sneakers are essential for your footwear collection. Whether you're stepping outdoors in rough terrain for adventure or need something playful to spruce up your everyday casual attire, you can't go wrong with sneakers!
If you're looking for trendy and durable sneakers, then the following list of the best sneakers for men in Indiais exactly what you need.
1. U.S. Polo Association Brentt Sneakers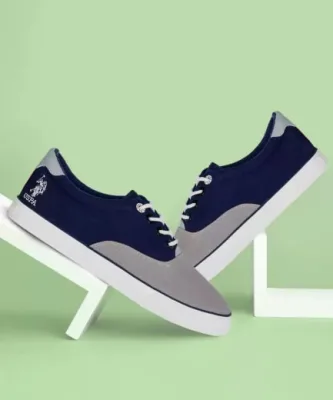 These sneakers from U.S. Polo Assn. are an ideal pick when you want a mix of attractive looks and comfort. Thanks to the cushioned soles, your feet won't get tired of walking in them all day. Boasting a breathable design, they prevent your feet from feeling too hot and sweaty. The sneakers are enhanced by platform heels and give you a laid-back and cool vibe. Tie up the laces for the perfect grip, and begin your day with style-infused confidence!
What's Great
Color block design.
Round-toe design to prevent feet from cramping.
2. Sparx Men's Sd0323g Sneakers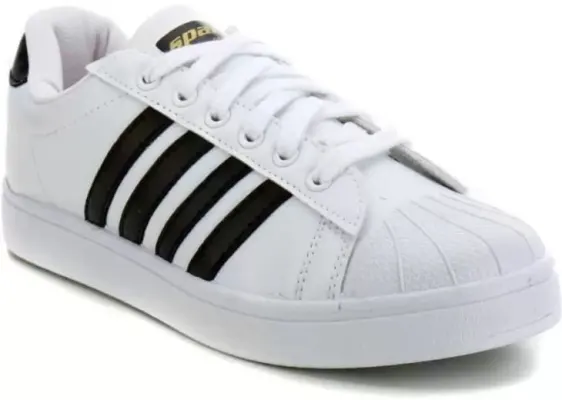 Want something budget-friendly but also eye-catchy and versatile? Then consider buying these amazing sneakers from Sparx. You can wear them to any casual occasion and become ready to impress the onlookers. Robust-looking, these are lightweight, so you can wear them for long durations. The solid pattern with colored stripes renders a unique look, which works well when combined with smart casual wear.
What's Great
Stand-out design and sturdy quality.
Rubber sole for much-needed comfort.
3. FILA Lavadro IV Sneakers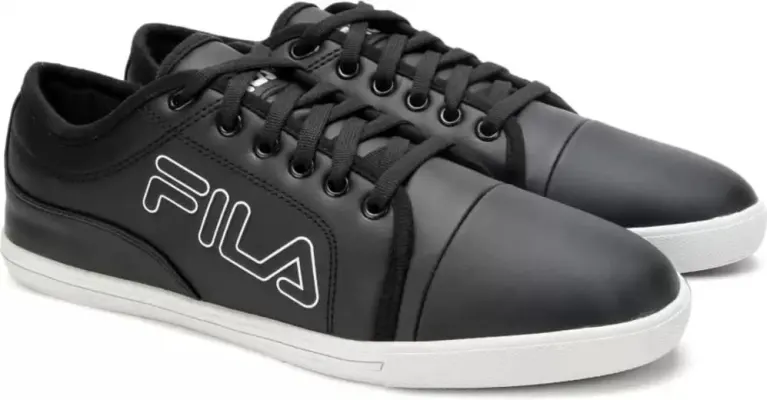 Next on our list of best sneakers for men in India is this exceptional piece from Fila. If you're looking for a premium look with your footwear, then these Fila sneakers will offer the exclusive style you're going for. The rubber sole ensures you get a good grip while walking or running. It also means that they'll last a long time. The sneakers are easy to clean and take care of; just a dry wipe-down suffices for the most part.
What's Great
Paneled build for an extraordinary look.
Padded insole to keep discomfort at bay.
4. Skechers Bounder-Mirkle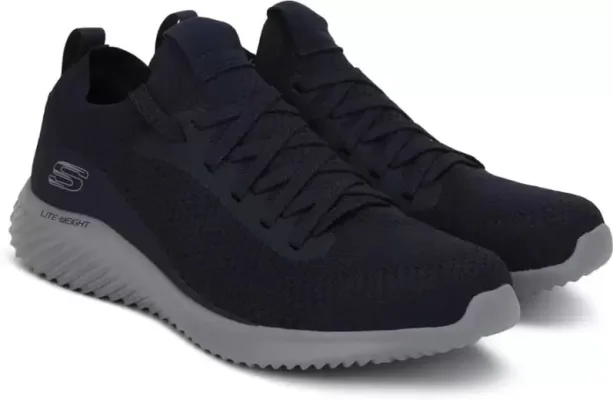 These are one of the best sneakers for men in India because they can be donned for anything from light walking to more intense training. The insole is made of air-cooled memory foam, which helps take the pressure off your feet. The midsole is designed to protect against impact. Equipped with bungee lace, the sneakers can be worn quickly and easily. The classic brand logo on the side is perfect for those who are brand-conscious but still like subtlely. Gear up like a true athlete with these awesome Skechers sneakers.
What's Great
Interlaced texture.
Quite durable.
5. Puma TRC Blaze the Triangle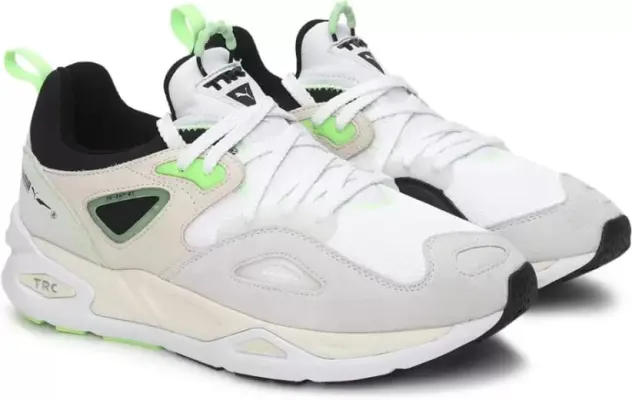 These Puma sneakers encompass three crucial attributes: flexibility, cushioning, and stability, which are well-conveyed in the name as well as the logo. Despite the athletic look. The suede overlays for the toe and heel sections boost the style quotient. The intricate detailing in every aspect is what makes wearing these sneakers fun and comfortable.
What's Great
Ultra-modern design based on classic principles.
Striking design and color scheme.
6. Levi's Men Bonn Sneakers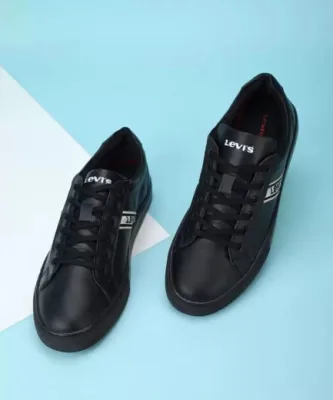 Exemplifying the ideal combination of simplicity and sophistication, these Levi's sneakers are the perfect companion for different occasions. Whether trying to glam up a simple attire or tone it down, you're good to go once you wear them. Expect superior foot support from the cushioned insole and excellent grip from the TPR outsole.
What's Great
Slip-on style for extra convenience.
Lace-up design for a sporty look.
7. DOC Martin White Ranger Sneakers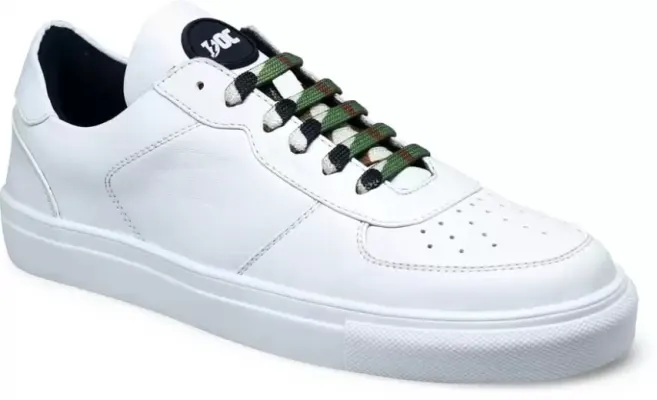 Just the sneakers for those who love to stand out in the crowd. Slip into these comfy sneakers that let you move with graceful ease. The thermoplastic elastomers in the sole offer reliability, flexibility, and comfort, which makes for a delightful wearing experience. You'll enjoy wearing these every day since the insole ensures a great fit. Whether you're meeting up with friends for coffee or planning to hit the gym, these sneakers work for all needs.
What's Great
Unique lace featuring army camouflage pattern.
Can be paired with any outfit.
8. Adidas Neo Pace VS Sneakers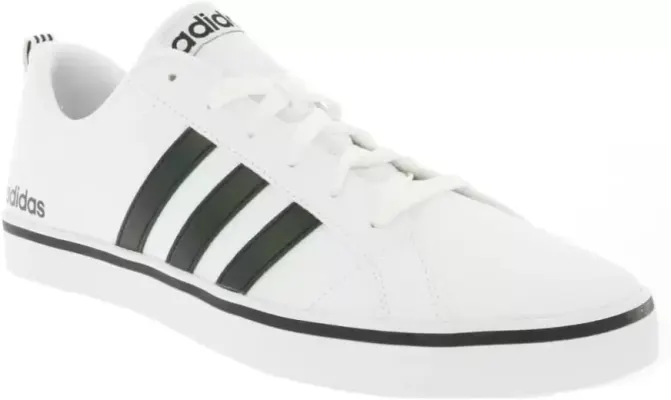 Here's a great pair of sneakers from Adidas that are not only premium-looking but also assure impressive performance. These feature interesting details, from perforation and panel to the round tip. You can do all the activities you love without worrying about discomfort.
What's Great
Gives a trendy look that's suitable for daily wear.
9. Puma Breakout V2 Shoes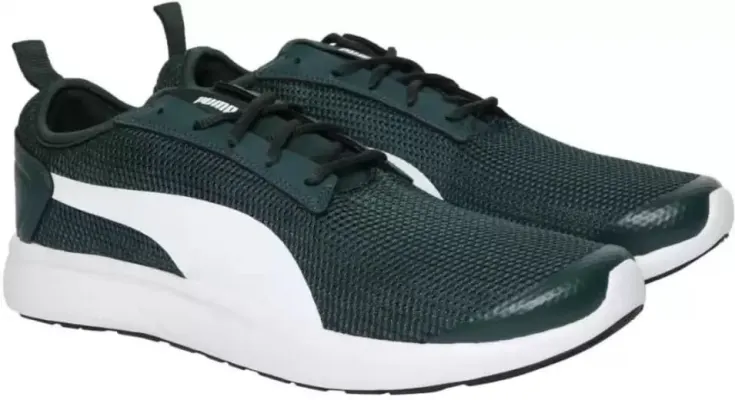 Worried about your feet getting all sweaty after a running session? With the mesh upper in these Puma sneakers, that wouldn't be a problem! No matter what kind of terrain you choose to run in, you'll not be disappointed by the rubber sole of these shoes. Also, the heels are designed to give you plenty of ankle support. Flaunt your style and experience comfort with the Puma Breakout V2 sneakers.
What's Great
Mesh material that renders breathability and style.
Ideal for running.
10. Reebok Royal Rally Sneakers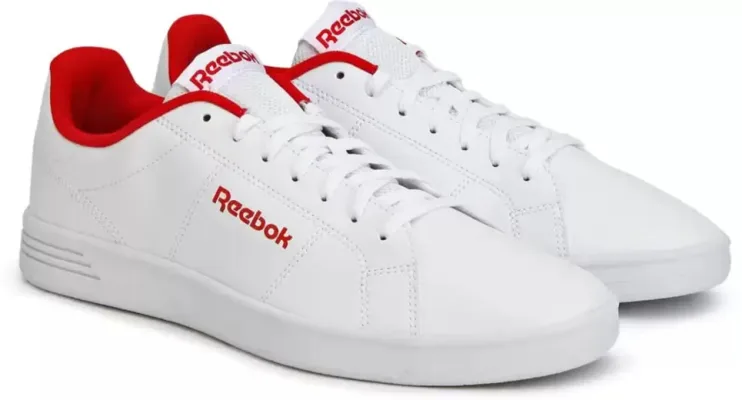 We conclude our list of the best sneakers for men in India with this superior offering from the iconic brand Reebok. If you like to stick to something sleek and classic, then this is right up your alley. The synthetic leather gives a nice smooth finish to this pair of sneakers.
What's Great
From jeans to track pants, these are apt for every outfit.
Superior cushioning to ensure comfort.
Final Words
Sneakers are synonymous with effortless style. They are compatible with lots of outfits which makes them a must-have. More importantly, they keep your feet comfortable and protected when you're exercising, running, or just busy enjoying life. Therefore, when looking for the best sneakers for men in India, you should prioritize something that's both fashionable and comfortable. Since there's a great variety available for different budgets and needs, you'll easily find something you love.
FAQs
Q. How to buy the right pair of sneakers?
Ans. Sneakers come in all varieties ranging from basic to sports to luxury. So, you should consider the purpose you're buying the sneakers for. You can get away with something lightweight if it's for daily wear. But, if you need something for sports and exercise, you might need something heavy-duty.
Q. How to clean and maintain sneakers?
Ans. Remove dirt particles thoroughly using a dry brush. To wash the sneakers, make a solution of water and mild detergent. Check the wash instructions on the label to see whether a machine wash is suitable.
Q. Can sneakers be worn to parties?
Ans. Sneakers can work well for casual parties for the most part. But don't throw away your dress shoes yet! You'll still need those for certain events that require strict formal dressing.