Lipstick is an essential makeup product for many Indian women. With so many brands available, choosing the best lipstick in India can be challenging. Crimson red, nude pink, peach crush- the multi-hued world of lipsticks is filled with versatile options to satiate the beauty enthusiast's soul. However, the market is flooded with hundreds of options, making it difficult to pick one. A bit of research into the top brands can ease your dilemma. But we don't want you to waste precious time scrolling through the endless abyss of online customer reviews. This is why we have carefully compiled a list of the best lipstick brands currently available in the Indian market. Don't worry; they are affordable too!
Keep reading our article on the Top 8 best lipstick brands in India to make your pick.
How to Choose the Best Lipstick Brand in India
With thousands of lipstick shades and formulas available in the Indian market, keep these factors in mind when picking the best lipstick brand for you:
Matte vs. Cream – Matte lipsticks tend to be more transfer-proof and long-lasting compared to creamy lipsticks. However, matte formulas can accentuate dry lips. Opt for a moisturizing cream lipstick if you have chapped lips.
Ingredients – Check that your lipstick does not contain parabens, sulfates, and other potentially harmful chemicals. Nourishing ingredients like vitamin E, plant oils, and butters are great for soft, smooth lips.
Pigmentation – Heavily pigmented lipsticks provide opaque coverage and color payoff in 1-2 swipes. Sheer lipsticks may require multiple coats to build up the shade intensity.
Shade Range – Look for brands that offer lipsticks in versatile nude, pink, red, wine, brown, and other shades to complement Indian skin tones.
Budget – Lipsticks range from drugstore picks under ₹500 to premium picks between ₹500-₹1000 based on the brand, ingredients, and formula.
Comparison of the Best Lipstick Brands in India
| Brand | Price Range | Key Features | Ratings |
| --- | --- | --- | --- |
| Maybelline New York | Rs. 299-499 | Matte finish, intense pigmentation, long-lasting | 4.5/5 |
| Lakme | Rs. 250-500 | Available in 42 shades, built-in primer, 12-hour wear | 4.3/5 |
| Faces Canada | Rs. 175-325 | Enriched with oils, moisturizing texture | 4.1/5 |
| Just Herbs | Rs. 645-795 | Herbal ingredients, nourishes lips | 3.9/5 |
| SUGAR Cosmetics | Rs. 499-699 | Travel-friendly, smudge-proof, 12-hour wear | 4.5/5 |
| Mamaearth | Rs. 249-399 | Natural oils, suitable for Indian skin tones | 4.2/5 |
| Nykaa | Rs. 299-599 | Creamy texture, semi-matte finish | 4.0/5 |
| Colorbar | Rs. 399-599 | Velvet matte, enriched with oils | 4.1/5 |
Top 8 Best Lipstick Brands in India for Smooth, Vibrant Lips
1. Maybelline New York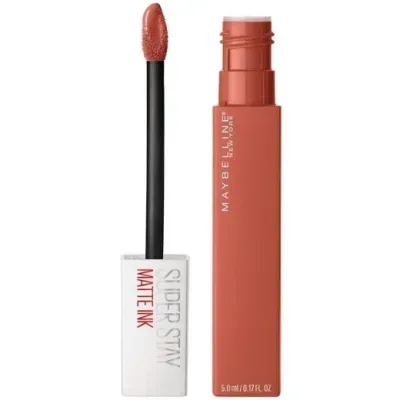 Maybelline New York tops our list for its must-have matte lipsticks. The intense color payoff and lightweight feel make it perfect for everyday wear.
Top Features:
Deeply pigmented formula
Smoothing matte finish
16-hour wear
Anti-transfer
Dermatologist tested
Price Range: ₹199 – ₹750
Best Shades: Burgundy Blush, Clay Crush, Nude Nuance
Ratings: 4.5/5
Pros:
Extremely affordable pricing
Huge shade range
Ultra-long lasting
Cons:
Can accentuate lip lines
Might dry out lips
Best Suited For: Those looking for full coverage, transfer-proof matte lipsticks on a budget.
2. Lakme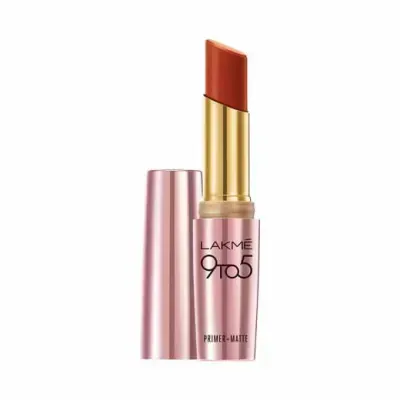 Lakme's 9 to 5 weightless matte lip color with primer is a top-seller for its rich pigmentation and smooth texture. The built-in primer preps lips for ultra-long wear.
Top Features:
Primer for extended wear
Available in 42 vibrant shades
Weightless matte finish
12-hour duration
Price Range: ₹249 – ₹699
Best Shades: Magenta Pink, Crimson Red, Earthy Brown
Ratings: 4.3/5
Pros:
Lightweight, comfortable to wear
Flattering range of shades
Affordable pricing
Cons:
May settle into fine lines
Needs touch ups after meals
Best Suited For: Those looking for an affordable Indian lipstick brand with primer for extended wear.
3. Faces Canada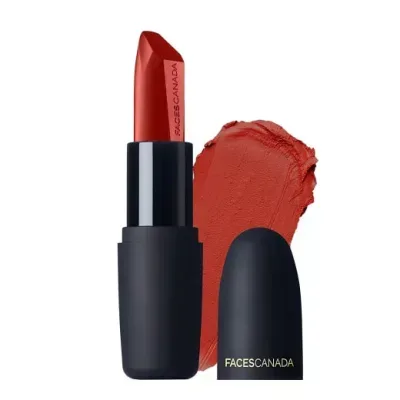 Enriched with nourishing oils, Faces Canada's weightless matte lipstick glides on easily and moisturizes lips. The creamy texture and wide shade range make it ideal for Indian skintones.
Top Features:
Infused with almond, jojoba, vitamin E
Lightweight, moisturizing
Matte opaque finish
15 trendy shades
Price Range: ₹325 – ₹525
Best Shades: Cherry Red, Pink Pleasure, Mocha Magic
Ratings: 4.1/5
Pros:
Lightweight, non-drying
Smoothes dry lips
Affordable pricing
Cons:
Needs frequent reapplication
Best Suited For: Those looking for a nourishing matte lipstick to moisturize dry, flaky lips.
4. Just Herbs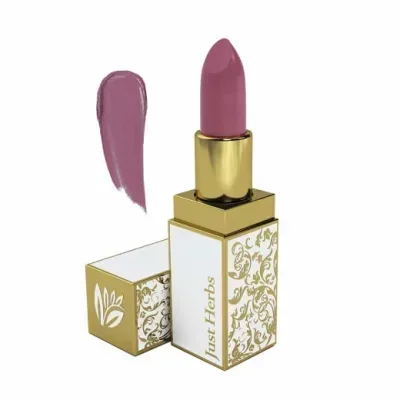 Made with all-natural plant oils and butters, Just Herbs ayurvedic lipsticks repair dry lips and provide a hydrating wash of color. The organic formula makes it safe for sensitive skin.
Top Features:
100% natural ingredients
Enriched with cow ghee, oils
Repairs and nourishes lips
Subtle matte finish
Price Range: ₹545 – ₹995
Best Shades: Coral Kiss, Rustic Red, Rosewood Pink
Ratings: 4.0/5
Pros:
Chemical-free, non-toxic
Suitable for sensitive skin
Moisturizing formula
Cons:
Expensive
Limited shade range
Best Suited For: Those looking for nourishing, organic lipsticks to treat dry, chapped lips.
5. SUGAR Cosmetics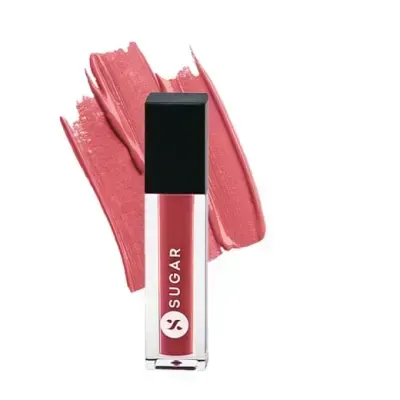 Even if you have never used SUGAR Cosmetics products before, the brand's rapid ascension to the top of the beauty market in India speaks for itself. With affordable, innovative products that would give international beauty brands a run for their money, SUGAR has become one of the best lipstick brands in India within a very short time.
SUGAR's smudge-me-not liquid lipstick delivers bold, vivid color that doesn't budge. The lightweight formula is comfortable for all-day wear.
Top Features:
12-hour wear
Transfer and smudge-proof
Vitamin E enriched
Travel-friendly packaging
Price Range: ₹249 – ₹699
Best Shades: Scarlet Red, Ruby Rush, Pink Paradigm
Ratings: 4.5/5
Pros:
Inexpensive
Huge array of trendy shades
Doesn't dry out lips
Cons:
Best Suited For: Those looking for affordable, intensely pigmented and transfer-proof liquid lipsticks.
6. Mamaearth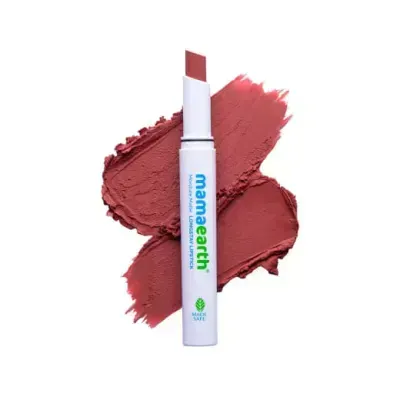 The Mamaearth moisture matte lipstick glides on smoothly and keeps lips soft and hydrated. The vegan formula is enriched with avocado oil and vitamins.
Top Features:
Avocado oil, vitamin E
12-hour wear
Matte yet moisturizing
Cruelty-free, vegan
Price Range: ₹249 – ₹598
Best Shades: Cherry Red, Pink Pleasure, Crimson Crush
Ratings: 4.2/5
Pros:
Nourishing vegan formula
Creamy texture
Doesn't accentuate dryness
Cons:
Limited matte finish shades
Best Suited For: Those looking for long-lasting vegan lipsticks that hydrate dry lips.
7. Nykaa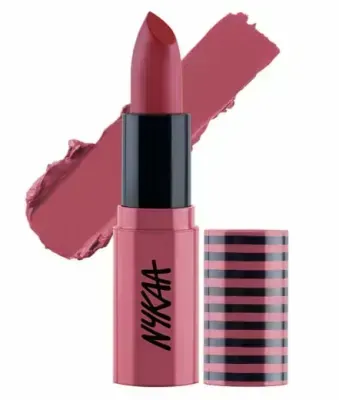 Nykaa is a pioneer in bringing forth innovations in the Indian beauty industry.
Nykaa's ultra-creamy matte lipstick provides opaque color with a satin matte finish. The moisturizing formula is comfortable for daily wear.
Top Features:
Creamy semi-matte formula
Smooths and softens lips
High color payoff
Wide range of shades
Price Range: ₹249 – ₹549
Best Shades: Retro Rouge, Soft Nude, Twilight Plum
Ratings: 4.0/5
Pros:
Hydrating creamy formula
Affordable pricing
Flattering shades
Cons:
Doesn't last as long as liquid lipsticks
Best Suited For: Those looking for a creamy matte lipstick for moisturized, smooth lips.
8. Colorbar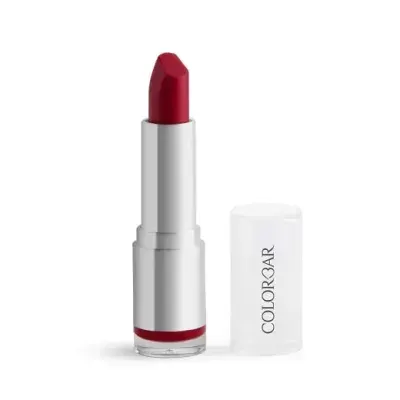 Much like Lakme, Colorbar is a beloved Indian brand.
Enriched with oils and butters, Colorbar's velvet matte lipstick keeps lips soft while providing vibrant color. The velvety finish is ideal for a touch of luxury.
Top Features:
Shea butter, jojoba oil, vitamin E
Velvet matte finish
Highly moisturizing
5-hour wear
Price Range: ₹325 – ₹625
Best Shades: Plum Poetry, Wine Divine, Cinnamon Spice
Ratings: 4.1/5
Pros:
Nourishing ingredients for lips
Smooth velvety texture
Attractive gold packaging
Cons:
Best Suited For: Those looking for a moisturizing, velvet matte finish lipstick for a plush look.
How to Apply Lipstick for Fuller, Defined Lips
Follow these pro makeup artist tips for getting flawless, crisp lipstick application every time:
Exfoliate – Gently scrub lips with a lip scrub to smooth flaky skin. This gives an even base for lipstick.
Use a lip liner – Line and fill in lips completely with a lip liner similar to your lipstick shade. This prevents feathering.
Apply lipstick – Using a lip brush, apply lipstick starting from the cupid's bow and work inwards. Blot with a tissue and reapply for opaque coverage.
Finish with gloss/balm – Add a touch of clear or tinted gloss in the center of lips to make them appear fuller.
How to Make Lipstick Last Longer
Use these hacks to extend the wear time of cream, matte or liquid lipsticks:
Apply primer before lipstick to fill in lines and creases.
Dust a thin layer of translucent powder over lipstick to set it.
Blot lips with a tissue periodically to absorb excess oils.
Apply a matching lip liner all over lips before applying lipstick.
Carry lipstick with you for quick touch ups after eating or drinking.
Exfoliate and moisturize lips thoroughly before applying lipstick.
FAQs on Choosing the Best Lipstick Brands in India
Q1. Which is the most long lasting lipstick brand in India?
Maybelline and Lakme matte lipsticks are among the most long-wearing lipsticks, lasting upto 16 hours without touch ups. Sugar and Insight matte liquid lipsticks also deliver extended wear for upto 12 hours.
Q2. Which lipstick brand is best for everyday use?
Lakme and Faces Canada offer lightweight, moisturizing matte lipsticks ideal for daily wear. Sugar and Nykaa lipsticks also have creamy, comfortable formulas suitable for everyday use.
Q3. Which is the top lipstick brand in India?
Lakme, Maybelline, and Sugar are among the top lipstick brands in India. They offer the best range of shades, textures, and pricing suitable for the Indian market.
Q4. Is Maybelline matte lipstick good for dry lips?
Maybelline matte lipsticks contain a creamy base to glide on smoothly, but the matte finish can emphasize dry flakes and lines. Opt for more moisturizing creamy lipsticks from Lakme or Nykaa if you have very dry lips.
Q5. Which lipstick shades suit Indian skin tones the best?
Indian skin tones are flattered by warmer shades like nudes, browns, reds, corals, pinks, plums, and berries. Stay away from cool-toned shades like neon pinks or blues. Always test shades in natural lighting before purchasing.
Q6. Should I choose a matte or glossy lipstick?
Matte lipsticks tend to be more long-lasting while glossy or creamy lipsticks feel more moisturizing. You can even layer a gloss on top of a matte lipstick for extended wear with shine.
Q7. Which brand offers the most affordable lipsticks in India?
Faces Canada and Insight lipsticks start at just Rs. 300, making them very wallet-friendly! Lakme and Maybelline also offer lipsticks under Rs. 500.
Q8. Which ingredients should I avoid in lipsticks?
Avoid lipsticks containing parabens, sulfates, mineral oils, and fragrances which can cause irritation. Seek out nourishing ingredients like jojoba oil, vitamin E, shea butter instead.
Conclusion
We hope this detailed guide helped you discover the top lipstick brands available in India for every budget and preference. While Maybelline and Lakme are safe picks, also try out moisturizing options from Faces Canada or vegan picks from Mamaearth. With the right prep and application tricks, you can get smooth, vibrant lips that last from 9 to 5 and beyond!