Sarees are considered to be a cultural identity of India. Women wear sarees to look elegant and graceful. Sarees originated in India, and currently, there are more than 20 saree types that you can choose from. You can buy a popular saree in India from offline stores and e-commerce stores. Before buying a saree from any e-commerce website, you must consider the following factors.
Things to Consider Before Buying a Saree
While buying a saree is a task, there are a few things that you must keep in mind before you pick your favourite one. Let's look at some factors that can impact your saree purchases.
Length: The saree length is one of the most important considerations. The length of the saree ranges from 3.5 yards to 9 yards. The size of your desired saree depends on how you want to wear it.
Colour: Sarees are available in all colours and shades. You must decide on a colour that suits you or the occasion for which you buy the saree. A saree should also match the accessories you plan to pair it with.
Material: You can find sarees in all kinds of materials. From georgette to silk, sarees are available in different kinds of materials. Different saree types solely depend on the material they are carved out of.
Blouse Piece: A saree may or may not come with a blouse piece. If you want your blouse to match the saree, you must look for a saree that comes with a blouse piece.
8 Types of Popular Sarees in India
Once you have decided to buy a saree, you can choose from several options. You can buy a popular saree in India that gives you the desired look. Here's a quick overview of some of the most popular sarees in India.
Banarasi Saree
Kanchipuram Saree
Chanderi Saree
Bandhani Saree
Moga Silk Saree
Bomkai Saree
Lehariya
Paithani Saree
1. Banarasi Saree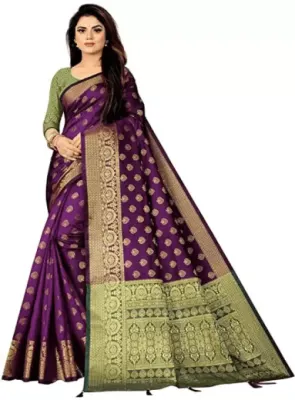 Banarasi Sarees are one of the most popular sarees in India. These are known for their intricate golden and silver patterns. The zari work is the highlight of these sarees. They are known for being royal and are mostly worn on important occasions.
What's Great:
These sarees are made from high-quality silk, and the material for the zari work is extracted from the alloys of gold and silver.
Most of these sarees are weaved by local artisans and weavers. Hence, creating these sarees is time-consuming, but the result is great.
2. Kanchipuram Saree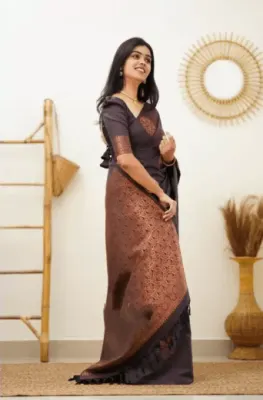 Kanchipuram, a popular saree in India, comes from Tamil Nadu. These kinds of sarees are also known as Kanjivaram sarees. You can also call them a South Indian version of Banarasi sarees. These sarees come with a touch of gold that makes them look royal.
What's Great:
The pallu of the saree is quite different from the body of the saree. Hence, it adds uniqueness to the entire look.
All Kanchipuram sarees come with a golden touch that makes them look royal.
3. Chanderi Saree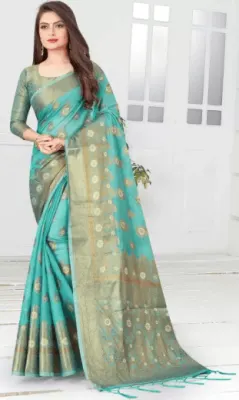 Chanderi sarees are popular among women who wear different silk saree types. It is made from a mixture of Chanderi silk, pure silk and cotton. These sarees are ideal for summer as they are light and comfortable.
What's Great:
These sarees are lightweight and airy, and you can wear them on any season.
The highlight of a Chanderi saree is its borders. They have beautiful intricate borders that make them ideal for all events.
4. Bandhani Saree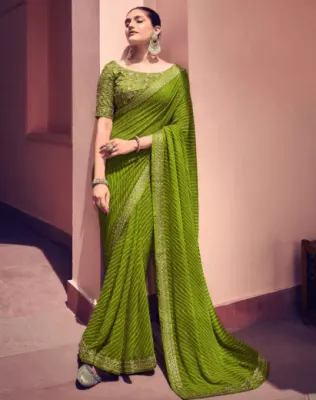 These saree types are the speciality of Gujarat. These are made from the traditional tie-and-die technique. You will mostly find circular patterns on these sarees. You must not iron these sarees, as it might ruin the texture that defines them.
What's Great:
Versatile: The best part about buying a Bandhani saree is that you can wear them occasionally and on important occasions.
Colourful: Bandhani sarees are available in all kinds of colours.
5. Moga Silk Saree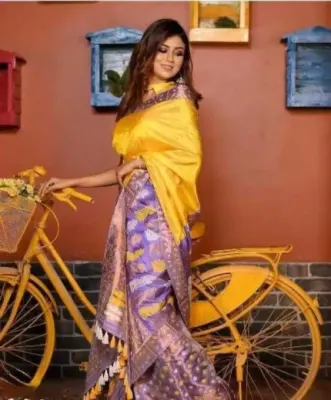 The Monga silk saree is one of the most popular sarees in India. They originated in Assam and are quite unique. Most of these sarees come with a golden-coloured texture. These sarees' most commonly available colours are red, black and green.
What's Great:
Muga silk sarees are made from a different kind of material that is quite durable, and these sarees can be used for a long time.
Most of these sarees have woven motifs on their borders.
6. Bomkai Saree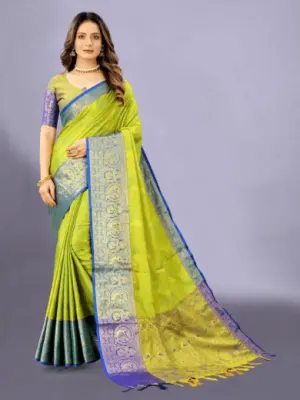 These popular sarees in India come from a small village in Odisha called Bomkai. They are a perfect blend of ikat and interwoven embroidery done with threads. The best part about these sarees is the contrasting colours of the saree and the pallu.
What's Great?
The threadwork of these sarees showcases several mythical tales. Hence, these sarees add to the legacy of the place.
Most of the designs printed on these sarees are inspired by tribal artwork and patterns.
7. Lehariya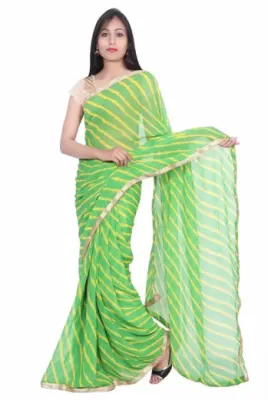 These sarees originated from Rajasthan and have now become popular across the world. These saree types are made using the tie-dye technique, which is especially practised in Rajasthan. Lehariya comes from the word 'leher', which translates to waves in English. Hence you will find wave-like patterns from one end of the saree to the other.
What's Great:
These sarees are made from lightweight cotton or silk. Hence, you can wear them in any season.
These sarees are dyed with natural colours to sustain multiple washes.
8. Paithani Saree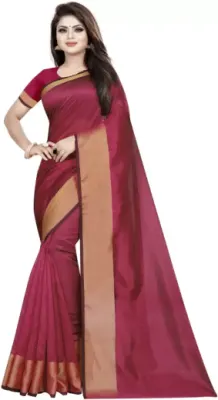 Paithani saree types are considered to be the pride of Maharashtra. They are an important part of the Maharashtrian culture. These sarees have a royal look and appeal to them. Hence, they are ideal for events like weddings and festivals. Earlier, they were made from cotton, but now Paithani sarees are also available in silk.
What's Great:
The most intricate Paithani sarees are handmade. Weavers take more than one month to weave these sarees.
The design of these sarees is difficult to replicate as they are pretty complex.
To Sum Up
While selecting a saree in India, it is important to consider its material and make. Different saree types are made from different kinds of materials. You should decide on the type of saree you want to buy based on which you can assess the quality of the material. We have collated a list of the best saree types for you.
FAQs
Q. What types of silk sarees are available in the market?
Chanderi Silk, Banarasi Silk and Moga Silk are a few popular silk saree types available in the market.
Q. Which sarees are best for summer?
Cotton sarees and Chanderi silk sarees are lightweight and are considered the best choice for summer.
Q. What factors must one consider while buying a saree?
It would be best if you looked at the following factors while buying a saree: