AJIO offers the best deals in clothing, footwear and accessories from the most exclusive brands from around the world. It is a one-stop destination for all your fashion needs, and it regularly hosts amazing online sales that offer steep discounts and free shipping.
AJIO is one of the most popular online fashion stores in India. It offers huge discounts through various AJIO upcoming sales throughout the year. If you are looking to revamp your wardrobe without burning a hole in your pocket, AJIO upcoming sales are the best time to shop.
In this article, we will provide the complete list of AJIO upcoming sales for 2023 along with dates so that you can prepare in advance. Read on to know when is the next AJIO sale and how you can save more during AJIO sales.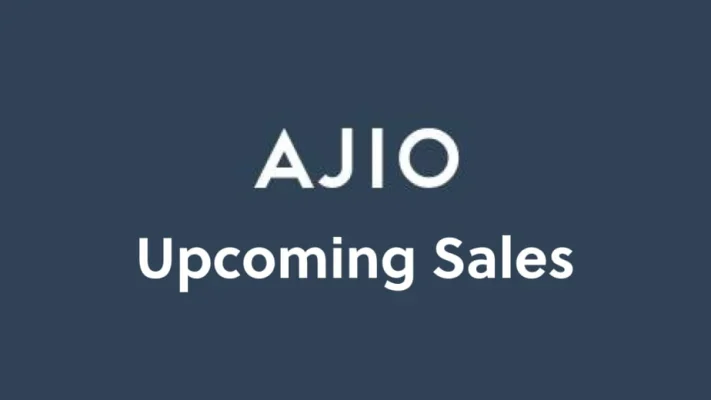 AJIO Upcoming Sales 2023 List
| Ajio Upcoming Sale | Dates |
| --- | --- |
| Ajio Pay Day Sale | 1st to 3rd March 2023 |
| Ajio Birthday Bash Sale | 15th to 18th March 2023 |
| Ajio Holi Sale | 15th to 19th March 2023 |
| Ajio Summer Sale | 5th to 7th May 2023 |
| Ajio Fashion Giant Sale | 23rd to 26th July 2023 |
| Ajio Big Bold Sale | 1st to 5th July 2023 |
| Ajio Independence Day Sale | 10th – 15th August 2023 |
| Ajio Big Bold Sale | From 30th September 2023 |
| Ajio Navratri Sale | 25 – 30th September 2023 |
| Ajio Diwali Sale | 20th Oct to 26th October 2023 |
| Ajio Christmas Sale | 20 to 25 December 2023 |
| Ajio New Year Sale | 1st to 5th January 2024 |
| Ajio Republic Day Sale | 22nd – 26th January 2024 |
| Ajio Valentines Day Sale | 10th to 14th February 2024 |
AJIO also runs AJIOMania sale very frequently for an extended period. During AJIOMania sale, you can expect attractive and deep discounts on Fashion & Footwear. It is always great to keep an eye on AJio's Website/App or for your convenience.
How to Save More During AJIO Sales?
Here are some tips to save maximum during AJIO upcoming sales 2023:
Use Coupons/Promo Codes: Lookout for additional discount coupons online to get extra savings on AJIO sales.
Shop During Sale Hours: Products get maximum discounts during the peak sale hours. Shop during early mornings for the best deals.
Buy in Bulk: Larger your cart value, more would be the discount percentage. So shop for your whole family together.
Pay Using Bank Offers: Banks like ICICI, HDFC, etc run special credit/debit card offers during sales. Use them for additional savings.
Use AJIO Credit: Get 5% cashback on all purchases when you shop using AJIO credit account.
Compare Prices: Use price comparison tools to find the best discounts on products.
What to Expect During AJIO Sales?
During AJIO sales, you can expect up to:
80% discount on clothes, footwear, accessories and more
Additional bank discounts up to 10%
Free delivery on all orders
Buy More, Save More – discounts increase with order value
Lowest prices of the season on top brands like Levis, Adidas, Nike, Puma, etc.
So if you don't want to miss out on the AJIO upcoming sales 2023 make sure to mark your calendars! Subscribe to AJIO sale alerts or keep checking this page for the latest AJIO deals and offers.
FAQs on AJIO Upcoming Sales:
Q. Will the AJIO sale be only available on App?
Ans. No, the sale will be available both on the app and the mobile website.
Q. Will there be any additional discounts on using credit cards?
Ans. Yes, banks will partner with AJIO to offer additional discounts on the final price.
Q. Can I avail exchange offers during AJIO sales?
Yes, AJIO provides exchange offers during its sales. You can exchange your old clothes to get an additional discount on new clothes.