Whether you're just starting your reading journey or looking to get back into reading after a long break, picking the right book to start with can be tricky. As beginners, you want something that's easy to read yet engaging enough to pique your interest in reading further. To help you out, we've curated a list of the 15 best books to read for beginners in India across different genres – from self-help and motivational books to storybooks for early readers. For each book, we share a quick summary, key features, reviews, and our expert opinion on what makes it ideal for novice readers.
1. The Greatest Short Stories of Anton Chekhov: A Collection Of Fifty Stories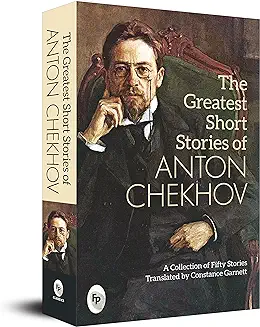 The Greatest Short Stories of Anton Chekhov is a compilation of 50 short stories by the renowned Russian author. Spanning different genres like drama, comedy and satire, this collection features some of Chekhov's most acclaimed works including The Bet, The Lady with The Dog, Anna on The Neck and The Shooting Party among others.
Key Features:
Wide range of stories covering multiple genres like drama, romance, satire etc.
Short story format makes it easy to complete within single sittings
Simple writing style and easy-to-understand plots ideal for beginners
Stories provide thoughtful reflections on life, relationships, society etc.
Our Expert Review:
Chekhov's short stories are regarded as some of the finest in literature. The stories in this collection are not just entertaining but also provide deep insights on human nature and society. As a new reader, the diversity of stories will expose you to different writing styles and topics. The short story format with straightforward plots and minimal characters is also less daunting for beginners. Overall, this is a great starter book to understand Chekhov's genius as a storyteller.
2. You Can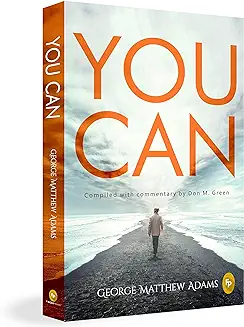 Authored by veteran teacher and motivational speaker Meena Sunder Iyer, You Can is a self-help book for young people to build self-confidence and achieve success. Core themes include developing a positive attitude, overcoming fear of failure, working smart towards goals and taking responsibility for life.
Key Features:
Simple conversational writing style
Inspiring real-life examples and case studies
Practical tips and exercises
Empowering message to unlock potential
Our Expert Review:
Meena Iyer has distilled years of experience mentoring students into this accessible guidebook. The writing is lucid with a personal, encouraging tone. The short chapters are easy to comprehend for beginners. The insights on managing self-doubt, improving self-esteem, handling challenges etc. are pertinent for young readers. The inspirational message will motivate you to take control of your life and future. Overall, this is an ideal pick as a first self-help book.
3. One Day Life Will Change A story of love and inspiration to win life when it hits you hard
Penned by young author Vishal Anand, One Day Life Will Change is a fiction tale recounting the inspirational journey of Karan, who overcomes personal tragedies to find success, love and happiness.
Key Features:
Simple language and easy-to-follow narrative
Fast paced story with elements of inspiration, romance, drama
Relatable protagonist battling real-life challenges
Underlying message of hope and self-belief
Our Expert Review:
This book manages to strike a fine balance between being entertaining yet insightful. Beginners will find the conversational writing style easy to comprehend. The story moves briskly across the protagonist's childhood, college life and early career with ample twists and turns. The themes of resilience, destiny, kindness are inspiring. The book proves how one can bounce back from adversity through self-belief, hard work and a positive outlook. This motivating tale is a feel-good read for novices getting into fiction.
4. The Power of A Positive Attitude: Your Road To Success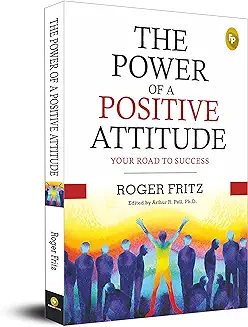 'The Power of A Positive Attitude' by Samiksha Sharma is a guide that gives advice and techniques on developing and maintaining a positive mindset. Core topics covered include attitude and success, handling problems proactively, resolving internal conflicts, boosting self-esteem and achieving goals.
Key Features:
Easy language and conversational tone
Bite-sized chapters focused on specific issues
Real-life examples to explain concepts
Practical tips and exercises
Interactive workbook format
Our Expert Review:
This book succeeds in breaking down the rather abstract concept of positive attitude into actionable insights. The author has adopted a friendly tenor while discussing personal examples to explain various notions. The chapters are short enough to prevent beginner readers from getting overwhelmed. The summaries and exercises at the end of each chapter also aid understanding and retention. While the advice dispensed is practical, a few suggestions could benefit from more nuance. Overall, this is a decent debut read to get acquainted with self-help literature.
5. All set to Read- A Phonic Reader- The Cat and The Rat- Readers for kids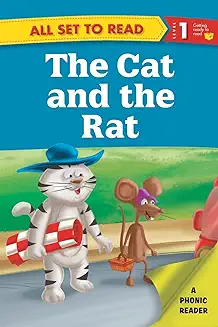 Part of the All Set to Read series, this book helps early readers learn phonics in a fun way through the animated story of Minku the cat and Chinu the rat. The tale is accompanied by exercises, activities and word lists.
Key Features:
Reinforces phonics learning through storytelling
Vibrant illustrations and bold fonts
Decodable words match child's reading level
Fun exercises and activities
Additional word lists to expand vocabulary
Our Expert Review:
This book truly achieves the difficult task of making phonics engaging for young readers. The silly story of the cat and rat's antics will grab children's attention. The accompanying drills are well-integrated to recap phonics concepts. The illustrations do a fine job of conveying the plot as well as the sounds. The trajectories of the mouse and the ball can get a bit confusing in some pictures. Overall, it is one of the better books to introduce phonics to kindergarteners in a palatable manner.
6. Life's Amazing Secrets: How to find Bala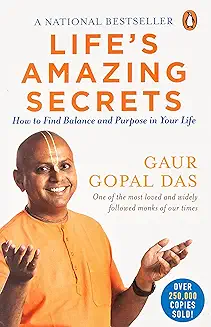 This motivational fiction book by Gaur Gopal Das discusses life lessons while narrating the quest of a boy named Bala to find his childhood friend Rahul, who has mysteriously disappeared. The search for Rahul becomes a journey of self-discovery for Bala as he learns important truths from sages along the way.
Key Features:
Relatable narrative about a child's coming-of-age
Life lessons conveyed through conversations between characters
Thought-provoking insights on relationships, success, spirituality etc.
Simple vocabulary and writing style
Our Expert Review:
The charming story of Bala's quest makes this book an enjoyable read for beginners. Many essential life lessons are seamlessly woven into the narrative through Bala's interactions with sages. While the dialogues run long in some places, the language is direct. The takeaway messages may come across as a tad preachy but still inspire introspection. Overall, this book can serve as a good starter read to reflect on life's important questions while enjoying a heartwarming story.
7. All set to Read- Level 1- Assisted reading with small sentences and pictures- READERS- 6 books in a Red Box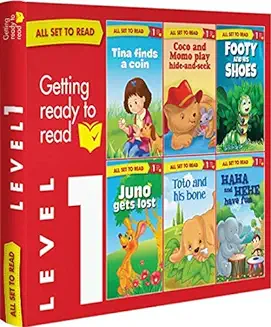 Specifically designed for early readers, this Level 1 box set comprises 6 storybooks focused on sight words, simple sentences, rhyming words and short 'a' and 'e' vowel sounds. The box set includes the titles Itchy and Scratchy, What Can It Be?, Fun in the Sun, The Red Hen, Sam and the Rat and Pam the Ham.
Key Features:
Carefully graded for beginner readers
Sight words, short sentences of 2-5 words
Rhyming words and simple phonics
Colorful illustrations throughout
Fun stories to build vocabulary
Review questions to test comprehension
Our Expert Review:
This well-compiled box set provides the right level of challenge for a child just starting to read. The simple and repetitive text comprising common sight words is thoughtfully structured to reinforce reading skills. Rhymes and rhythmic language also facilitate reading fluency. The cute illustrations and funny animal stories will entertain kids. The questions at the end assess basic comprehension too. Overall, this is among the better series to kickstart your child's reading journey.
8. Telugu Story Book For Kids – Children Moral Illustrated Tales Books – | Classic Stories For Beginners to Read
This collection features 25 classic Telugu short stories for children that impart moral values and life lessons in a fun format. The stories are simplified for beginner readers and feature engaging animal characters. It includes tales like Thithi Voddi Pilla, Donga Ramudu, Champakamu Palukuthootha Katha, Naanna Thalli and more.
Key Features:
Simplified versions of popular Tamil stories
Moral-based storylines to impart values
Colourful illustrations for visual engagement
Improves reading proficiency in Telugu
Entertaining narratives ideal for read alouds too
Our Expert Review:
This book does a commendable job of retelling classic Telugu children's stories in an easy format for young readers. The moral lessons are subtly woven into the storylines featuring endearing animal protagonists. The text is lucid with descriptions kept to a minimum, allowing beginners to follow the plots easily. The charming illustrations also aid comprehension. Reading these stories will enrich children's vocabulary and grasp over the Telugu language in an enjoyable manner.
9. The Psychology Of Money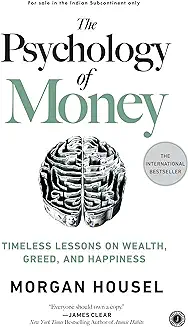 In this highly acclaimed finance book, author Morgan Housel shares 19 short stories exploring the deeper meaning and role of money in our lives. Unlike conventional finance guides, this dives into the psychological lessons that underpin monetary choices and habits.
Key Features:
Bite-sized chapters structured as self-contained stories
Easy-to-grasp explanations of concepts
Insightful perspectives on how psychology affects money
Engaging anecdotes and real-life examples
Minimal financial jargon
Our Expert Review:
This book succeeds in breaking down complex financial behaviours into astute observations on life and human psychology. Housel's prose is lucid with simple yet apt analogies to convey key messages. The short story format also makes it easier for beginners to comprehend one core idea at a time. While certain chapters resonate more than others, overall the book provides thoughtful reflections on success, wealth, greed, goals etc. The insights will hopefully lead to healthier money habits.
10. How To Read A Book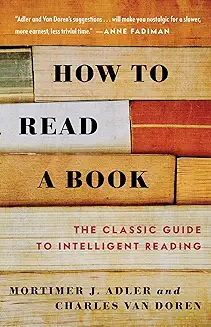 Authored by Charles Van Doren, this timeless guide teaches readers effective techniques for reading books thoroughly for maximum comprehension. Core skills covered include active reading, inspectional reading, how to tackle different genres, reading speed versus comprehension, among others.
Key Features:
Concepts explained clearly with examples
Practical step-by-step instructions
Covers both fiction and non-fiction reading
Tips to tackle tough texts and critiques
Guide for reading multiple kinds of books
Our Expert Review:
One of the most authoritative books on reading methods, this guide equips readers with a skill-for-life – the ability to read well. Van Doren explains varying reading techniques for different scenarios in a lucid style. The advice feels comprehensive without being overwhelming. While some examples are dated, the insights on annotating, asking questions, critiquing etc. remain relevant for modern readers too. The tips will help turn even reluctant readers into active, proficient readers. A must-read for anyone looking to derive more from their reading habit.
11. Phonic Reader (Illustrated) (Set of 6 Books) – Story Book for Kids – Bedtime Stories – 2 Years to 6 Years Old – Read Aloud to Infants, Toddlers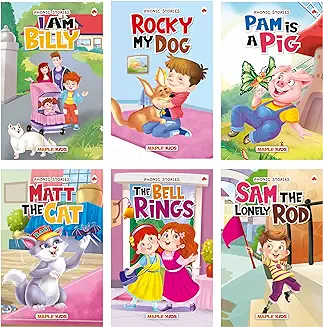 This series comprises 6 phonics-based storybooks for early readers between ages 2 to 6 years. The titles are A Fun Day, Happy Time, I See Animals, Good Food, My Family and The Big Ship. The books use decodable words and repetitive sentences to reinforce phonics learning alongside reading simple storylines.
Key Features:
Follows phonics patterns suitable for new readers
Controlled vocabulary using sight words
Each book introduces 35 non-sight words too
Engaging stories with colourful illustrations
Promotes reading fluency and comprehension
Suitable for read alouds too
Our Expert Review:
This thoughtfully created series works well to develop phonics skills progressively with adequate story context. The non-sight words introduced in each book encourage vocabulary expansion too. The text is controlled with simple words and short sentences of 2-5 words. The cute illustrations and fun animal stories keep kids engaged. The books can be read independently or aloud to children. Overall, this is a complete set to kickstart phonics and reading for toddlers and preschoolers.
12. Story Book for Kids – First Reader (Illustrated) (Set of 12 Books) – Phonic stories – Bedtime Stories – 2 Years to 6 Years Old – Read Aloud to Infants, Toddlers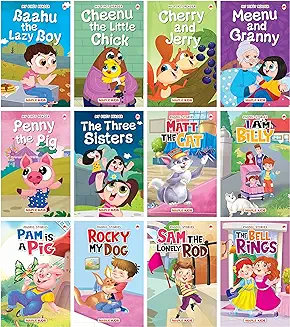 Perfect for early readers between 2-6 years, this 12 book series contains short stories based on phonics and sight words. With colourful illustrations and repetitive text focused on word families, the books teach basics like sounds, vowels, blends, digraphs and more. The set covers popular titles like Sara's Day, Kate Takes a Cake, What Can Pam Get, etc.
Key Features:
Reinforce phonics and sight word recognition
Decodable and repetitive text
Rhyming sentences and word families
Vibrant pictures related to story
Introduces 150+ new words
Ideal for read alouds and group reading
Our Expert Review:
This first reader series does a fine job of integrating essential phonics concepts into cute narrative stories. The text comprises controlled vocabulary that aligns with the reading level. The rhymes and rhythmic language also facilitate fluency. The stories have a simple plot based on the phonics element being covered. The bright illustrations provide helpful cues too. Overall, great books to practice phonics skills in context through reading.
13. 201 Sight Words And Sentence With 800+ Sentences To Read Activity Book For Children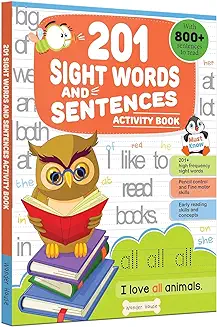 This activity workbook is designed to help kids in Kindergarten to Grade 2 master sight words and enhance reading proficiency. It provides extensive exercises, word lists, sentences, stories, colouring sheets and more based on 201 high frequency words.
Key Features:
201 sight words introduced gradually
Tracing, matching and writing activities
800+ practice sentences
Short stories for reading
Colouring sheets to improve motor skills
Extra word lists to expand vocabulary
Our Expert Review:
This book takes a multi-sensory approach to drill sight words with tracing, visual matching, filling gaps and copying tasks. The wide variety of exercises keeps practice interesting for young children. Linking sight words into sentences and stories provides meaningful context. The word lists help go beyond the 201 words too. A few pages could benefit from sturdier paper and printing quality. Overall, it's among the more comprehensive workbooks for sight word mastery.
14. Learn to Read: Sight Words Storybook: 25 Simple Stories & Activities for Beginner Readers (Learn to Read Ages 3-5 Book 1)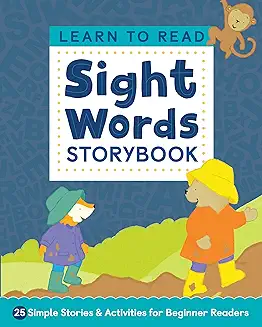 Created for ages 3-5 years, this storybook aims to teach sight word recognition through 25 mini stories featuring words from Bob Books Sight Words lists 1 and 2. Each story is followed by supplemental activities like tracing words and filling in blanks.
Key Features:
25 stories with 1-2 sentences each
Controlled vocabulary of sight words only
Gently increases reading difficulty
Tracing, matching and writing exercises
Colourful and cute illustrations
Extra word flashcards included
Our Expert Review:
This book takes an incremental approach to using sight words in short stories, which boosts success for new readers. The text complexity increases very gradually in length and word difficulty. The tracing tasks help strengthen motor skills too. While more context could make the stories more coherent, they serve well in reinforcing word recognition. Overall, it achieves the aim of making the reading process enjoyable for toddlers. The flashcards are a useful inclusion too.
15. Wise and Otherwise: A salute to Life [Paperback] Sudha Murty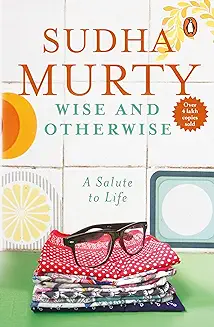 This book contains a collection of 50 real-life stories written by celebrated author Sudha Murty that capture the essence of life and relationships. The stories cover various topics like kindness, judgements, ethics, family values and provide subtle life lessons.
Key Features:
Simple language and writing style
Short story format ideal for beginners
Relatable tales about everyday people and situations
Thought-provoking reflections on society and values
Evokes nostalgia for a bygone era
Our Expert Review:
Sudha Murty's lucid and earnest storytelling makes this book accessible for beginners. The stories remain relevant more than two decades from publication, underscoring the universality of emotions and values. Murty crafts even mundane interactions into moments of learning without being preachy. This book is a reminder that inspiring or poignant stories can be found all around us if we care to observe. A recommended read to introduce newcomers to Sudha Murty's characteristic brand of storytelling.
Comparison for best books to read for beginners in india
| Product | Language | Format |
| --- | --- | --- |
| The Greatest Short Stories of Anton Chekhov | English | Short stories |
| You Can | English | Self-help |
| One Day Life Will Change | English | Fiction |
| The Power of A Positive Attitude | English | Self-help |
| All set to Read- The Cat and The Rat | English | Early reading |
| Life's Amazing Secrets | English | Fiction |
| All set to Read- Level 1 | English | Early reading |
| Telugu Story Book For Kids | Telugu | Short stories |
| The Psychology Of Money | English | Finance |
| How To Read A Book | English | Non-fiction |
| Phonic Reader (Set of 6 Books) | English | Early reading |
| Story Book for Kids – First Reader (Set of 12 Books) | English | Early reading |
| 201 Sight Words And Sentence | English | Activity workbook |
| Learn to Read: Sight Words Storybook | English | Early reading |
| Wise and Otherwise | English | Short stories |
How to Choose the Best Beginner Books
As someone starting your reading journey, it can get overwhelming choosing from the vast array of options out there. Here are some tips on what to look for when picking books as a novice reader:
Difficulty Level – Ensure the book matches your reading proficiency. Books for absolute beginners should have simple language, short sentences/chapters and everyday topics you can relate to.
Writing Style – Look for clear, straightforward language with minimal descriptive passages and simple sentence structures. Conversational styles are easier to follow.
Book Format – Novellas, short stories, flash fiction, poetry and essays are less daunting formats to start with than long novels.
Topic of Interest – Pick subjects you are intrigued by – be it cooking, sports, biographies etc. Books are easier to stick with when you like the topic.
Readability – Opt for larger fonts, spacing between lines and paragraphs. Books with illustrations or graphic elements help sustain visual interest too.
Guided Reading – For absolute beginners, guided readers with controlled vocabulary and progressively difficult levels are useful to grasp basics.
Page Count – Begin with books below 200 pages. Thin books seem more achievable when your'e starting out.
Recommendations – Take suggestions from friends, family, librarians or bookstore reps to find books suited for your skill.
Book Series – Series allow you to continue with familiar characters/worlds.
Re-reading – Don't hesitate to re-read the same book as revisiting helps you catch nuances missed the first time.
Different Types of Beginner Books
Here are some popular genres and formats ideal for novice readers across age groups:
Picture Books
Picture books are the easiest starting point for children in preschool and kindergarten. The illustrations carry the story with minimal text. Text is conversational, rhyming or repetitive. Topics cover basics like alphabets, shapes, numbers, colors etc.
Leveled/Graded Books
These books start from the simplest level progressing to higher difficulty levels. Each level reinforces specific skills like phonics, sight words, grammar, vocabulary and comprehension. Popular leveled series include Bob Books, I Can Read! books, Step into Reading books etc.
Decodable Books
Decodable books use controlled vocabulary comprising words a child can decode based on learned phonics patterns. The text reinforces ability to sound out and blend words. They are used in conjunction with phonics instruction.
Predictable Books
Predictable books contain rhythmic, repetitive and patterned text following predictable sequences. This makes them easier to read and memorise. The repetitive language also improves fluency.
Sight Word Books
Also known as high frequency word books, these books specifically focus on building recognition of common words that may not follow phonics rules. The text relies solely on sight words to start with.
Alphabet Books
As the name suggests, alphabet books help kids associate letters with words and objects starting with that letter. Rhymes, word families and alliteration may be used alongside.
Concept Books
Concept books build knowledge and vocabulary about specific topics like numbers, opposites, colors, shapes, animals, occupations etc. through pictures, labels and short text.
Wordless Picture Books
Wordless picture books rely entirely on visual sequences to convey the narrative. Readers interpret the images to make up their own story. It promotes imagination and visual literacy skills.
Graphic Novels
Graphic novels use an interplay of images and text in comic book style panels. speech bubbles and visual metaphors. A quick format that improves engagement and comprehension.
Short Story Collections
Short stories make reading less intimidating by breaking content into quick reads. Varied plots, characters and topics provide exposure. Collections allow jumping across stories.
Poetry
From rhyming poems to free verse, poetry helps beginners read impactful content in short, structured formats while building literacy skills. Rhyme, rhythm and patterns aid fluency.
Guide on Usage, Maintenance and Care
Storing Books
Keep books in cool, dry spots away from direct sunlight to prevent moisture damage and fading.
Ensure books are not exposed to bugs, pests or humidity for preservation.
Shelve vertical rather than horizontal to reduce spine damage. Stack neatly to avoid crumpling.
Categorise by author, genre etc. to find titles easily. Maintain inventory lists.
Limit number of books stacked to prevent crushing.
Handling Books
Handle gently, don't bend, fold or crease pages.
Use bookmarks rather than folding corners to mark pages.
Turn pages carefully from the top corner. Don't lick fingers as saliva can cause stains.
Avoid writing on books unless absolutely needed. Use pencil if writing is a must.
Don't force spine open or crack bindings as it can break glue and stitching.
Keep away from food, drinks and dirt to avoid stains.
Return books back into shelves in an upright position to maintain shape.
Ensure kids' hands are clean when reading to prevent smudges and marks.
Cleaning Books
Use soft, dry cloth to wipe away surface dust.
Damp cloth can help clean stains but avoid moisture on paper.
Flip pages gently while cleaning books to avoid tearing. Allow to air dry before stacking away.
For mouldy books, consult a professional restoration expert. Don't attempt home remedies.
Refrain from using chemical sprays, bleach or stain removers as they can damage paper and ink.
For crayon marks, place between absorbent paper sheets and press gently using an iron box.
FAQs about best books to read for beginners in india
Q. How do I find the right level of books as a beginner reader?
A. Start with easier books having predictable text, familiar topics, shorter chapters and simpler sentence structures. Leveled readers meant for your age help build reading skills gradually. Don't jump to complex vocabulary or lengthy books too soon.
Q. Should a new reader start with physical books or e-books?
A. For initial reading, physical books are better to allow focusing without distractions. Flipping back pages is also easier. However, e-books provide built-in dictionaries and font size control. Try both and see what works for you. Avoid straining the eyes reading on devices.
Q. How much should a beginner read each day?
A. There are no fixed rules but start small with 15-20 minutes daily. It's better to be consistent than binge-read for hours and feel burnt out. Slowly increase time as per comfort and interest. Break up long chapters into chunks. Don't treat reading like a chore.
Q. Should I use a dictionary while reading as a beginner?
A. Constantly looking up words can affect the reading flow. First try grasping meaning from context clues before checking dictionaries. Highlight words you can't infer meaning of and look up definitions after finishing the chapter or book. Gradually your vocabulary will improve.
Q. Is it okay to abandon a book I'm unable to understand as a novice reader?
A. It's absolutely fine to let go of books you find too demanding at your current skill level. Don't force yourself to finish. Reading should not feel frustrating. Return to difficult books after a few months when your reading skills have improved.