Whether you are an office goer, a college student, or you head back to school.
Apart from other friends, there's always a special friend at your back that is a backpack. And, now, you are in search of that friend to carry not only your expensive laptop but also tech and valuable accessories, and to be in your comfort without worry while travelling with this backpack.
So check out the curated list of the best laptop bags to fulfil your every requirement.
Guide to Buy the Best Laptop Bag
Check to see if the laptop bag's straps are padded for your comfort. Make sure there is enough cushion in the area to protect your laptop.
Check the laptop bag for the presence of a USB charging point, headphones, and a charging cable. You don't need to look for outlet hogs if you need to charge something immediately. Choose a laptop bag that is at arm's length.
High quality is not equal to high price. Checking reviews before placing an order should therefore be a top concern. Also, check the warranty that is offered.
Without a doubt, be sure the bag is the right size for your laptop. Look at the width and depth of the bag. Ensure that the length of your backpack is one inch greater than the width of your laptop.
Top 10 Best Laptop Bags
Now, you are close to getting your best suitable laptop bag by checking one by one these 10 best laptop bags.
Product Overview
India's top laptop bags
Which kind of bag is ideal for a laptop? You'll get the answer after finishing the article.
1. Timbuk2 Spire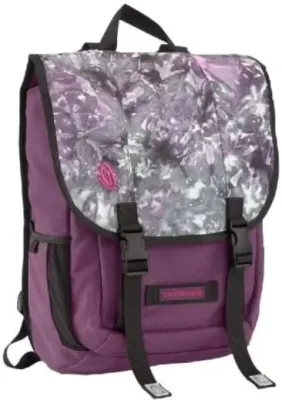 Durability, lifetime warranty, and strong bags get all these traits in one place. Where? It's Timbuk2.
Timbuk2 is a renowned San Francisco-based company. The production and quality of Timbuk2 laptop backpacks have been going on a linear graph since their origin in 1989.
What's great:
Timbuk2 Spire is a spacious bag with a waterproof rolltop. The bag is thin though various loops and traps give it a perfect urban look by making it stylish.
The narrow design and excess straps can be unfavourable for you.
2. Volher Laptop Backpack For Business And Travel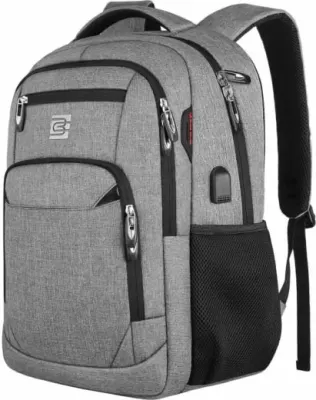 Volher always leaves a mark of satisfaction on its customers by offering reliable and affordable backpacks. A wide range you would get at Volher is bookbags for students, travel laptop bags, and many more.
What's great:
Volher laptop backpack is made of water-competing and durable polyester fabric. So, it ensures security and longevity.
Different compartments and mesh pockets. Moreover, the USP charger and charging cable are there. Overall, it has a dashing professional look.
These are a few reasons from many for counting this brand in the list of best laptop bags.
3. HP Envy Urban Backpack
The prestigious HP company was founded in 1939 in the United States. The company provides its customers with excellent laptops and top-quality bags.
What's great:
HP Envy urban backpack has lined compartments with a zippered tech pocket. Also, RFID protection comes with this bag to have the safety of your personal information.
Strong leather handles. However, the shortfalls of this bag are available in one colour only and a little bit heavy.
4. STM Banks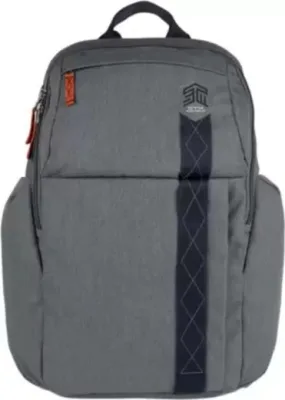 The commendable STM, an Australia-based manufacturer, was established in 1991 in Sydney. With thirty years of vast experience, they are retailing worldwide, with an abundance of accessories, such as the best laptop bags, packs, fitted cases, and many more.
What's great:
STM banks come with the attributes of slimline designs, airflow because of mesh fabric at the backside, and a plethora of space for your accessories.
What's more? Additional cushioning at the crossings and durability.
5. Dell City life Backpack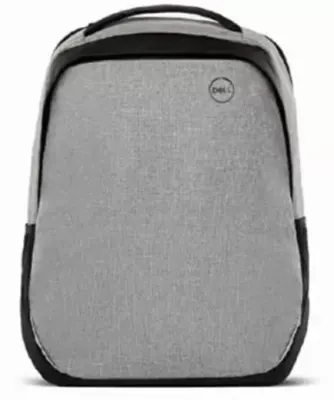 Dell is an America-based technology corporation. Dell is the producer of computers, software, and other related products, such as laptop backpacks. The company's name basis on the founder's name Michael Dell. Their bags are of the finest quality, meeting all customers' needs.
What's great:
Lightweight bag with the qualities of water-resistant and durable external material.
Polyester stuff and grey colour of the backpack.
6. Skybags Arthur Laptop Backpack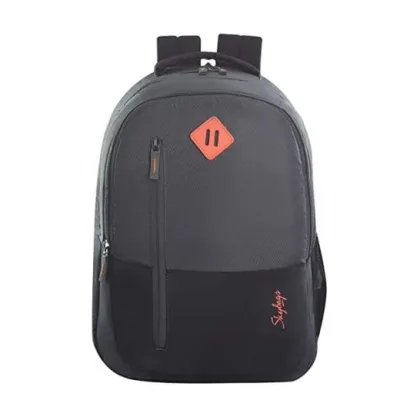 Skybags company offers the best laptop bags with top-class functional features. Their designs and engineering innovation in products make them the first and most successful Indian brand to produce luggage of printed polycarbonate. Skybags belongs to VIP industries, established in 1971.
What's great:
Outer stuff of Skybags Arthur Laptop Backpack of polyester, which distinct it with the appealing appearance and excellent quality.
Front zipper pockets, padded straps, and side mesh pockets are other benefits of these bags.
7. Legit Black and Blue Laptop Backpack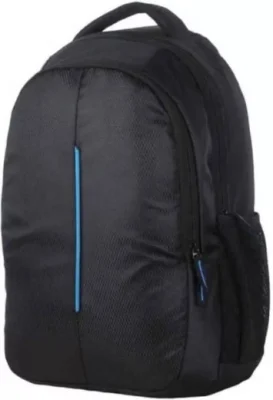 Get a variety of legit bags from different online platforms. Legit bags range from stylish to plain and simple with remarkable quality. Such reasons compelled us to mention legit black-blue laptop backpacks in the list of the best laptop bags.
What's great:
Classy bag with black and blue colours. Two main sections and two side pockets.
Back padding with waterproof outer material.
8.Timbuk2 Lane Commuter Backpack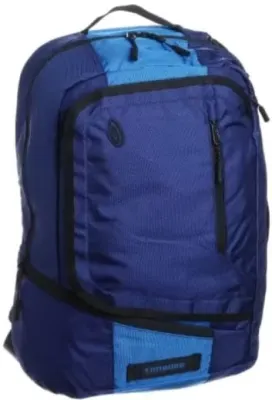 Here is another noteworthy backpack listed among the list of best laptop bags. Rob Honeycutt, a bike messager, established the backpacks company in 1989 in San Francisco. The company is famous for the longevity and custom manufacturing of its bags. Today, it retails in Toronto, Chicago, Denver, and many others.
What's great:
Timbuk2 Lane Commuter Backpack is ready to go for travelling on a bike.
This bag has a detachable rain cover in the base and a front magnetic pocket.
9. Golden wolf laptop bag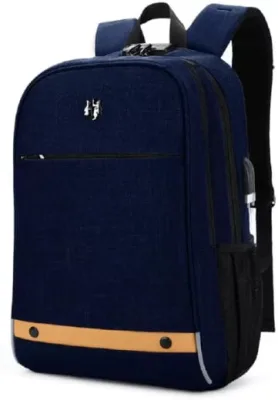 Hoteon company is a producer of smart home products, wallets, laptop backpacks, and many other useful accessories. It is headquartered in Bangalore, Karnataka.
What's great:
For security, golden wolf laptop bags have password-based locks and a rain cover to protect your laptop from extreme weather.
In addition, the availability of a USB port and charging cable and cushioned compartments.
10. Lenovo Casual Laptop Backpack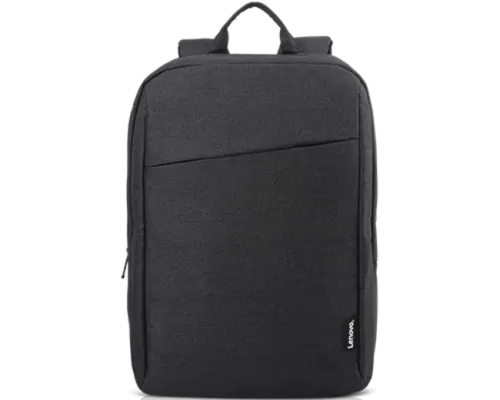 Lenovo is a multinational technology company. The founding year of this gigantic company is in 1984 in China. It operates in 60 countries and sells its goods in 180 countries. You will find vast categories of laptops, tablets, desktops, and, inclusively, the best laptop bags.
What's great:
Lenovo Casual Laptop Backpack has snow yarn polyester.
Additionally, the backpack has different compartments with front zippers to keep your material well-organized.
To Sum Up
A laptop backpack is more than a bag for you, can say, your partner. Owing to it, you are relaxed while traveling or going to your office/college. Cross-check this credible list of best laptop bags to choose one brand out of these. Also, remember the guidelines to select a top-grade laptop for you.
FAQs
Q. What matters a lot in the case of buying a laptop bag?
Ans. Factors are many. Some of the most important are longevity, storage space, comfort, and safety of the laptop.
Q. How to choose a specific brand from the above list of best laptop bags?
Ans. Firstly, be familiar with your needs and expectations. Then, look for the matchable bag size for your laptop. Go for the brand which accomplishes your desires most (style, quality, size, etc.).
Q. Can one laptop bag be used for years?
Ans. Yes, it can. It depends on the quality and material of the backpack. Another factor is how carefully you keep it.
Q. What colour of the laptop bag should I choose?
Ans. You can go for the usual grey or white colours. Or choose whether dark or light shade as per your choice.