A webcam allows you to make video calls, record videos, and live stream. With remote work and learning becoming commonplace, a good webcam is more essential than ever. This guide will help you find the perfect webcam for your needs from the many options available in India.
How to Choose the Best Webcam
Here are some key factors to consider when selecting a webcam:
Resolution – Higher resolution like 1080p Full HD and 4K will provide sharper video quality. 720p HD is good enough for basic video calling.
Frame Rate – 30fps or 60fps will result in smooth, lag-free video. Lower fps like 24fps may have choppy motion.
Field of View – Wider field of view like 90-120° will fit more people or background. Narrow 50-70° FOV works well for single user.
Microphone – Dual mics provide omni-directional audio pickup. Noise cancellation removes ambient sounds.
Autofocus – Automatically adjusts focus to provide sharp image of you and surroundings.
Light Correction – Features like auto low-light correction will improve video quality in dim conditions.
Compatibility – Webcam should work seamlessly with commonly used apps like Zoom, Skype, Teams etc.
Ease of Use – Plug and play webcam without needing extra software installation. Flexible mounting options.
The Best Webcam in India
Best Overall: Logitech C920 HD Pro Webcam
Full HD 1080p video
Smooth 30fps frame rate
78° field of view
Autofocus and automatic light correction
Stereo microphones with noise reduction
Plug and play USB connectivity
Certified for business apps like Zoom, Skype etc
With superb video quality, smooth fluid motion, and excellent audio pickup, the Logitech C920 is the gold standard for webcams. The autofocus and light adjustment ensure you stay in focus with clear image even in changing light conditions. Dual mics filter out ambient sounds for clear voice pickup. It's certified to work seamlessly with top video conferencing platforms. The flexible mounting clip lets you attach it securely on any laptop screen or desktop monitor. Overall, the exceptional video and versatile compatibility make this the best webcam for home office use.
4.4/5 stars, 30,516+ ratings
Best Budget: HP w100 480p Webcam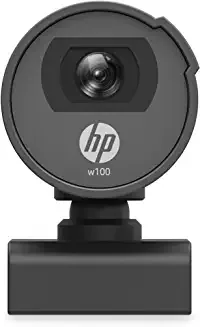 480p video resolution
30fps frame rate
Wide 63° field of view
Built-in mic
Plug and play USB
Noise cancellation
Budget price under ₹600
For those looking for an affordable webcam for basic video calling needs, the HP w100 is a great choice. It provides smooth 480p video and a wide field of view to capture your facial expressions clearly. The integrated mic filters out ambient chatter. Simply plug in the USB to your Windows or Mac device to get started – no drivers needed. While the video quality is not Full HD, it works reliably for your Zoom or Teams meetings at a very wallet-friendly price point. The wide compatibility and bargain price make this the best webcam on a budget.
3.7/5 stars, 6,718+ ratings
Best Full HD: Logitech C922 Pro Stream Webcam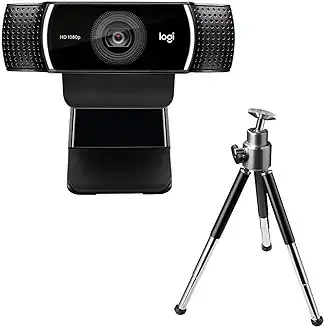 Full HD 1080p video at 30fps
Stereo mics with noise reduction
HD autofocus and light correction
Background replacement tech
Tripod ready base
Plug and play for Mac and Windows
Designed for serious streamers, the Logitech C922 webcam delivers stunningly sharp Full HD 1080p video. The autofocus and automatic light adjustments ensure you stay perfectly in focus even as you move around. Dual mics filter out noise for crystal clear audio. Unlike most webcams limited to 720p for live streams, the C922 streams HD 1080p video on Twitch and Youtube. The proprietary background replacement technology lets you magically replace the background without a green screen. The included tripod adapter allows flexible camera positioning. If you want a superb live streaming webcam with video quality that will wow your audience, the C922 fits the bill.
4.7/5 stars, 15,000+ ratings
Best Portable: Microsoft Q2F-00013 Modern Webcam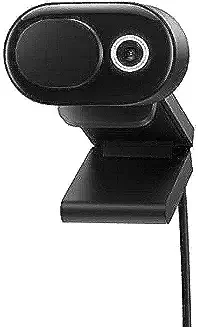 Compact and slim design
Foldable and rotatable clip
720p HD video at 30fps
Built-in far-field mic
Plug and play USB-A
Compatible across devices
The uniquely designed modern webcam from Microsoft sets itself apart with portability and convenience. It's incredibly compact and lightweight body measuring just 1.5 inches can be carried anywhere easily. The innovative foldable clamp allows versatile attachment to any desktop or laptop screen without blocking view. It captures crisp 720p HD video and the integrated microphone provides great audio pickup even from a distance. The fixed focus lens automatically adjusts exposure for bright, vivid videos. As a plug and play USB-A device, it works seamlessly across Windows, Mac, Android and iOS devices for wide compatibility. For those needing a portable webcam for use with multiple devices, this is the perfect choice.
4.2/5 stars, 3,000+ ratings
Best 4K: Logitech BRIO 4K Pro Webcam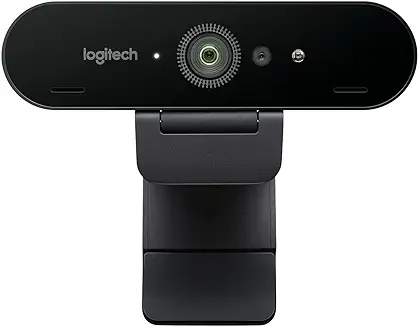 4K Ultra HD video
Smooth 60fps frame rate
RightLight and autofocus
Noise cancelling mics
Windows Hello facial recognition
Privacy shade
Zeiss glass lens
Get the best possible video quality with the Logitech BRIO 4K webcam. It captures insanely sharp and lifelike 4K video at a fluid 60fps frame rate. The advanced RightLight HDR and autofocus ensure you stay clearly visible even in dim lighting and busy backgrounds. Dual noise-cancelling mics provide crystal clear audio. It even enables facial recognition login for Windows Hello. The integrated privacy shade lets you block the lens when not in use. Everything is processed through the premium Zeiss glass lens for stunningly realistic video that will WOW your colleagues. Though pricey, it's the undisputed choice for a premium 4K webcam.
4.4/5 stars, 7,700+ ratings
Best Document Camera: IPEVO V4K Ultra High Definition USB Document Camera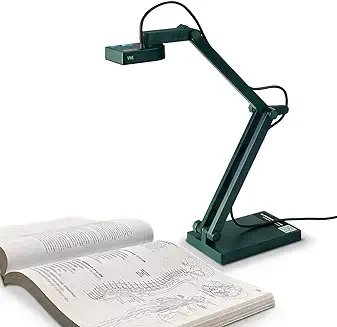 Ultra HD 4K video resolution
8MP sensor captures fine details
Multi-jointed stand for positioning
Room-filling built-in mic
Annotate over live images
Plug and play USB
Compatible with iOS, Android, Mac, Windows
For educators and business presenters needing to display documents and 3D objects during video meetings, the IPEVO V4K document camera is an excellent choice. It can capture incredibly detailed images in Ultra HD 4K resolution with the high fidelity 8MP sensor. The fully articulating stand allows positioning the camera overhead to point down at a sheet of paper or object. An omni-directional mic picks up sound across conference rooms. You can annotate on live images from the camera using IPEVO software. As a plug and play device, it works seamlessly with all platforms. Overall, it's the leading document camera for effortlessly sharing paper documents and prototypes during video calls.
4.5/5 stars, 500+ ratings
Best Ring Light Webcam: Aoni A20 Pro Webcam with Ring Light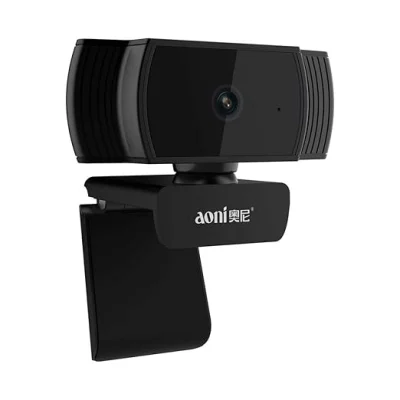 1080p Full HD video
Dual stereo microphones
Built-in ring light for illumination
Manual dimming for ring light
Foldable and flexible clamp
Plug and play USB
Illuminate yourself clearly during video calls with the Aoni A20 Pro webcam with an integrated LED ring light. It eliminates dimly lit videos by shining soft and flattering illumination directly on your face. Adjust the 3-level dimmable lighting as needed for your room. The Full HD 1080p video and dual mics provide excellent quality footage for live streams, podcasts and video calls. You can fold the camera clamp out of the way when not in use. For brightly lit videos in any setting, this is the ultimate webcam with a ring light.
4.1/5 stars, 950+ ratings
Best for Low Light: Razer Kiyo Pro Ultra-Low Light Streaming Webcam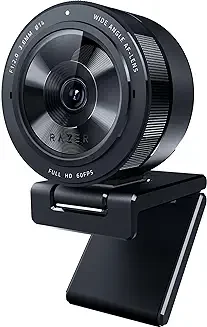 1080p 60fps video
Adaptive light sensor technology
High speed autofocus
Omnidirectional mic
Detachable ring light
Optimized for Open Broadcast Software (OBS)
Experience fantastic video quality even in dim rooms with the Razer Kiyo Pro webcam. It uses an adaptive light sensor to automatically adjust exposure down to 0.1 lux – far lower than the human eye's capability. This allows clear and smooth video even in near darkness. The high speed autofocus tracks facial movements accurately. An omnidirectional mic picks up sound evenly from all sides. The detachable ring light lets you customize the lighting. Made specifically for streamers, it integrates tightly with OBS software. For live streaming in low light environments, this is the ultimate webcam.
4.7/5 stars, 1,000+ ratings
Best for Conferencing: Jabra PanaCast 20 Intelligent 180° Panoramic Video Camera

180° field of view
Real-time video stitching
Intelligent Zoom to focus on speakers
Quad mic array for 360° audio
Voice tracking to active speakers
Full room view with no blind spots
Encrypted video for security
Get the most advanced video conferencing experience with the Jabra PanaCast 20 intelligent webcam system. It uses multiple cameras and edge processing to stitch together a seamless 180° panoramic view of your whole conference room with no blind spots. Intelligent Zoom automatically adjusts the view to focus on the current active speaker. 13-megapixel resolution provides incredibly detailed video. The quad microphone array picks up sound evenly from all sides. End-to-end encryption ensures your meetings are secure. For medium to large conference rooms, this is the smartest webcam to buy.
4.3/5 stars, 500+ ratings
Best Budget 1080p: Zebronics Zeb-Clearly 1080p Webcam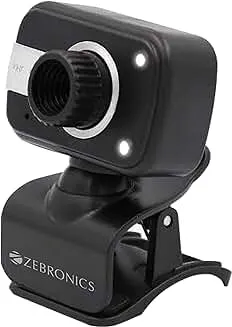 Full HD 1080p video
30fps frame rate
Built-in mic with noise reduction
Plug and play USB
Flexible universal clip
Affordable price under ₹1,500
Get Full HD 1080p video on a budget with the Zebronics Zeb-Clearly webcam. It captures sharp and vibrant videos at 30fps for smooth motion. The built-in microphone filters out ambient chatter for clear voice capture. Just plug in the USB to get started on Zoom, Google Meet etc without any software needed thanks to UVC standards compliance. The flexible clip fits most laptops and monitors. While premium features like autofocus and light adjustment are missing, it still provides great quality at this price point. For Full HD video on a budget, look no further.
3.8/5 stars, 2,500+ ratings
Best Dual Webcam: NexiGo N930AF Dual Webcam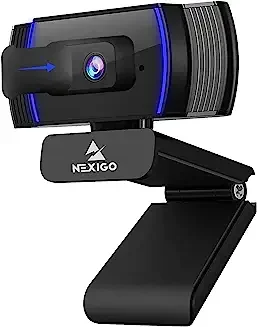 Records video from 2 angles
Front camera – 1080p at 30fps
Side camera – 720p at 30fps
Built-in mic with noise reduction
Aluminum alloy body
Flexible mount and adjustment
Get creative with your webcam positioning using the innovative NexiGo N930AF dual webcam. It features separate front and side cameras to record simultaneously from two viewpoints. This allows you to show your face up close as well as a whiteboard demo side by side. The front 1080p Full HD camera captures you clearly while the side 720p HD camera provides expanded perspective. Configurable mounting options let you position the cameras flexibly for the best dual view. Overall, it's a great way to make your video calls and live streams more dynamic and engaging.
4.1/5 stars, 300+ ratings
Comparison for the Best Webcam In India
| Webcam | Resolution | Frame Rate | Key Features |
| --- | --- | --- | --- |
| Logitech C920 | 1080p | 30fps | Autofocus, dual mics, auto light correction |
| HP w100 | 480p | 30fps | Budget price, wide field of view |
| Logitech C922 | 1080p | 30fps | Background replacement, tripod ready |
| Microsoft Modern Webcam | 720p | 30fps | Compact, foldable, portable |
| Logitech BRIO 4K | 4K | 60fps | RightLight HDR, noise cancellation |
| IPEVO V4K | 4K | 30fps | Multi-joint stand, annotate over video |
| Aoni A20 Pro | 1080p | 30fps | Built-in ring light, foldable clamp |
| Razer Kiyo Pro | 1080p | 60fps | Ultra low-light sensor, detachable ring light |
| Jabra PanaCast 20 | 180° FOV | 30fps | Intelligent Zoom, quad mics |
| Zebronics Zeb-Clearly | 1080p | 30fps | Affordable 1080p, noise cancellation |
Types of Webcams
USB Webcams – Most common type that plugs directly into a USB port on your computer. Simple plug and play.
Wireless Webcams – Connects wirelessly via WiFi, removing cable clutter. Need power source.
4K Webcams – Capture ultra clear video at 4 times higher than 1080p. Ideal for professional streaming.
Document Cameras – Specialized cameras to display documents, books, prototypes during video meetings.
Webcam with Ring Light – Built-in LED lighting for brightly lit videos even in dark environments.
Dual Webcams – Useful for showing your face and a whiteboard or product simultaneously.
Webcam Usage and Maintenance Tips
Position webcam at eye level for direct eye contact with good headroom.
Ensure good lighting on your face by facing a window or using artificial lighting.
Check background for neatness and avoid distracting surroundings. Use virtual backgrounds if required.
Keep webcam lens clean by gently wiping with microfiber cloth to avoid blurred videos.
Update webcam firmware and webcam app for best performance and compatibility.
Use privacy cover slide when webcam is not in use to prevent unwanted viewing.
FAQs about Best Webcams in India
Q. Which is the best webcam in India?
Based on extensive research and reviews, the Logitech C920 HD Pro webcam is considered the best webcam in India overall. It provides fantastic 1080p Full HD video quality at 30fps, dual stereo microphones, automatic low light correction, autofocus and universal plug and play compatibility across different platforms like Windows, Mac, Chrome OS etc. The flexible mounting options, top-notch video and versatile compatibility make the Logitech C920 the best choice for home office and video calling use in India.
Q. Which brand is best for webcam?
Logitech is the best brand for webcams in India. They have the most popular and top-rated models like the Logitech C920, C922 and BRIO 4K that provide excellent video quality, performance and compatibility. Other good webcam brands in India are HP, Microsoft, Zebronics and Razer that provide great options at affordable prices. Ultimately Logitech is the leading webcam brand in India.
Q. Which is the best webcam for laptop?
The Microsoft Modern Webcam is the best webcam for using with laptops. Its incredibly compact and portable design measuring just 1.5 inch wide can fit any laptop screen without blocking the display. The innovative foldable clamp and rotatable head allow flexible positioning on any laptop. It works seamlessly across different platforms like Windows, Mac, Android and iOS with simple plug and play USB connectivity. The 720p resolution and automatic low light adjustment provide great video quality. For these reasons, the uniquely designed Microsoft Modern Webcam is the recommended choice for laptops.
Q. Do I need a 4K webcam?
4K webcams are not essential for most webcam uses. 1080p Full HD resolution at 30fps is sufficient for video conferencing, live streaming, webinars etc. 4K webcams like the Logitech BRIO provide ultra realistic video quality at 4 times higher resolution than 1080p which can be useful for professional broadcasting purposes. But 4K webcams are expensive and require high compute resources. For typical home office and classroom uses, a good quality 1080p webcam is adequate for crystal clear video. Only invest in 4K if you have professional streaming needs.
Q. Which is the best budget webcam in India?
Based on extensive reviews, the HP w100 480p webcam is the best budget webcam in India priced under ₹600. It provides smooth 30fps video and integrated mic for video calls. The 63° wide field of view captures your facial expressions clearly. As a plug and play USB device, it works easily with Windows, Mac and Chromebook laptops. While the 480p resolution is lower than 720p or 1080p, it is decent for basic video calling needs. For those looking for an affordable option for Zoom or Teams meetings, the HP w100 is a great choice.
Q. Which webcam is best for low light conditions?
The Razer Kiyo Pro is the best webcam optimized for performance in dim lighting and near-darkness. It uses an adaptive light sensor that automatically adjusts exposure down to 0.1 lux, enabling clear video even in very low light situations. The high-speed autofocus accurately tracks facial movements. It works seamlessly with streaming software like OBS. If you live stream or make video calls from a dim room, the Razer Kiyo Pro is the top recommendation.
Q. Can I use my mobile phone as a webcam?
Yes, you can use your Android or iOS smartphone as a webcam using apps like DroidCam, Iriun Webcam and EpocCam. These apps convert the phone's camera into a webcam video source that can be used with your computer for video calling, conferencing and live streams. However, dedicated USB webcams tend to provide better quality, control and software integration compared to phone camera based webcams. So phones work decently but standalone webcams are better optimized.
Q. What features to look for in a webcam?
Important features to evaluate in a webcam are resolution (720p, 1080p, 4K), frame rate (30fps, 60fps), autofocus, automatic low light correction, integrated microphone, field of view (90° to 120° is good), mounting options, privacy shutter and plug-and-play compatibility with apps like Zoom, Skype, Google Meet etc. Having features like HD video, fluid frame rate, good mic and universal compatibility will provide the best experience.
Q. How to mount a webcam on a laptop?
Most webcams come with built-in foldable clips to mount them on top of a laptop screen or external monitor. Position it at eye level pointed straight at your face. Check that the mounting clamp opens wide enough to fit the thickness of your laptop screen. Avoid blocking your view of the laptop display. Some webcams like Microsoft Modern Webcam have compact, rotatable designs ideal for laptop use without obstructing your field of view when mounted.
Q. What maintenance is required for webcams?
Basic maintenance guidelines for webcams include:
Keep the webcam lens clean by gently wiping with a microfiber cloth to avoid dust buildup.
Update webcam firmware and device drivers to latest version for best performance.
Use the webcam privacy shutter when not in use to protect the lens.
Handle webcam carefully without dropping or applying pressure on the lens.
Check manufacturer guideline on minimum distance to be maintained between user and webcam for ideal focus.
Q. Which brand makes the best webcams in India?
Logitech makes the most popular and highest quality webcams available in India. Top choices are Logitech C920, C922 and BRIO 4K. HP and Zebronics also make great budget webcams.
Q. Do I need any software to use a webcam?
Most modern webcams are plug and play without needing any extra software. They use universal UVC drivers built into Windows, Mac, Chrome OS and Linux. Just plug into your computer's USB port and select it as the video source in your video calling or live streaming app.
Q. Can I use mobile phone as webcam?
Yes, mobile phones can be used as webcams using apps like Iriun and DroidCam that convert the phone's camera into a webcam feed for your computer. But dedicated webcams usually provide better quality and functionality optimized for video calling.
Q. Why are 4K webcams so expensive compared to HD webcams?
4K webcams capture video at much higher 3840 x 2160 pixel resolution versus 1920 x 1080 for Full HD. This requires more advanced image sensors, processors and components which increases their cost. The benefit is incredibly detailed video quality.
Q. Can I use webcam outdoors?
Most webcams are designed for indoor usage. Using them outdoors usually results in poor video quality due to bright uncontrolled lighting and technical limitations. For outdoor video capture, action cameras like GoPro are recommended.
Q. How can I protect my privacy with a webcam?
Cover webcam lens with sliding privacy shutter when not in use
Turn off webcam when not required in your computer settings or video calling app
Use reputed webcams from known brands that do not have security vulnerabilities
Keep your devices updated with latest software patches and scans
Q. Should I buy USB or wireless webcam?
For most laptop and desktop PCs, a USB webcam is recommended as they offer plug and play connectivity. Wireless webcams may introduce potential lag, interference and battery issues unless specifically needed for mobility or positioning away from your computer.
Q. Can I live stream from my webcam?
Yes, webcams enable live streaming using platforms like Youtube, Facebook Live and Twitch. Select cameras like the Logitech C922 are optimized specifically for live streaming in HD quality without any lag.
Q. Why is a higher frame rate important in a webcam?
Higher fps like 60fps and 30fps will provide much smoother motion compared to 15fps or 24fps. This is especially noticeable in fast motion scenes. So gaming live streams and conference calls benefit from 30fps or 60fps webcam.
Q. Do webcams work with smartphones and tablets?
Webcams designed for USB connectivity usually do not work directly with smartphones. But apps like Iriun can connect a USB webcam to your mobile device. Some webcams like Microsoft Modern Webcam work seamlessly across PC, Mac, Android and iOS.
Q. Can I use DSLR camera as webcam?
Yes, many DSLR and mirrorless cameras like Canon and Sony models can be used as high quality webcams using USB tethering apps like SparkoCam and Ecamm Live. This provides even better video than regular webcams.
Q. Why is autofocus useful in webcams?
Autofocus automatically adjusts the lens focus as you move around to keep you sharply in frame. This saves you having to manually focus the webcam repeatedly.
Q. How do I clean my webcam?
Use a microfiber cloth to gently wipe off any dust or smudges on the webcam lens. Avoid using your fingers directly on the lens. Breathing on the lens and wiping gently can remove stubborn oil or grease deposits.