Monsoon season is here, and that means it's time to start thinking about rain protection. A good raincoat is essential to stay dry during those heavy downpours. With so many options available, it can be tricky to determine which raincoats are actually worth the investment.
In this comprehensive guide, we will explore the top raincoat options for Indian men based on quality, features, and value. We've carefully evaluated customer reviews and product details to provide you with the ultimate recommendations.
How to Choose the Best Raincoat for Men
When selecting the ideal raincoat, there are a few key factors to consider:
Waterproofing
This is the most critical function of a raincoat. Look for coats made with waterproof fabrics like polyester or nylon that have sealed seams and storm flaps over the zipper. The higher the waterproof rating, the better protection.
Breathability
You want some ventilation so you don't get too hot and sweaty. Look for raincoats with mesh lining or vents. Avoid rubberized plastic coats that don't allow airflow.
Size and Fit
Try it on and test the range of motion. You want your raincoat to be roomy enough to wear layers underneath but not overly baggy. Adjustable features like velcro cuffs and hems help get the right fit.
Hood Design
Look for a hood that is large enough to fit over your helmet and has some method of tightening so it stays put in windy conditions.
Length
For good leg coverage, look for raincoats that extend to mid-thigh or lower. Some rain pants can be worn underneath as well.
Pockets and Details
Interior and exterior pockets are great for storing items that need to stay dry. Reflective elements also help with visibility on gloomy rainy days.
10 Best Raincoat for Men in India
1. The Clownfish Viner Pro Series Men's Raincoat

With a 4.1 out of 5 star rating and over 300 reviews, the Viner Pro raincoat from The Clownfish is a top choice for its quality and value.
Made from waterproof polyester fabric, it has sealed seams for optimal rain protection. It's reversible, with solid black on one side and an attractive green pattern on the reverse. The hood is adjustable and large enough to fit over a helmet.
Users say it's lightweight yet remarkably durable, withstanding heavy rains and regular use without leaking. The double layer coated fabric doesn't feel overly stuffy either.
It's roomy enough to wear layers underneath and the velcro waist tabs help get a secure fit. For all-day rain protection while commuting or doing rugged outdoor activity, this is an excellent choice.
Waterproof Rating: NA
Price: ₹1019
Best Use: Motorcycle riding, hiking, outdoor work
2. Camison Men's Reversible Raincoat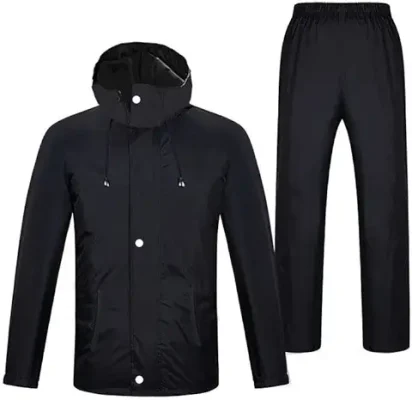 The Camison men's raincoat garners rave reviews for its reversible double layer design and waterproof performance. With over 4 stars and 30+ reviews, it makes a smart buy.
It reverses from a solid black exterior to a stylish blue pattern, providing versatile looks. The polyester fabric and taped seams prevent leaks even in torrential downpours.
Users say it's very breathable despite the dual layer construction. The mesh lining helps ventilate. The hood and cuffs are adjustable for a secure barrier against the elements.
The included rain pants with elastic ankle openings also get high marks for keeping you bone dry. For heavy monsoon rains, this set offers complete coverage. The included carry bag is another nice bonus.
Waterproof Rating: 2000mm
Price: ₹999
Best Use: Monsoons, commuting
3. Zeel Seam Sealed Raincoat

With over 5,000 reviews and a 4.2/5 star average, the Zeel seam sealed raincoat is a customer favorite for its durability and performance.
It's constructed using advanced thermoplastic polyurethane coating for a flexible yet totally waterproof barrier. Fully sealed seams, storm flaps, and Velcro wrist closures keep rain from seeping in.
The polyester outer layer has a classy subtle texture. The grey color looks sharp and is versatile. Users say the fit is true to size but allows layering undershirts and hoodies comfortably.
The hood offers full coverage and the included rain pants and stuff sack make this a complete rain protection system. Backed by over twenty years of reputation, Zeel rainwear performs admirably.
Waterproof Rating: 10000mm
Price: ₹1529
Best Use: Heavy monsoons, storms
4. Wildcraft Hypadry Rain Suit

With its contemporary styling and technical fabric, the Wildcraft Hypadry gets rave reviews as a heavy duty rain solution. It earns a 3.3 out of 5 star average across nearly 900 reviews.
The polyester fabric has a PU coating on the interior for waterproofing along with fully sealed seams. All the edges are thermally bonded to prevent leaks.
Users praise the lightweight feel that still manages to keep you perfectly dry. The heat sealed seams also prevent chafing from inner stitching. The pants have adjustable leg openings for a secure fit over boots.
With its cool zig-zag stitching accents, this is a rain suit that looks as good as it performs. For serious monsoon conditions, Wildcraft offers stellar rain protection.
Waterproof Rating: 10000mm
Price: ₹1450
Best Use: Monsoons, hiking, trekking
5. Camison Zoom Reversible Raincoat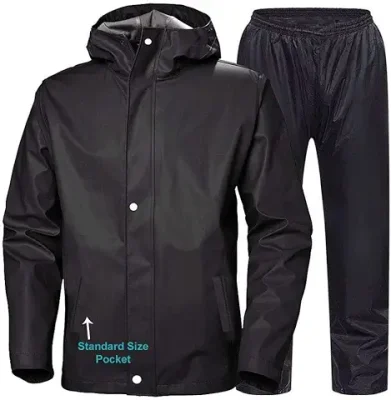 Camison makes quality rainwear for men at reasonable prices. This reversible rain jacket has a waterproof rating of 4000mm and taped inner seams to keep you dry.
It flips inside out from a cool navy exterior to a neon green patterned interior. The polyester fabric fights humidity so you don't feel muggy, though multiple users say it runs warm.
The zippered side pockets are handy for securing wallets, phones, and other essentials. The oversized hood fits over bike helmets and the velcro cuffs seal out dampness. For short urban commutes in moderate rainfall, this is an affordable choice.
Waterproof Rating: 4000mm
Price: ₹499
Best Use: Short commutes, travel
6. SF Shakumbhari Fab Reversible Raincoat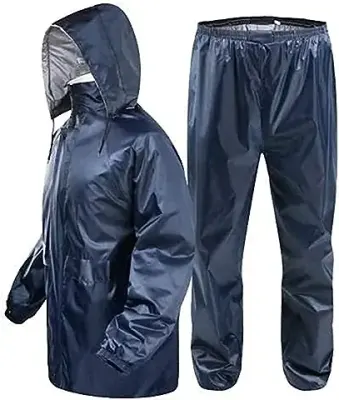 This budget-friendly reversible raincoat from SF Shakumbhari Fab offers impressive water protection at a very wallet-friendly price. It earns a 3.1 out of 5 star average across 50+ reviews.
It flips from a bright red side to a classy navy side, providing color options to match any outfit. The polyester fabric and inner TPU lamination provides waterproofing, though some users say it can wet out in extremely heavy downpours after prolonged exposure.
For brief to moderate rain exposure, most users find it keeps them dry without feeling muggy or overly sweaty inside. The quilted lining also provides light warmth.
With its bargain pricing, reversible design, and decent rain protection, this is a great value buy.
Waterproof Rating: 2000mm
Price: ₹499
Best Use: Light rain, brief showers
7. Billford Men's Raincoat with Pants
The Billford 2-piece rain suit delivers reliable water protection at an affordable price. With over 100 reviews, it rates 3.9 out of 5 stars for keeping users dry commuting in heavy rains.
Made of quality polyester with a PU coating, it stands up to wet Indian monsoons better than cheap vinyl suits. The jacket has a generous fit to allow layering clothing underneath. The pants have a drawcord waist and zippered leg openings.
It packs down into an included pouch bag for easy storage. The only downsides are the thin fabric shows some wrinkling/creasing and the dark color fades over time. Overall, for the price this is an excellent value set for heavy rains.
Waterproof Rating: 3000mm
Price: ₹599
Best Use: Monsoons, commuting
8. FabSeasons Hooded Raincoat

This long hooded raincoat from FabSeasons provides stellar protection from the elements. With nearly 2,000 reviews, it earns an impressive 4 star average.
It's made of quality polyester with a PU backing for a completely waterproof exterior that keeps you bone dry in heavy rains. The hood is oversized to fit all head sizes and hair styles and cinches down with a drawcord.
Interior open pockets allow you to keep essentials accessible and dry. Reflective trim provides visibility at night. For staying dry and comfortable in day long monsoon conditions, this is an excellent choice.
Waterproof Rating: 3000mm
Price: ₹675
Best Use: Monsoons, storms, long exposure wet weather
9. Lyriq Double Layer Raincoat with Pants

This rain suit from Lyriq gets rave reviews for its durability and waterproof performance. With nearly 300 reviews, it earns an impressive 4.2 out of 5 stars.
The polyester fabric has a 5000mm waterproof PU coating and heat sealed seams for complete rain protection. The jacket features have convenient zippered pockets and an adjustable hood with visor.
The loose fit pants have both snap and zipper closures at the ankles to seal out moisture. Most users say both pieces kept them completely dry in heavy Indian monsoons. For the price, this suits offers fabulous value.
Waterproof Rating: 5000mm
Price: ₹529
Best Use: Monsoons, commuting
10. Hi-Life Heavy Duty Raincoat
When you need absolute waterproofing on a budget, this heavy duty raincoat from Hi-Life gets the job done. It has a 4 star average over nearly 70 reviews.
It's made of polyethylene rather than woven fabric, so the entire coat is a solid waterproof sheet of flexible plastic. Heat sealed seams ensure no leaks.
The result is complete rain protection even in torrential downpours – albeit with no breathability. But the low price makes this a top choice for commuters, farmers, laborers and anyone on a strict budget needing guaranteed dryness.
Waterproof Rating: NA
Price: ₹399
Best Use: Very heavy rains, outdoor labor, long exposure wet conditions
Comparison of Best Raincoat for Men
| Product | Waterproof Rating | Price |
| --- | --- | --- |
| The Clownfish Viner Pro | NA | ₹1019 |
| Camison Reversible | 2000mm | ₹999 |
| Zeel Seam Sealed | 10000mm | ₹1529 |
| Wildcraft Hypadry | 10000mm | ₹1450 |
| Camison Rain Jacket | 4000mm | ₹499 |
| SF Shakumbhari Fab | 2000mm | ₹499 |
| Billford 2-piece Suit | 3000mm | ₹599 |
| FabSeasons Hooded Coat | 3000mm | ₹675 |
| Lyriq Suit w/Pants | 5000mm | ₹529 |
| Hi-Life Raincoat | NA | ₹399 |
Types of Raincoats for Men
Lightweight Packables
These ultralight raincoats fold up into a small pouch for easy carrying. Most are made of thin ripstop nylon or microfiber fabric with minimal waterproof coatings. Best for occasional brief showers.
Rain Jackets
Simple hip or thigh length coats without a lot of bells and whistles. Often made of water-resistant nylon or polyester. More versatile for activities like hiking and biking.
Rain Suits
Includes matching rain jacket and pants for full coverage. Jackets typically have a longer cut and pants are loose fitting. Ideal for extended wet weather like commuting by bike or motorcycle.
Trench Coats
Sophisticated knee-length coats made of heavier cotton gabardine or poplin, treated to be water repellent. Often have removable wool or quilted liners for warmth.
Fishing and Hunting Rain Gear
Specialized raincoats and bib pants designed to withstand rugged outdoor use. Features like multiple large pockets and adjustable openings seal out moisture while allowing ventilation.
How to Use and Maintain Your Raincoat
Follow these tips to get the most out of your raincoat and keep it performing at its best:
Apply a durable water repellent (DWR) treatment when new to improve water beading and repellency. Reapply after a few washes when water starts soaking in.
Close all zippers, snaps, and velcro openings fully before heading out in the rain. Check often to ensure they haven't come open.
Use a seam sealer product on any areas where stitching penetrates the outer fabric to prevent leaks. Reseal if any openings develop.
Wash gently in cold water only when necessary using a mild detergent. Harsh soaps can strip DWR treatments.
For serious mud or grime, hose off with water before washing. Avoid using hot water or excessive agitation.
Hang dry only. Avoid using tumble dryers which can degrade waterproof coatings and fabrics over time.
For long term storage, wash and fully air dry the raincoat before packing away. Store in a clean, dry place away from direct sunlight.
FAQs about Best Raincoats for Men
Q. Are rain ponchos a good alternative to raincoats?
Rain ponchos can be a cheaper and more portable option than coats. But they usually provide less weather protection and can be cumbersome in high winds. For brief, light showers they work well but high quality hooded raincoats are usually a better investment for frequent monsoon use.
Q. How do I know a raincoat offers good waterproofing?
Check the waterproof rating, typically given in millimeters (mm). Ratings over 5000mm are considered highly waterproof and suitable for heavy rains. Also look for taped or sealed seams so stitch holes don't leak.
Q. Should I get a raincoat or rain suit?
Rain suits with pants provide the most complete monsoon protection, keeping your whole body dry. But they can feel hot and restrictive. For short urban commutes, a simple below-the-knee rain jacket is often sufficient.
Q. What raincoat fabric is best?
Nylon and polyester fabrics treated with polyurethane (PU) or polyvinyl chloride (PVC) backing offer the best waterproofness. Uncoated fabrics like cotton absorb moisture. Vinyl and rubberized plastics are very waterproof but not breathable.
Q. How do I wash my raincoat safely?
Use a gentle cycle and cold water. Mild detergents are ok but avoid bleach or fabric softeners. Line dry only – heat from tumble dryers degrades the waterproof coatings. Periodically reapply DWR treatments.
Q. Which brand is best in raincoat?
Based on the raincoats reviewed, some of the top brands for waterproof performance and quality are The Clownfish, Zeel, Camison, and Wildcraft. These brands use high quality polyester or nylon fabrics with durable waterproof coatings and sealed seams to provide maximum rain protection. They receive consistently good reviews from customers for keeping them dry in heavy monsoons.
Q. Are Rains jackets 100% waterproof?
Rains brand jackets are not included in this specific review. However, most Rains raincoats are made of lightweight polyurethane and have taped seams, storm flaps, and waterproof ratings over 3000mm. This makes them highly water resistant. But no single layer jacket is likely to be 100% waterproof after prolonged exposure in extremely heavy rainfall. For full waterproofing, 2 or 3 layer construction with a breathable lining is more reliable.
Q. What material is waterproof for raincoat?
The most waterproof raincoat fabrics are polyester or nylon coated with a polyurethane or PVC backing. Uncoated fabrics like cotton absorb water rather than repelling it. Vinyl and plastic materials are also highly waterproof but sacrifice breathability. Advanced technical fabrics like Gore-Tex provide an optimal balance of waterproofing and breathability.
Q. What can I wear instead of a raincoat?
Options like ponchos, trash bags with holes, or heavy oversized hoodies can work as rain protection in a pinch. But they are typically less effective than a purpose-built waterproof raincoat with sealed seams and storm flaps. A good raincoat is a worthwhile investment if you regularly commute or work in rainy conditions.
Q. What is the best waterproof raincoat for men?
Based on this review, top performing waterproof raincoat options include the Zeel Seam Sealed Raincoat, Wildcraft Hypadry Rain Suit, Camison Reversible Raincoat, and The Clownfish Viner Pro Raincoat. All utilize polyester or nylon fabrics with PU coatings over 5000mm, sealed seams, and adjustable hoods to provide optimal wet weather protection.
Q. Which is the best raincoat for heavy rain in India?
For heavy monsoon rains in India, the Zeel Seam Sealed Raincoat, Wildcraft Hypadry Rain Suit, and Camison Reversible Raincoat emerge as top recommendations. Their polyester and nylon fabrics have PU coatings with ratings over 4000mm, taped seams, and secure adjustable hoods to keep you bone dry even in torrential downpours during Indian monsoons.
The Bottom Line
Don't let monsoon showers soak your style. A quality raincoat that keeps you dry without feeling muggy is a worthwhile investment for Indian men. Follow this guide's top recommendations to find the perfect rain protection for your needs and budget.
Stay dry my friends, and have a wonderful monsoon season!