With the rain gods descending upon us, it is time to get your hands on the most stylish and chic rain jackets. However, while online shopping offers convenience from the comfort of your home, the overwhelming variety of options can be confusing. Worry not!
Explore our carefully curated selection of the best rain jackets for men available across a diverse range of online platforms. Stay dry and fashionable with our expert recommendations.
How to Choose the Best Rain Jackets for Men?
When it comes to choosing the perfect rain jacket, more than one criterion comes into play. Below are some key considerations to help you make an informed decision when buying the best rain jackets for men.
1. Material
Rain jackets are typically made of two or more materials such as cotton, wool, nylon, rayon, and vinyl. However, not all brands offer rain jackets in every material of your preference.
For instance, wool rain jackets are only available with a select few brands like Cole Haan and Marks & Spencer, and may not be available across all brands. Thus, it is important to zero down on the material before deciding on a brand.
2. Fit and Length
Rain jackets come in various sizes and fit, ranging from ponchos and overalls to rain suits and smart fitted jackets. Determine the purpose of your jacket and choose the brand accordingly.
For example, if you're going on a trek and need something for one-time use, a poncho from Quechua is a practical and lightweight option.
3. Price
Price plays a significant role in the decision-making process. Rain jackets can be found at affordable price ranges across brands, but some high-end brands can be quite expensive.
Therefore, when deciding which brand of rain jacket to purchase, it's wise to take into consideration your specific usage requirements and budget constraints.
4. Brand Value
If you prioritize brand reputation and prefer purchasing from established experts, brand value becomes a primary consideration. Brands like Quechua and Wildcraft have been in the industry for years and offer reliable rain jackets.
Considering the aforementioned aspects, let's thoroughly explore the available options to find the best rain jackets for men.
5 Best Rain Jackets for Men
Wildcraft Men HYPADRY™ Rain Pro Jacket
Decathlon BTWIN Cycling Rain Jacket with Hood
Uniqlo Pocketable UV Protection Parka (3D Cut)
Royal Enfield SOLANO WATERPROOF RIDING JACKET
Quechua Men's Waterproof NH100 Hiking Jacket
1. Wildcraft Men HYPADRY™ Rain Pro Jacket
Born out of a passion for travel, Wildcraft has been in the Indian market since the late 90s and is synonymous with outdoor gear. It is no surprise then that they have a varied range of rain jackets for men.
Our pick is this HYPADRY rain pro jacket with front zip closure and a hoodie with a string that is sure to provide you with enough protection from the rain and look dapper as well. Additionally, the same jacket is available in 3 to 4 different colours.
What's Great?
Lightweight
Multiple colour options are available in the same design
Reasonably priced
Get at Myntra
Get at Great Outdoors India
2. Columbia Men Solid Watertight II Rain Jacket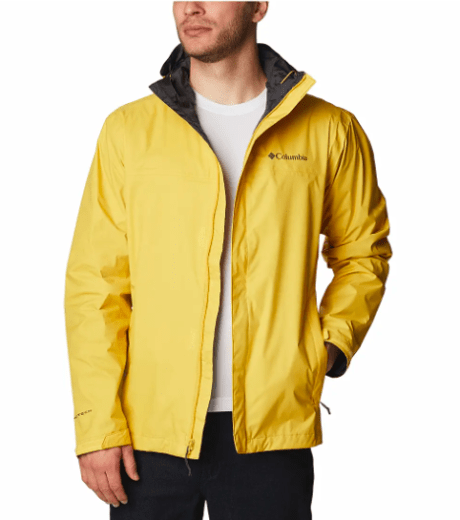 As one of the best sporting goods manufacturers globally, Columbia offers a multitude of options. With more than 80 years in the outerwear space, the choices are limitless. We are totally digging this yellow rain jacket, which boasts water-resistant fabric and is sure to make heads turn.
What's Great?
Water and wind-resistant, ideal for outdoor
Bold and captivating colour
Drawcord adjustable hood and hem for complete protection
Get at Adventuras
Get at Amazon
Get at Myntra
3. Sports52 Wear Men Reversible Rain Jacket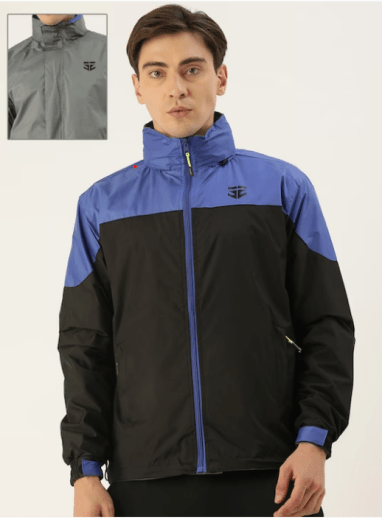 For those seeking fashionable options, Sports52 Wear is a highly coveted Indian brand. They offer simple yet functional, well-tailored designs. While this rain jacket is ideal for outdoor activities such as camping and hiking, its relaxed fit and colour option when reversed makes it a perfect choice for casual wear as well.
What's Great?
Reversible Jacket
Breathable Shell fabric
Zippered hand pockets to shield our essentials from rain
Get at Myntra
Get at Ajio
4. Royal Enfield Zip-Front Bikers Jacket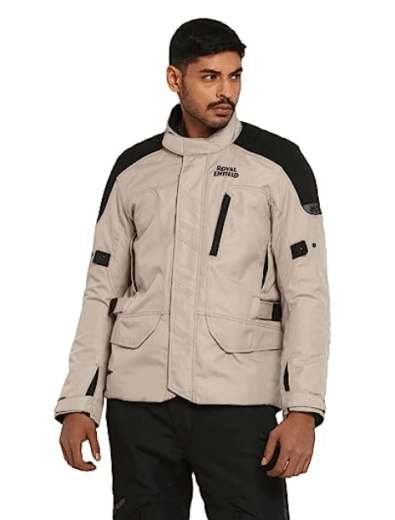 The brand that most Indian men dream of owning, Royal Enfield not only offers motorbikes but also, riding gears. Their riding gear ranges from a normal waterproof windcheater to an all-weatherproof jacket.
Our top pick is the beige and black rainproof jacket, equipped with 7 pockets for multifunctional use. It comes at a premium price, but its quality and style make it worth considering.
What's Great?
Comes with waterproof zippers
Comes with a detachable full-sleeve winter liner
Reflective details for extra and night-safety
Get at Ajio
Get at Amazon
5. Puma Men Regular Fit Jacket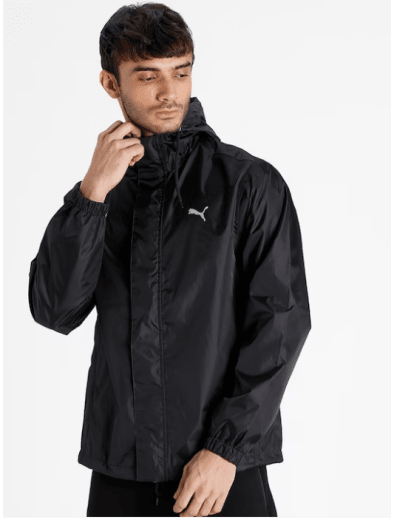 A crowd-favourite brand, Puma has been around for 70 years, offering extremely functional and performance-oriented sports and lifestyle products. Their durability and quality make them a reliable choice.
They offer a wide range of options and this plain black jacket is suitable for any occasion, from hiking and running to socializing with friends or colleagues
What's Great?
Breathable because of the cotton lining
Compact and easy to carry
Adjustable elastic cords on the hood and waist
Get at Ajio
Get at Myntra
Summing It Up
With the monsoon season in India lasting from June to November/December, investing in a good-looking and functional rain jacket is crucial. The featured jackets are carefully curated, taking into account factors like waterproofing, breathability, durability, and design.
Whether it's for outdoor adventures or urban commutes, this article equips readers with the knowledge to make informed decisions and brings you one step closer to making the decision to buy the best rain jackets for men.
FAQs
1. Is a windcheater the same as a rain jacket?
No, a windcheater and rain jacket serve two different purposes. While windcheaters are mostly used in cold climates to protect one against chilly winds and light showers, rain jackets provide more protection against rain and water penetration and are also more breathable.
2. What is the difference between waterproof and water-repellent jackets?
Waterproof and water-repellent jackets have very distinguishing characteristics while designed to serve the same purpose.
While waterproof jackets are completely impermeable, water-repellent jackets only resist water to a certain extent and do not provide complete protection.
3. Do rain jackets also protect against the cold?
It depends on the material used for making the rain jacket. Some rain jackets have wool as one of the materials and they provide a great degree of protection against the cold but not all rain jackets provide the same level of warmth.
4. What's the best way to care for your rain jackets?
While most rain jackets can be machine washed, it is important to follow the manufacturer's wash and care instructions that come with the garment to ensure a better life for the jacket.
5. Does water penetrate inside while you are wearing a rain jacket?
No, there is a very slim chance of water entering inside the raincoat unless the zip has not been pulled up properly or there's a tear.