Watches are not just an accessory, they are a statement in themselves and add to your sense of persona and style.
A stylish timepiece on your wrists adds to your elegance and flair. With the rising popularity of watches for ladies, the market has become very crowded with multiple players.
This makes the task of selecting a brand which matches your taste a herculean task of sorts. Fet not, for here we would be listing out the top 10 watch brands women should consider before making a purchase decision.
What is the Criteria for Selection?
When you set out to purchase a watch for yourself, there are some inherent questions you should ask yourself:
What's the budget?
What's the style you are looking for?
Analog or Digital?
Apart from the above, the build quality of your timepiece should also be considered as they should be long lasting.
Without further ado, let's look at the top 10 brands of watches in India, women should consider:
Product Overview

Titan has been mesmerising people with their enthralling collection of watches for a long time. It was established by Xerxes Desai in 1984 and is headquartered in Bangalore.
The brand also collaborated with Tanishq and launched a range of jewellery that was well received by customers.
Titan has been known to introduce exciting collections that connect with the deep rooted human desire of self-expression.
Some of the most notable watches from Titan are Titan Edge (the world's thinnest watch), Titan Raga (made for bold and beautiful modern women and Nebula (crafted in solid 18kt gold and precious gemstones).
Innovation and international design philosophy have been the cornerstone of their development. This coupled with their customer centric values and top notch service make them the market leaders they are today.
Key Features:
Huge range of stylish and trendy watches for women in various styles and designs
Premium build quality and durability
Innovative collections like Titan Edge, Titan Raga, Nebula etc.
Prices ranging from affordable to premium luxury segments
Pros: Trendsetting designs, high brand value, variety of choices
Cons: Limited presence outside India
Price Range: Rs. 1,000 – Rs. 1,00,000
Best Selling Models: Raga, Octane, Edge, Automatic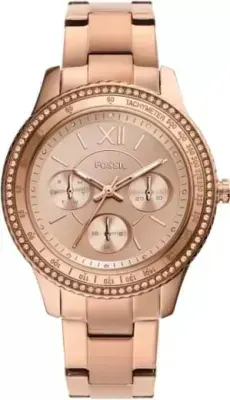 Fossil is an American fashion designer and manufacturer. It produces some of the most elegant watches in the world too. The classic and authentic design of Fossil draws many watch connoisseurs towards it.
These eye catching timepieces, strapped with metallic or genuine leather are eye-catching and accentuate your aura.
Established by Tom Kartsotis in 1984, this is a brand synonymous with world class and elegant watches which would match with any outfit you wear.
Their conic tin box packaging was introduced in 1989. The designs were inspired by the American 50s. Fossil started packaging all its watches in tin containers after the packaging became a huge hit with customers.
Key Features:
Classic leather straps and metal finishes
Stylish vintage-inspired designs
Durable and long-lasting build quality
Ideal for daily wear as well as special occasions
Pros: Global brand appeal, premium quality, elegant styles
Cons: Expensive compared to Indian brands
Price Range: Rs. 5,000 – Rs. 50,000
Best Selling Models: Virginia, Jacqueline, Charter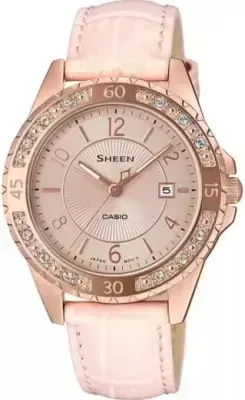 A Japanese brand which was established in 1946 and synonymous with producing musical instruments and calculators started manufacturing watches in the 1980s.
Casio was the first company to create a watch that could record temperature, atmospheric pressure, altitude, and other information. They were the trendsetters in technology.
They are solid, durable, and advanced timepieces. The brand offers a variety of styles and designs, from sporty yet elegant to more classic and fashionable ones.
For women, Casio offers watches in the following ranges – G-Shock for Women, Baby-G, Sheen, Enticer, Vintage, Youth and G-MS. Sheen is a Casio watch that has been a huge success. Sheen watches look as great with western wear, as they do with traditional Indian clothing.
G-shock Baby G is an excellent example of fashion and endurance. These watches are built for tough and rugged use, yet they are lightweight and compact. Casio has adapted the traditional method of assembling watches to make the Baby-G more user-friendly.
Key Features:
Cutting-edge Japanese quartz technology
Durable build quality
Sports, dress, casual, analog, digital watches
Value for money pricing
Pros: Technologically superior, wide range of designs
Cons: Limited presence in premium segment
Price Range: Rs. 1,500 – Rs. 15,000
Best Selling Models: Enticer, Sheen, Vintage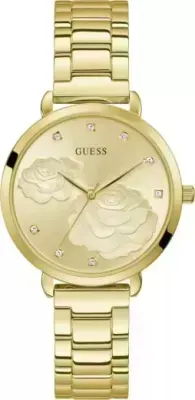 Founded in 1983, they are the perfect accessory with a versatile design. Using cutting edge design and technology, they produce some of the most elegant looking watches that captivate people's attention.
Guess watches are durable and due to that, they have a warranty period which is usually more than that of its competitors. They are adored by women worldwide for their tasteful looks, sleek design and classy style. The embellishments on the Guess watches are one of their most notable and attractive features loved by women.
Key Features:
Signature Guess patterns on dials
Trendy embellished leather/metal straps
Curated for the fashion forward woman
Extended warranty up to 5 years
Pros: Strong fashion brand appeal, bold and edgy designs
Cons: Expensive, not the best for outdoors
Price Range: Rs. 5,000 – Rs. 25,000
Best Selling Models: Prism, Petunia, Sparkle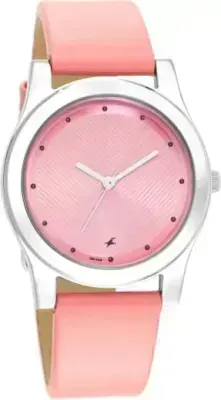 Fastrack is an Indian fashion accessory brand, which was launched as a sub-brand under Titan Watches in 1998.
In 2005, it became an independent urban youth brand targeting the flourishing Indian fashion industry. It is a well-known watch brand that offers looks and quality at competitive prices.
The brand has evolved to become a voice of the millennials over the years. They have pioneered new trends and established new norms. Their designs are fresh and vibrant with a modern touch to them.
They bring in a distinctive style at an affordable price point. They use colours liberally and are known for their quirkiness in design. It appeals to the youth with their messaging and owing to their stylish designs and affordability, are among the favourite watch brands for women.
Key Features:
Funky and modern designs targeting youth
Trendy patterns and pops of colour
Durable built quality with 1 year warranty
Value for money pricing
Pros: Young and fun styles, very affordable
Cons: Limited premium/luxury offerings
Price Range: Rs. 1,000 – Rs. 10,000
Best Selling Models: Ignite, Reflex 2.0, Primia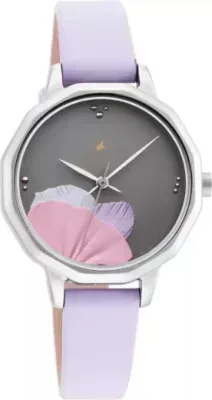 A sub-brand of Titan which has evolved into a popular one is Sonata. It has managed to create a niche for itself in the heart of customers.
The stylish and contemporary designs with a dash of modernity tug at the heart strings of many. These watches stand for beauty and boldness and are a perfect combination of style and function.
The watches designed by Sonata for Women keep in mind the important role played by women in all aspects of life today, and reflect their aims and aspirations. The classy looks and elegant design are bound to give you, the modern woman, a sophisticated look.
Key Features:
Modern and minimalist watch designs
Durable steel and leather straps
Value for money pricing
Large dial sizes in fashionable colours
Pros: Affordable luxury, contemporary Indian styles
Cons: Not many premium offerings
Price Range: Rs. 500 – Rs. 5,000
Best Selling Models: Ariel, Bharat 2, Simplicity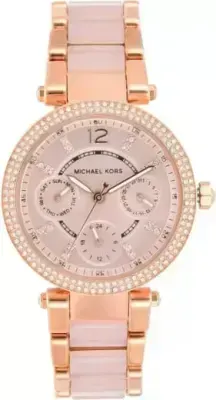 Founded in 1981, Michael Kors is a world renowned fashion and accessories brand. These include watches, clothing, jewellery and footwear among others.
The brand's petite and elegant watches are available with many options. They look great on any kind of casual or formal wear.
Their large designer watches are a bold statement for the fashion-conscious. If you are looking for a simple but stylish timepiece that can be worn with your favourite bag or shoes, mid-sized leather ladies watches are the best choice.
Key Features:
Minimalist dial with diamond accents
Luxe rose gold, silver finishes
Fashionable bold designs for women
Premium craftsmanship
Pros: Strong luxury brand appeal, high-end designs
Cons: Very expensive, limited models in India
Price Range: Rs. 10,000 – Rs. 1,00,000
Best Selling Models: Darci, Parker, Runway
Maxima is a well known and ubiquitous brand all across the country. Launched in the year 1990 by Mr. GS Purewal, chairman of the PA Group of Industries, this is a brand synonymous with quality at an affordable price point.
The brand became more popular due to its campaign of being the first guaranteed waterproof watch at a price of less than Rs. 500.
The stylish design combined with an affordable price tag make Maxima a popular option among ladies.
Key Features:
Contemporary and classy designs
Waterproof up to 30 metres
Mineral glass crystal dial windows
Durable stainless steel cases
Pros: Affordable pricing, waterproof watches
Cons: Not high-end luxury models
Price Range: Rs. 500 – Rs. 5,000
Best Selling Models: Opera, Geneva, Atlantic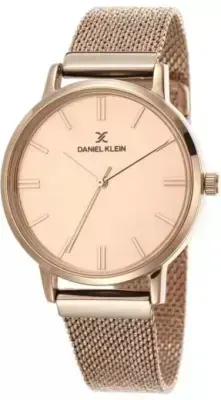 Daniel Klein watches are famed for their minimalist and elegant designs. Being a family owned and operated business, they have maintained a strict control over quality and design aspects.
Many models feature the "Clou de Paris" design on the face. This elegant, simple design is featured on most diamond and gemstone encrusted watches that they offer.
With their bold yet chic designs, the watches from Daniel Klein appeal to women who want fashionable timepieces, which are classy and elegance personified.
Key Features:
Elegant dial with crystal accents
Durable stainless steel/leather straps
Sophisticated for daily and evening wear
Classy Clou de Paris pattern on some dials
Pros: Intricate crystal detailing, classy designs
Cons: Limited brand presence in India
Price Range: Rs. 2,000 – Rs. 15,000
Best Selling Models: Sutton, Buckingham, Windsor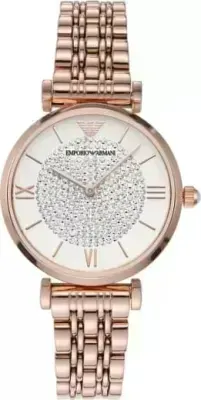 Armani is not just a name, it is the very essence of style and this reflects well in the collection of watches by Emporio Armani.
Emporio Armani targets the youth, and was created to symbolise luxury which is not out of the reach of people. It has expensive taste and looks aspirational but without burning a hole in your wallet.
Emporio Armani watches are best described as statement watches. These timepieces celebrate luxury and emphasise a great deal on getting every detail right. Precisely the reason, women love it even more.
Key Features:
Sophisticated Italian designs
Signature Armani detailing
High-end materials like stainless steel, crystals
Status symbol for the fashionable woman
Pros: Strong luxury brand appeal, gorgeous designs
Cons: Very highly priced
Price Range: Rs. 15,000 – Rs. 1,00,000
Best Selling Models: Luigi, Federica, Renato
So there you have it – our handpicked list of the top 10 watch brands for women in India this year along with their key features, pros and cons. Each brand is unique and crafts timeless watches that complement women's style and personalities beautifully.
Buying Guide for Ladies Watches in India
Here are a few important factors to consider when purchasing a watch as a woman in India:
Style: Choose a watch that matches your personal style – everyday casual, luxury designer, sports, glamorous etc.
Comfort: The watch should feel comfortable on your wrist. Check the strap material and size.
Brand: Stick to reputed brands that offer quality and after-sales support.
Features: Consider useful features like water resistance, battery life, dial patterns etc. based on your lifestyle.
Budget: Women's watches are available from Rs. 500 to over Rs. 1 lakh. Decide your budget to narrow down options.
Purpose: Will you be wearing your new watch daily, or is it for occasional wear? This impacts the choice.
Size: Check the case dimensions to ensure the watch is not too tiny or oversized on your wrist.
Warranty: Most quality watches come with warranty up to 1-5 years against defects.
FAQ's Answered
Q. Are women watch brands in India expensive?
Ans. Watches for women in India are available in a very wide price range. You can get the best quality watches without burning a hole in your pocket. Brands like Fossil, Casio Titan and others produce elegantly designed watches suited to every palate.
Q. Which is the most stylish watch brand for women in India?
Ans. Raga from Titan is a popular and value for money offering from the popular Indian watchmaker. The designs of Raga are designed keeping in mind the woman who believes in her femininity and makes it her power.
Q. What are some of the affordable women's watch brands in India?
Ans. Sonata, Maxima and Fastrack are popular in India for providing great quality womens watches at a budget price point.
Q. Which brand offers the best watches for women in India?
Titan, Fossil and Michael Kors are consistently among the top women's watch brands in India in terms of variety, quality, style and value.
Q. What are some gold watch options for ladies?
Tanishq, PC Jeweller, Senco Gold are trusted for gold watches. Titan Raga and Swarovski also have gold-plated watches for women.
Q. Are there any Indian watch brands suitable for women?
Titan, Sonata, Fastrack from Titan company are leading made in India watches for women. Other options are Ajanta, Maxima, Daughter of Time etc.
Q. Which brand has the best looking designer watches for ladies?
In luxury designer watches for women, top global brands are Michael Kors, Armani, Gucci, Chanel, Rolex, Cartier and more.
Q. What are some tips to take care of your watch?
Avoid exposure to direct sunlight/water for prolonged periods. Use a soft cloth to clean the watch dial and strap regularly. Handle the watch carefully and get timely servicing.
Q. Where to buy branded watches for women online in India?
Popular online shopping sites to buy women's watches include Amazon, Flipkart, Tata CLiQ, Myntra, Ajio, Nykaa etc. They offer discounts and wider selection.
Q. Are titanium watches durable for daily wear?
Yes, titanium watches are very lightweight, scratch-resistant, hypoallergenic and durable for daily use. Top brands for titanium watches are Titan, Tommy Hilfiger, Fossil, Tissot etc.
Q. Which watch brands offer the best warranty?
Titan, Casio, Timex and other reputed brands usually offer 1-5 years domestic warranty on manufacturing defects. This gives buyers peace of mind.
So go ahead, browse through the extensive options and choose a watch that reflects your personal style and suits your needs!