As a thriving hub of whisky enthusiasts, India is a vibrant playground for aficionados and rookies alike. So, if you're ready to venture into the fascinating world of whisky, brace yourselves! This comprehensive guide will lead you through the vibrant whisky terrain that India has to offer. We'll focus on the 'best whisky in India', a phrase that embodies an array of notes, aromas, and experiences.
A Glance at India's Whisky Terrain
Indian whisky has an intriguing story to tell. Traversing its landscape, one discovers the country's fondness for this golden spirit, which is reflected in the diverse range of whisky brands vying for your attention. This narrative unfolds over time, beginning with the colonial era and evolving into the present-day scene, where whisky is celebrated as the spirit of choice.
The story becomes particularly enchanting when we start discussing the top 10 whisky brands in India, each with its unique character and charm. The journey through India's whisky landscape reveals much about the nation's spirit, reflecting its rich history, culinary traditions, and evolving tastes.
1. The Essence of India: Amrut Fusion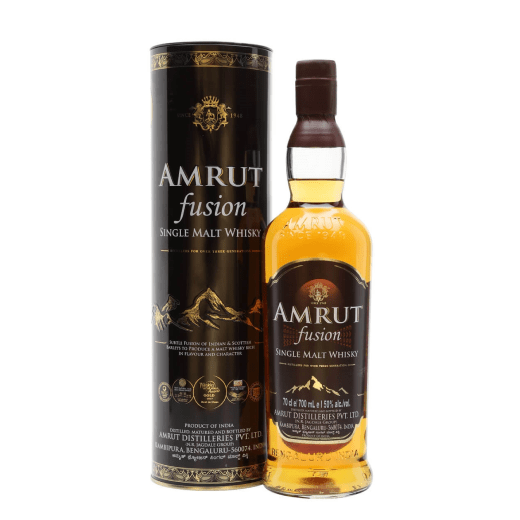 When it comes to the best whisky in India, it's impossible not to mention Amrut Fusion. This Single Malt is created by blending barley from Scotland and India, leading to an intriguing fusion of East and West. The resulting whisky is an enchanting blend of flavors, from the warm, fruity notes of the East to the deep, peaty undertones of the West.
Despite its relative youth in the market, Amrut Fusion has earned global acclaim, heralded as a game-changer in the whisky world. It's truly a testament to the potential of Indian whisky.
Buy Amrut Fusion here.
2. The Majestic Blend: Royal Stag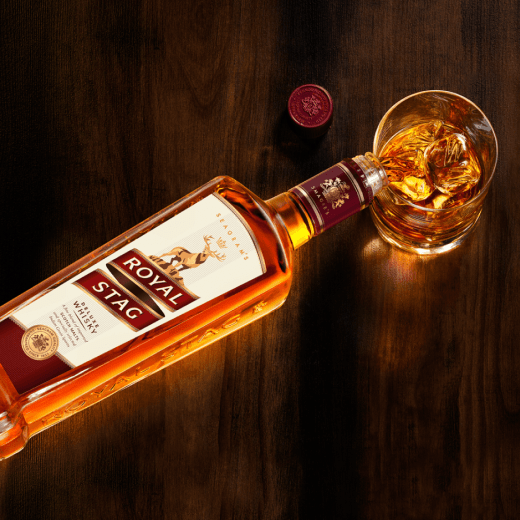 Royal Stag is a name that resonates with the masses. This Pernod Ricard blend, with its distinctive flavor profile and affordability, has established a loyal consumer base in India. It's a blend that strikes the right balance, bringing together grain spirits and imported Scotch malts in a smooth, pleasing concoction.
Royal Stag is perfect for those seeking a quality experience without breaking the bank. It's no surprise that it's one of the best-selling whisky brands in India.
Buy Royal Stag here.
3. Timeless Elegance: Blender's Pride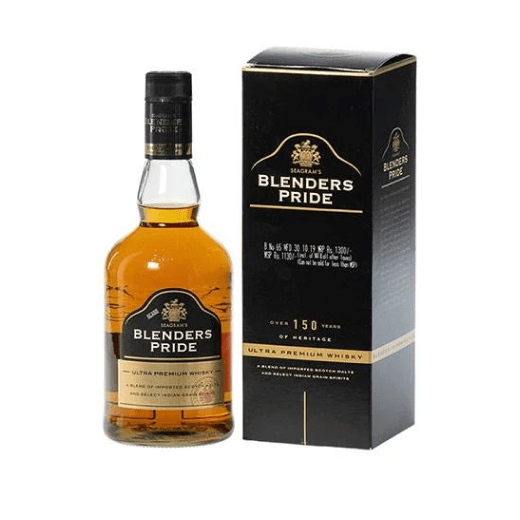 Next up is Blender's Pride, another gem from the Pernod Ricard portfolio. The whisky is crafted with a unique blend of Indian grain spirits and imported Scotch malt, which results in a delightful drink with fruity and woody notes.
The success of Blender's Pride lies in its smoothness and consistent flavor profile. It's a delightful choice for those seeking an elevated drinking experience without straying too far into the luxury segment.
Buy Blender's Pride here.
4. Unearthing Excellence: Paul John Brilliance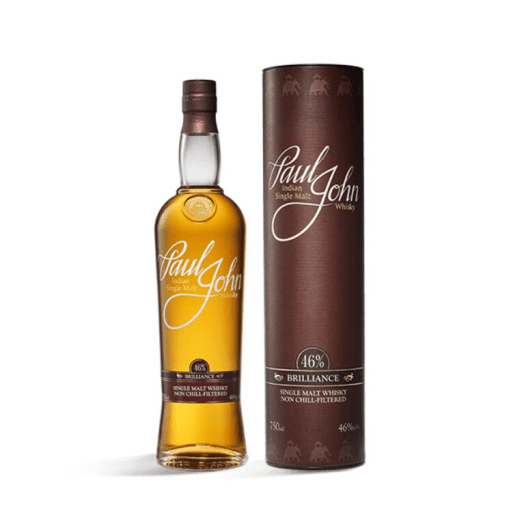 India's Goa region is home to the John Distilleries, creators of the much-lauded Paul John Brilliance. This whisky is known for its sophisticated palate, with a blend of rich flavors from honey to cocoa, delivering a well-rounded experience to the whisky lover.
Being non-chill filtered, the whisky retains its natural flavors and rich depth. Paul John Brilliance is indeed a brilliant example of India's growing prowess in the whisky world.
Buy Paul John Brilliance here.
5. The Everyday Favourite: McDowell's No.1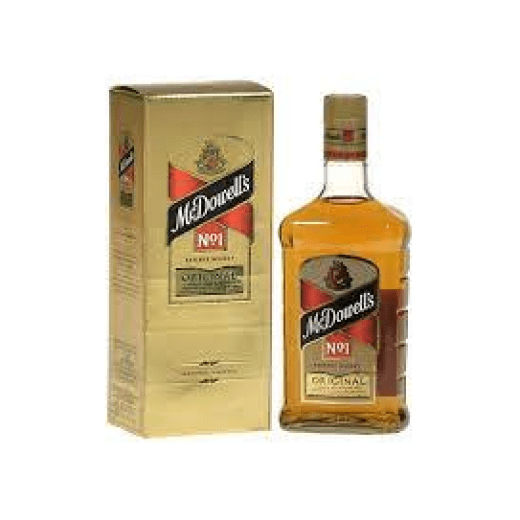 Selling over 25 million cases annually, McDowell's No.1 is a whisky brand that's woven into the fabric of India's liquor landscape. While it's a blend primarily designed for mixing, its palate of caramel and vanilla notes, combined with its affordability, have made it a staple in many Indian households.
For those seeking an everyday whisky that's light on the pocket yet satisfying in taste, McDowell's No.1 is a strong contender.
Buy McDowell's No.1 here.
6. The Luxurious Sip: Chivas Regal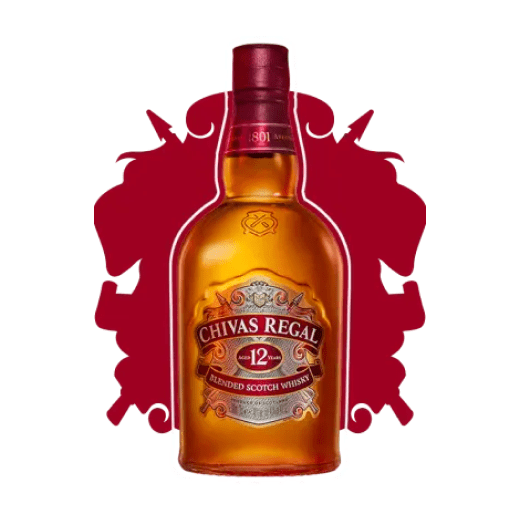 Let's shift gears a little and delve into the world of premium Scotch whiskies widely appreciated in India. One of the frontrunners in this category is Chivas Regal, a rich and indulgent blend that delivers a multi-layered experience.
Despite its origins in the Scottish Highlands, Chivas Regal has found a strong footing in India's luxury spirits market, thanks to its delightful harmony of flavors.
Buy Chivas Regal here.
7. The King of Good Times: Kingfisher Strong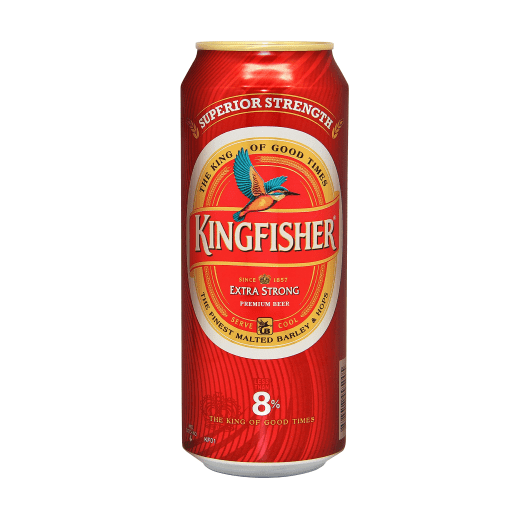 The Kingfisher brand might be synonymous with beer for most Indians, but its venture into the whisky arena has been equally successful. Their whisky variant, Kingfisher Strong, provides a flavorful and smooth experience that has quickly gained popularity among Indian consumers.
Offering a pleasing blend at a reasonable price, Kingfisher Strong is a fitting addition to any whisky lover's collection.
Buy Kingfisher Strong here.
Your Whisky Guide: Decoding the Differences
The journey through India's whisky landscape is as diverse as the country itself. Each brand brings something unique to the table. While some boast rich and complex flavors, others charm with their smoothness and affordability. It is the careful balance of these characteristics that determines a brand's success.
This table compares the top whisky brands in India, ranking them on parameters such as their reviews, top features, pricing, and best offers.
| | | | |
| --- | --- | --- | --- |
| Whisky Brand | Reviews | Top Features | Pricing |
| Amrut Fusion | ⭐⭐⭐⭐⭐ | East-West Fusion, Rich Flavours | $$$ |
| Royal Stag | ⭐⭐⭐⭐ | Smooth Blend, Affordable | $$ |
| Blender's Pride | ⭐⭐⭐⭐ | Fruity-Woody Notes, Mid-range Price | $$ |
| Paul John Brilliance | ⭐⭐⭐⭐⭐ | Sophisticated Palate, Non-Chill Filtered | $$$ |
| McDowell's No.1 | ⭐⭐⭐ | Caramel-Vanilla Notes, Budget-friendly | $$ |
| Chivas Regal | ⭐⭐⭐⭐⭐ | Luxurious Blend, Premium Price | $$$$ |
| Kingfisher Strong | ⭐⭐⭐ | Flavorful, Economical | $ |
FAQs on the Best Whisky in India
As we wrap up our whisky tour, it's worth addressing some frequently asked questions about the 'best whisky in India'.
1. How do Indian whiskies differ from Scotch or Irish whiskies?
Indian whiskies often incorporate a blend of molasses and traditional malt, while Scotch and Irish whiskies primarily use malt or grain. Additionally, India's climate accelerates the aging process, often resulting in a spirit that tastes older than it is.
2. What makes a whisky 'good'?
A good whisky typically has a balanced flavor profile, a pleasing texture, and a satisfying finish. However, personal preferences play a huge role in determining what one considers 'good'.
3. Is expensive whisky always better?
Not necessarily. While expensive whiskies often offer more complexity and depth, many affordable brands provide a satisfying whisky experience.
4. How should I drink whisky?
Whisky can be enjoyed neat, with water, or on the rocks. Adding a few drops of water can often open up the whisky's flavors.
5. What food pairs well with whisky?
Darker whiskies pair well with red meat and rich desserts, while lighter whiskies complement seafood and creamy desserts. Spicy Indian dishes often pair well with bold, peaty whiskies.
6. Are Indian whiskies popular worldwide?
Absolutely! Brands like Amrut and Paul John have gained international recognition and won numerous awards.
7. Can I buy these whiskies online?
Most of the whiskies mentioned in this guide are available online. However, availability may depend on local alcohol laws and regulations.
8. What is the best way to store whisky?
Whisky should be stored upright in a cool, dark place. Once opened, it's best to consume it within 1-2 years.