Are you planning to relaunch or revamp your YouTube career? Be it podcasting or vlogging, you must be aware of the pros of investing in a good microphone. Good microphones make a remarkable difference in audio and video quality, adding to the aesthetic appeal of your channel.
In this blog, we will explore some of the best microphones for YouTubers in India. Read on to discover our top picks for the best microphones that will improve your channel.
How to Choose the Best Microphone?
Choosing the best microphones for Youtubers in India can be subjective and varies based on individual preferences. However, here are some general features you should look out for while deciding the best microphone for yourself and make an informed decision:
The first thing you need to decide is the type of microphone you want. The most common microphones YouTubers use are condenser and dynamic microphones, depending on your shoot location. Dynamic microphones are better suited for outdoor recording, while Condenser microphones are more sensitive and are better suited for indoor recording.
While exploring the market for the latest microphone model, be sure to select the model that best suits your requirements; whether you prefer a wireless brand or a wired model, there are plenty of options available.
Among the many features that determine the quality of the microphone, the ability to pick up sound from different directions and cancel out background noise makes the microphone stand out from its contemporaries.
Your budget is also an essential factor to consider. You can find microphones at different price points. While it's tempting to go for the cheapest option, investing in a good-quality microphone can make a significant difference in the quality of your videos.
Before making a final decision, read reviews from other YouTubers who have used the microphone you're interested in. This will give you a better idea of its performance and reliability.
Top 6 Microphone Brands in India
The following are the top six microphone brands in India:
Rode VideoMic
Shure MV7
Blue Yeti
Audio Technica AT2020USB Plus
Blue Snowball
Rode Smartlav+
1. Rode VideoMic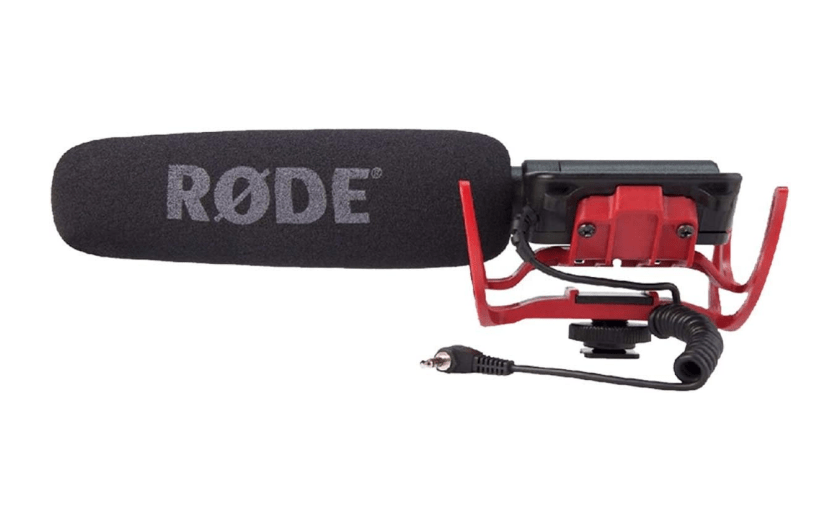 The Rode VideoMic is a popular microphone specifically designed for video production and live streaming. YouTubers are all praises for the latest VideoMic for its affordability and portability. It has a built-in shock mount that enables high-directional voice recording and easily cancels out excess noise.
What's Great?
Battery-powered with up to 100 hours of continuous use.
High-frequency boost switch to enhance voice clarity.
Affordable and lightweight.
Improved audio quality compared to built-in device microphones.
Shop from: Amazon | Jiomart | Croma
2. Shure MV7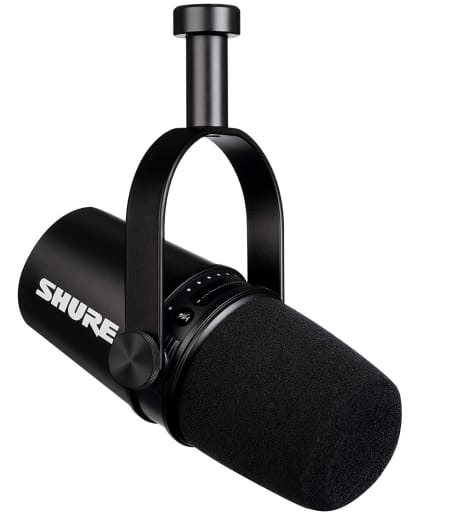 Shure MV7 guarantees you versatility like none other. If you are looking to incorporate formal notes and a hint of professionalism in your YouTube videos, Shure MV7 will surely not disappoint. Built for content creation, podcasting, and live streaming, with an integrated shock mount for noise cancellation, Shure MV7 is constructed differently.
What's Great?
Versatile connectivity options with both USB and XLR outputs
Built-in headphone output for zero-latency monitoring
Integrated shock mount to reduce handling noise
Compatibility with Shure software allows additional customisation and control options
Shop from: Amazon | Bajaao | RajMusicals
3. Blue Yeti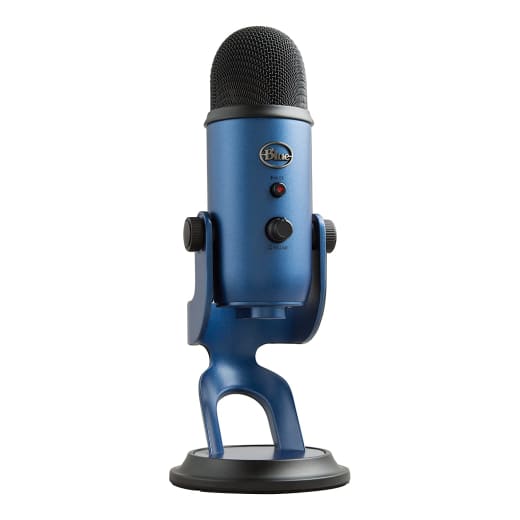 One of the best wireless microphones in the market, its high-quality sound produces powerful audio that is perfect for YouTube. Look no further if the quality is what you are looking for. Their high-quality condenser microphones are often praised for their noise-cancellation abilities.
What's Great?
Compatible with popular streaming and recording software.
USB connectivity is available for easy setup.
Built-in headphone output with volume and mute controls
Versatile polar patterns to capture sound from different directions
Shop from: Amazon | Croma | Ubuy
4. Audio-Technica AT2020USB Plus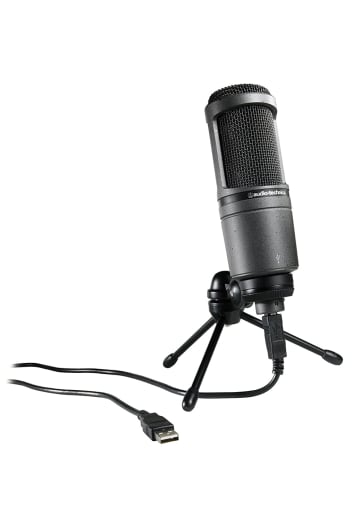 One of the best USB microphones available for professional video recording and vlogging. This microphone has won over a large audience in India, especially in the gaming community. It is one of the best microphones for Youtubers in India, especially those who add voiceovers to their videos.
What's Great?
Easy monitoring and playback with a built-in headphone jack.
16-bit, 44.1/48 kHz resolution for high-quality audio recording.
Noise cancellation.
Tripod stand and pivoting stand mount for easy positioning.
Compatible with Windows and Mac OS
Shop from: TataCliq | Amazon | RajMusicals
5. BLUE SNOWBALL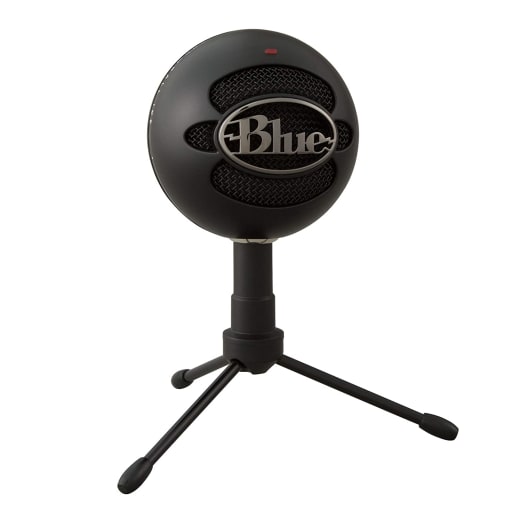 Blue is one of the most reputed microphone brands, the snowball model is sleek, stylish, and perfect for Youtubers and Podcasters. Blue Snowball is the ultimate amalgamation of design with utility, as it comes with an adjustable desktop stand that allows you to position the microphone as per your preference.
What's Great?
Dual capsule design to capture sound in different polar patterns.
Plug-and-play setup with USB connectivity.
Adjustable height with a desktop stand.
LED indicator for monitoring recording status.
Affordable and budget-friendly.
Shop from Amazon | Bajaao | Tatonis
6. RODE SMARTLAV+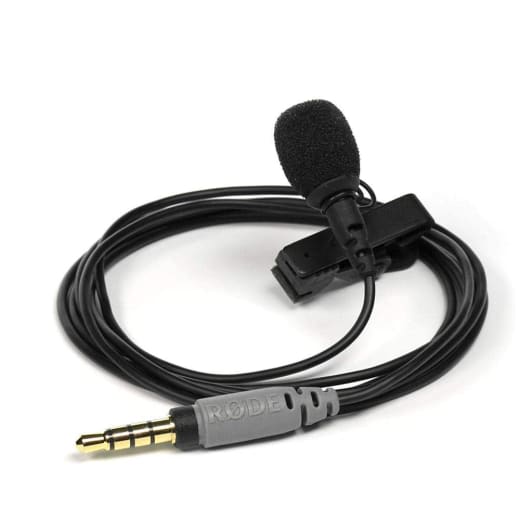 The Rode SmartLav+ is a lavalier (lapel) microphone designed to be used with electronic devices. It comes with a storage pouch, foam pop shield and cable clip. The high-quality condenser capsule of the mic provides clear and detailed sound, making it one of the best microphones for YouTubers.
What's Great?
Compact and portable
Plug into your device and start recording
High-quality sound compared to built-in microphones on devices
Affordable compared to lapel mics.
Shop from Amazon | Bajaao | Tanotis
To Sum Up
With the rise of digital content creation and streaming services, the demand for high-quality microphones has increased. If your goal is improving your YouTube channel's audio and video quality, you cannot move ahead without investing in a good-quality microphone. Look out for microphone connectivity, noise cancellation, budget, and reviews when you choose.
The above-mentioned products are the best microphones for Youtubers in India. Each microphone has its pros and cons; choosing one that best suits your needs and preferences is essential.
FAQs
Q. Which is the most affordable microphone available for YouTubers in India?
Lavalier mics and Blue Yeti are the most affordable options if you are looking for quality on a budget.
Q. What are some of the best microphone brands for YouTubers in India?
Several brands that make high-quality microphones for YouTubers in India, include Blue Yeti, Audio-Technica, and Rode.
Q. Are USB microphones good for YouTube videos?
USB microphones might be a good option for YouTube videos, especially if you are just starting out and don't want to invest in a lot of equipment.
Q. Is Shure a better brand than Blue?
There is no sure way to assess which brand is better, as it may depend on your specific needs and preferences. Shure is known for its high-quality dynamic mics; their reputation for durability and reliability makes them a go-to option for professional YouTubers. Blue is known for its innovative designs, sound clarity and sensitivity.